This year marks the 90th anniversary of the signing of the armistice which brought an end to the hostilities and bloodshed of the First World War on the eleventh hour of the eleventh day of the eleventh month.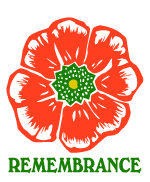 Those killed in both World Wars, as well as many others over the centuries including those in more modern times, will be remembered this Remembrance Sunday so we felt it most fitting that we should make this a special Remembering Military Ancestors issue.
We have an excellent research guide to tracing your military ancestors and stories from members going back over 200 years, from the Battle of Trafalgar, the Peninsular War and the Crimea, through to the First and Second World Wars, covering the three services of the Royal Navy, Army and Royal Air Force.
In two moving stories we take a look at World War Two from two very different perspectives, that of a soldier and of a child. We also look at an act of remembrance and a trip to the war cemeteries of Belgium to find the name of a great uncle on a memorial.
For the My Town feature this month, we focus on Chatham and its naval connections which go back over 400 years.
As a taster for our December issue, which has a theatrical theme, samesizedfeet explains why her growing collection of theatre memorabilia is her particular family treasure.