After discovering, through my family history research, that my great uncle, Charles Frederick Garrard, had been killed in World War One , I decided to take a day trip to Belgium and visit the Tyne Cot Cemetery where he is commemorated.
We had a very early start, taking the Seacat from Dover to Calais and then had an hour's drive to Ypres, but it did mean that we could make the most of our day.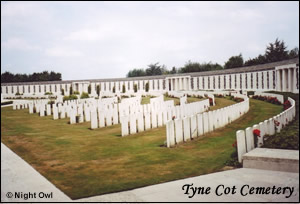 Tyne Cot Cemetery is about 9 kilometres from Ypres, and on the way we passed several smaller war cemeteries. The scale of Tyne Cot is breathtaking. It is the largest Commonwealth war cemetery in the world and contains almost 12,000 graves.
Anyone who has been to a war cemetery will know that the gravestones are usually white, of a uniform shape and size and are very neatly laid out. The cemetery is beautifully tended and several of the graves have fresh flowers and poppies laid on them by visitors.
Around the outside of the cemetery is the 'Memorial to the Missing' which bears the names of nearly 35,000 men who were killed after 16th August 1917, who have no known grave. My great uncle's name is amongst them.
We stayed some time at Tyne Cot, taking in the atmosphere and reflecting on the scale of it all and what had led to its existence. Many of the headstones are named and some have personal inscriptions. However, around 70% of the graves are of soldiers whose name is unknown. Their headstones simply bear the inscription:-
A SOLDIER
OF THE GREAT WAR
KNOWN UNTO GOD
After having spent several hours at Tyne Cot, we then went back to Ypres where there are several exhibitions and museums about the First World War. We visited the 'In Flanders Field' museum in the Cloth Hall which has many interactive exhibits recreating some of the sounds and smells of trench life. For more information about the museum, you can visit their website: In Flanders Fields.
We also went to the Menin Gate Memorial which commemorates over 54,000 officers and men who were killed before 16th August 1917, who have no known grave. Again I was struck by the scale of the losses.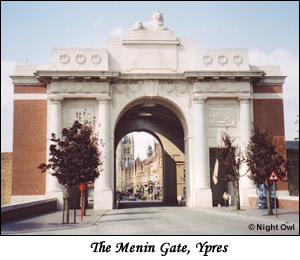 Every evening the traffic is stopped at the Menin Gate and the 'Last Post' is played. Unfortunately we were unable to stay for this, as we had to go home, but I plan to go back some time in the future.
Last November, my son went on a school trip to some of the cemeteries and war memorials around Ypres. As an added interest, I gave him copies of my great uncle's death certificate and details of his entry on the Commonwealth War Graves Commision's website.
He and some of his class mates found Charles' name on the memorial at Tyne Cot and he was asked to read a poem, whilst another pupil laid a wreath in remembrance of all those who were killed:-
Do not stand at my grave and weep;
I am not there. I do not sleep.
I am a thousand winds that blow.
I am the diamond glints on snow.
I am the sunlight on ripened grain.
I am the gentle autumn rain.
When you awaken in the morning's hush
I am the swift uplifting rush
Of quiet birds in circled flight.
I am the soft stars that shine at night.
Do not stand at my grave and cry;
I am not there. I did not die.
(Author unknown)
Night Owl
© Night Owl 2008
---
Charles Frederick Garrard
It wasn't until I started researching my family tree that I had discovered that my mother had an uncle who had been killed in the First World War. I had found his name on the Commonwealth War Graves Commission's Debt of Honour register on their website.
Charles was a private in the 1st Battalion of The Queen's (Royal West Surrey) Regiment, and had died on 27th September 1917, aged just 21 years. I obtained a copy of his death certificate and it confirmed that he was killed in action, but gave few other details.
His medal card, which is accessible through the National Archives and Ancestry websites, records that he was posthumously awarded the 'Victory' and 'British' medals.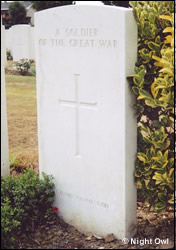 It was the discovery of Charles' death which led to our trip to Belgium and finding his name listed on the Tyne Cot Memorial. Since our return I have been able to download the war diaries of his battalion from the National Archives.
The Battle of Polygon Wood, in which I believe he was killed, was part of The Third Battle of Ypres, otherwise known as 'Passchendaele'. The diary gives a vivid account of the battle, and although as an 'other rank' he is not named, I now have a much better idea of what he might have been doing in the build up to and during the battle.
An excerpt from the war diary, 27th September 1917:-
All communication during the action was most difficult – no telephone communication was possible at all to brigade and lamp signalling was difficult on account of the smoke and haze. Pigeons were freely used and proved the most satisfactory and the quickest means of communication back. Communication forward was maintained for a long time by Fuller phone.
The casualties were very heavy, the two front companies B and D, being all the officers and most other men. It appears the Germans broke in from either flank onto the position held by the Queens and a number of men were surrounded and captured.
Casualties – Officers – killed 4, wounded 9, missing 1, total 14