George Hillis Nelson was born on 14th September 1876 at 62 Mersey Road, Widnes, the illegitimate son of Lydia Nelson. Lydia was the widow of James Wilkin Nelson, an engineer, who had died in 1871. The identity of George's father is unknown, although the use of the name Hillis as his middle name, seems to suggest that he was named after his father. He did however list James Nelson as his father on his marriage certificates.
Lydia had three older children as well, Mary, James and Lydia. At the time of the 1881 census, they were living at 79 Pitt Street, Liverpool, with her mother Mary Robinson. Sadly Lydia died in 1884 in Birkenhead Fever Hospital, of Small Pox, effectively leaving George an orphan.
By 1891, he was working at 54 Grange Road, Birkenhead, as a shop assistant, and his granddaughter remembers being told that he slept under the shop's counter.
He joined the Cheshire Regiment on 8th June 1893, using the name George Ellis Nelson and claimed that he was born on 18th December 1874. His army record describes him as 5ft 5.75", 118lb, with a fair complexion, blue eyes, brown hair and a scar over his right eyebrow.
He served in the UK until 2nd December 1895, when he set sail upon the 'SS Victoria' for India, where he served until 1904, during which time he was educated and rose to the rank of Sergeant. He arrived back in the UK on 3rd November 1904 and served here until the First World War.

On 16th July 1905 he married Mary Annie Davies at St Saviour's church, Everton, both giving their address as 91 Salisbury Road. The marriage was witnessed by her brother, Alfred, and sister, Catherine. George's older brother, James, was married to Mary's older sister, Amy.
Their daughter Mary was born in Chester the following year, and in 1908 they had a son, George Alfred, whose birth certificate records them as living at 13 Bradford Street, Chester.
On 26th June 1915, he went out with his regiment to serve in Gallipoli and was commissioned as 2nd Lieutenant the following day. On 9th August he was wounded on landing in Sulva Bay.
He returned home to his family on 23rd August 1915, who were by this time living in Macclesfield, and remained there on sick leave until 26th September 1915, after which he returned to fight with his regiment.
On 26th March 1917, he was awarded the DSO for Gallantry during the 2nd Battle of Gaza. The citation reads:-
"At a critical moment, when our advance was held up, he collected sufficient men to move forward and straighten the line. By his fine example and disregard for danger under heavy fire, he eventually led this line, which was composed of 7 different units, into the enemy's position"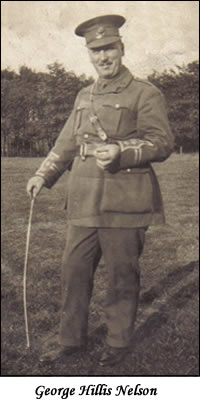 An extract from the battalion's orders has an order signed by him, and shows him described as 'Captain & Adjutant'.
He survived the rest of the war and retired on 28th December 1919, after working for a short time on the recruiting staff in Chester, when he was assumed to have reached retirement age.
He served with the reserve between 9th April and 22nd June 1921, possibly in Ireland, as legend has it that he was in the Black & Tans.
By this time he was living at the Royal Oak in Chester and shortly after was removed from the reserve list.
Mary Annie died on 1st May 1925 at Fairholme Nursing Home in Chester, of 'cerebral congestion and congestion of meninges, 5 days', which didn't really prove the story that she had died after a drunken fall into a fire! George was the informant and was shown as a licensed victualler of 44 Foregate Street, Chester.
He married again in April 1930 to Caroline May Blackwood, known as 'Auntie Blackie'. His army records show that in the December, he was living at the Bromborough Hotel in Chester. Their only daughter was born the same year.
In December 1931, he was involved in a court case, where he was accused of illegally supplying alcohol to a café next door to the Bromborough Hotel, where he was the licensee. The Times reported that he was convicted along with a waiter, Mr Harry Jones, of selling alcohol without a license, and consequently fined.
By 1944, his records show him as living at Cherry Orchard Inn in Chester, working as a licensed vitualler. He was still there in August 1947.
His sister Mary died in December 1947 and reportedly left her estate to George. This is borne out by his records, which by 1951, show him as living in Marleston-cum-Lache and described as being 'retired'.
Caroline died in September 1952 and the following year, he married Sylvia Armstrong, his housekeeper. A note in his army records from 1955, show him as owning three properties in the Chester area, as well as savings bonds, and shares in the brewing company, Greenall Whitley, presumably the result of his sister's bequest.
In later years, he suffered bad health and had to have both legs amputated, with the last operation being in 1957.
He died on 3rd August 1958, aged 81, and according to his obituary by the Cheshire Regiment, he remained happy and cheerful to the end, despite his misfortune. After his death, his widow gave his medals to the Cheshire Military Museum in Chester.
Lynn the Forest Fan
© Lynn the Forest Fan 2008
---
SOURCES
Photographs supplied by my mother-in-law