Welcome to the January edition of Family Tree Forum's magazine and a very Happy New Year to everyone from all of us who help produce the magazine.
This month we have been looking in particular at emigration and you can read stories about how ancestors of FTF members left their homes for the New World. There is also an article about the movement of Germanic speaking people across the world.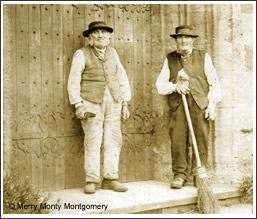 We also begin a new series this month about the occupations of our ancestors, coordinated by Georgette. We begin with agricultural labourers or ag labs, as we have come to know and love them. It's a very rare tree that doesn't have a few ag labs.
If you have any interesting stories about your ancestors please contact the team, although we often have themes there is always room for articles about anything to do with Family History.
A very special Happy New Year, and our thanks, to the members who have contributed articles for the magazine. We had thought it would be an occasional or quarterly publication but, thanks to our members, we have enough material to produce a monthly magazine.
I was very pleased when Caroline asked me if I would write this month's introduction because it gives me the opportunity to thank both Caroline and Velma for all the hours they work putting together the magazine. Those of us who help out on the fringes know that our excellent magazine is very much the fruit of their labours.
Guinevere