This month we felt it appropriate that we look at the printing and publishing industry and members share the stories of their ancestors who worked in this field. We also take a look at the invaluable resource of newspapers in our research and members share stories which they have found about their ancestors, which are sometimes shocking, but in other cases have solved a family mystery, which in turn has demolished a personal brick wall.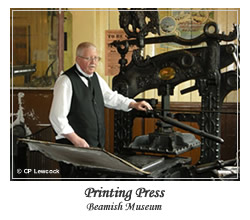 We continue the My Town and Family Treasures features. This month Gwen@Coggiecorner tells us about her home town of Coggeshall and bev&kev recalls the story of her amazing find connected to her seafaring ancestor.
Also in this issue Mavis by the Moor shares her research, inspired by a folk song, into the Cornish miners who went to work on Sark in the 1830s and 1840s.
Margaret in Burton tells us about her Granny, who in the 1960s, was the the oldest licensee in Staffordshire. Margaret will be writing about the Burton brewing industry for the October issue of the magazine.