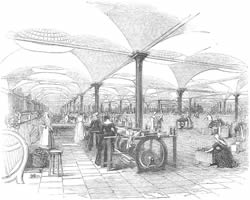 In the first of a trilogy of editions dealing with the Industrial Revolution, we concentrate on our ancestors associated with the textiles industry.
Velma Dinkley looks at the development of the industry from the cottage weavers to mills and Guinevere looks at silk weaving in Coventry.
Olde Crone Holden looks at the life of her hand loom weaver and Simon in Bucks at his ancestors who were linen collar cutters.
Jill on the A272 and Margaret of Burton explore the different lives of their tailoring ancestors and we have two articles about lace, one from Elizabeth Herts who looks at hand made lace from Devon and Mary from Italy tells the story of her ancestor who manufactured lace in Nottingham.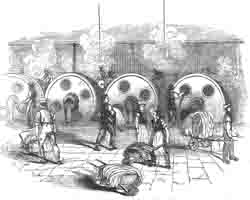 Merry Monty Montgomery tells us about the contents of her grandmother's treasure basket and jenoco has compiled a collection of reminiscences of their pinny wearing ancestors from members.
Roger in Sussex has come up trumps again with a selection of illustrations from his copies of The Penny Magazine, for which we are very grateful. They have been used not only to adorn the front page, but also in some of the articles. The Penny Magazine was published by Charles Knight between March 1832 and October 1845 for The Society for the Diffusion of Useful Knowledge. It covered a wide variety of topics and was illustrated with woodcuts. Costing a penny, it came out every Saturday but ceased publication as it was felt to be too dry. Roger's illustrations come from a series of monthly supplements entitled 'A Day in ..' .