My great x2 grandfather, Charles Newey, was a master tailor of Exton, Rutland. Charles was born in 1814 in Ghazipur, India, where his father was a quartermaster sergeant in the 17th Foot Leicestershire Regiment.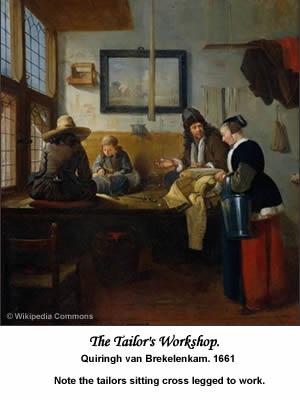 When his father retired in 1819, after twenty six years in the army, the family returned to England, settling in Easton on the Hill, Northamptonshire.
Charles' brother, Nathaniel, was born in 1821 in Easton. Their mother, Elizabeth, died in 1821, possibly in childbirth, as Nathaniel was baptised on the same day as Elizabeth was buried. In April 1826 Charles' father remarried and had a further eleven children, the eldest of whom, William, also became a tailor in Stamford, Lincolnshire.
Charles had a very interesting past before he settled in Exton in 1846 when he married for the first time. On 21st April 1838 he was charged with stealing five tame fowls, the property of the Reverend G Bateman. He was convicted on 14th July and sentenced to seven years transportation. On 15th September he was sent to the hulk prison ship 'Leviathan' at Portsmouth to await his sentence. I found him on the 1841 census, when he was still on the prison ship and was listed as a tailor.
I later found a document online, which seemed to indicate that he was still in Portsmouth. It said that he was one of eighteen male convicts who were currently on board the 'Leviathan' and because of their orderly conduct they were being recommended for 'Royal Mercy' to the Secretary of State. It also noted that Charles had been very useful as ship's tailor for the last three years.
With the help of FTF member, Ann Swabey, I managed to acquire a copy of the document from the National Archives which confirmed that Charles had indeed been granted a 'Free Pardon' on 2nd February 1842.
Transcription of pardon
Whereas those following persons are under sentence of transfer or transport on board the Leviathan hulk in Portsmouth Harbour they having been convicted of felony at the times places hereafter named.[then various names including… ] Chas Newey at Northampton in July 1838 We in consideration of some (or same) circumstances humbly represented unto us are graciously pleased to extend our grace & mercy unto them and to grant them our Free Pardon for their said crimes and here dated 2 Feb 1842.
In 1846 Charles married his first wife, Susan Allen, at St Peter and St Paul's parish church in Exton, Rutland. One of the witnesses to that marriage was Mary Ann Bryan, who was later to become Charles' second wife and my great x2 grandmother.
Susan died in April 1848, apparently childless, and Charles married Mary Ann on 7th May that same year. The marriage to Mary Ann lasted until her death in 1876 and produced nine children. His eldest son Charles followed him into the trade.
Charles is described on all censuses and the parish registers for Exton as a tailor or master tailor. He died on 23rd March 1883 and is buried in the churchyard at Exton, together with his wife Mary Ann, where their headstone remains to this day.
Margaret in Burton
© Margaret in Burton 2009