Working my way back through my husband's family I reached his maternal great grandfather, John Chapman. He had lived in Black Torrington in North Devon, amongst a cluster of other Chapmans and had died before the 1841 census. There was no distinguishing middle name – nothing to single him out in the IGI records. It was clear that I was wasting my time trying to get anywhere with his records. I set him aside as an impenetrable 'brick wall' and turned my attention to other parts of the family who looked more promising.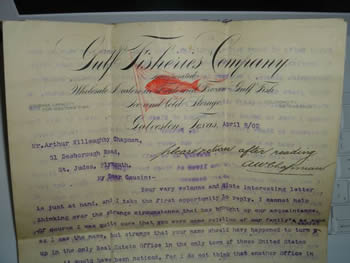 By the time she died, just before Christmas of 2005, my mother-in-law had long since ceased to be able to share her family history with us, but there were bits and pieces I had noted in the past, when the topic of conversation had wandered into family tree territory. When the time came to start the house clearing process, various nuggets turned up – some a real delight, even when they didn't contribute much to the tree. There were wedding and funeral orders of service, invitations and birth announcements, a probate copy of a will from 1869, an original wedding certificate from 1883 and original baptism certificates from the years just after, along with Band of Hope and Women's Temperance Movement certificates and a family bible, as well as some old letters
It was correspondence dating from the very beginning of the 20th century which provided the means to break down the brick wall.
Two pairs of letters – two inbound and two copies of the replies – between Arthur Willoughby Chapman of Plymouth (grandson of that John Chapman) and Willoughby J. Chapman of Galveston, Texas.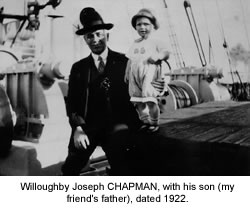 At that time, Arthur was only about 18 years old – a very junior member of the family shipping company in Plymouth, but in an era of when people did not use first names, his name had appeared in full on a document (perhaps a letter of credit?) which had landed on the desk of a clerk in a real estate agents in Galveston.
Furthermore, in that era when everyone was Mr this and Mrs that, that clerk happened to know that the 'W. J.' of 'Mr W. J. Chapman, manager, Gulf Fisheries Inc.' stood for 'Willoughby J., and he also knew that Mr Chapman's family came from Devon, whence also came the document on his desk. He had been intrigued enough to put the two men in touch with each other. The correspondence was packed full of the detail you'd have to exchange to work out how you were related, and they were indeed related.
It was fascinating and it gave me lots of extra detail about the family, including names and anecdotes. It gave me a brief, but first hand account of the great storm of Galveston, in which W. J. Chapman and his wife had lost everything but their lives and counted themselves very lucky for surviving. It also gave an account of the rebuilding of Galveston and the new sea wall to protect it. I was reading these letters shortly after the inundation of New Orleans in August 2005, so that had quite a resonance.
Although this didn't really get me much further on with John Chapman himself.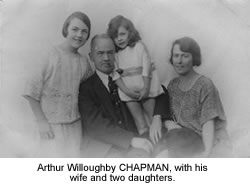 It occurred to me that someone in the USA called 'Willoughby J. Chapman' was likely to be researched by someone else, because it was that sort of a name. So I did some googling. A couple of e-addresses turned up in the process and I tried e-mailing them, explaining what we'd found. One recipient turned out to be a granddaughter of Willoughby J. Chapman, just as my husband is a grandson of Arthur Willoughby Chapman. She has been enormously generous with her family tree resources.
Perhaps because they were emigrés, her ancestors had made and kept wonderful family tree records. Her great grandfather had written an essay which commenced –
"It may perhaps be interesting to learn something of the history and genealogy of our family. I will begin with my grandfather Joseph Chapman of Black Torrington, Devon, England".
It went on to encompass enough information to take me three generations further back and several branches sideways. My brick wall was comprehensively demolished!
Rather more important than that demolition, is that I have gained an e-friend. In response to a set of images of that set of letters, she posted me a fat A4 envelope of copy records and e-mailed me transcripts and images.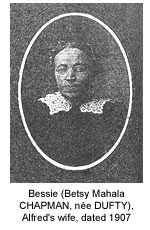 Amongst the bundles of information was a copy of W. J. Chapman's father, Alfred's diary. It covered the dates from 1 January 1869, as a tenant farmer in North Devon, through his emigration journey, to 4 May 1871, by which time his family had joined him via New York. It records the weather conditions every day and tells of his day-to-day experiences. It mentions the doctor calling to vaccinate two of his daughters (one only two months old) in 1869, when vaccination was pretty much cutting edge medicine; it talks of his difficulties with his landlord; it describes his journey from North Devon to Bristol and his crossing to Boston; it describes his experiences travelling through the US, looking for somewhere to settle – to live and to work and to which he could bring out his family.
There are cameo experiences such as glimpsing someone whom he believes to be the president, travelling incognito with his wife; there's the false hope that he's bought a goldmine; remarks about the similarities and differences of the countryside, the people, the animals, the crops, even the churches, as well as passing remarks which show most graphically just how much travel has changed such as "Good work, 20 miles in 2 1/2 hours".
One 1871 entry in the diary grabbed my attention in a different way, Bessie being his wife –
"February 25th Saturday – J.S. went to P.Office. Posted letter to Bessie, No.13, & received newspaper Western Times with 2 letters from me to Bessie. I am much hurt at their being published without my consent as there are some things ought not to be published and others are misprinted & misrepresented."
I thought to myself, I don't live that far from the British Newspaper Library at Colindale so I could go and see if I could find the copy of that newspaper in which Alfred's letters were published. It took me a while to get organised, but I did establish using their online catalogue, that they had the copies covering the relevant time span; 4 October 1870, when he'd landed in Boston and 25 February 1871, when he'd collected the infamous papers from the post office, allowing for a margin of time for letters to have been written and to travel to and fro. Eventually I got myself to Colindale, armed with a spare morning in which to enjoy myself investigating.
I called for the first volumes of papers and realised that it was probably going to take a little while. The newspapers were made up of a couple of folded sheets about A1 in size – so about A2 to deal with. It was a daily weekday paper, so there would be quite a lot to wade through.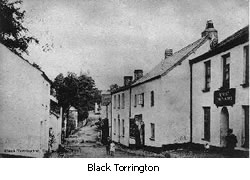 I started browsing: looking for the correspondence pages, for the local news columns and skim-reading for references to Chapman. I began to realise that I would be getting copies of pages from more than just the one paper, when I did find them. Alfred Chapman had been a cause célèbre in this (Liberal) newspaper. The descriptions of his difficulties with the landlord clearly understated his problems. He'd ended up going to court to protect his position as tenant farmer, having had his tenancy terminated rather abruptly (almost certainly because his political views and non-conformist churchmanship conflicted with his landlord's opinions). He was always going to find it difficult because his landlord was Lord High Sheriff of Devon, a practising barrister, an MP and the son of the Archdeacon of Exeter.
Alfred himself, referred to "the position he occupies as a magistrate, as a Captain in the Yeomanry, as a practical farmer, and as a so-called leader (being chairman of the committee) of the Conservative Party in North Devon".
Due to the landlord reneging on an unwritten agreement, he found that winning his original case was no advantage because his landlord won another which meant Alfred was down by a couple of hundred pounds, which was a lot of money in those days.
The newspaper championed his cause as a tenant farmer trying to protect the interests of all tenant farmers.
There were several leader articles, some other letters from Alfred, some directly to the paper and records of the efforts to raise money to send with his wife, when the rest of the family followed after him. * see Related Articles below *
My 'spare morning' lasted most of the day! However it was so interesting and was very satisfying to feel that I could send my e-friend something which I knew would bring her so much pleasure.
Christine from Herts
© Christine from Herts 2007