My nan had told me before she died that some of her family had emigrated to America.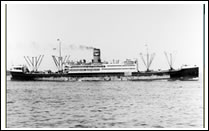 I did some digging and asked a few questions on the boards of Family Tree Forum and someone kindly found a Frederick Caley, my great uncle, on the 1930 US census with his family living in Pennsylvannia.
I checked out the Ellis Island website and sure enough I found Frederick sailing from the UK on 'The President Polk' in 1923 and staying with his brother-in-law George Shearman in Annapolis. I then found out that his wife Alice (whose sister Marie had married George Shearman) had sailed out there the previous year.
I have checked further into the records and found that George had gone out to America because his older brother Charles (Chas) had moved out there as well.

On the 1930 US census in Pennsylvania, Frederick is noted as a steam engine fitter and his daughter Dorothy May, a dancer, in Vaudeville.
Littlemoo
© Littlemoo 2007