When I was young I had very little interest in my family. Like so many young people, all I was interested in was the here and now. I certainly never thought to ask questions. It wasn't until those people most dear to me had passed away that I began to think about who I was and where I'd come from.
I had only ever known one grandparent, Kathleen, who had lived to the ripe old age of 92. The strange thing was, no one ever spoke about my grandfather. All I knew, from my mother, was that my grandparents did not stay together.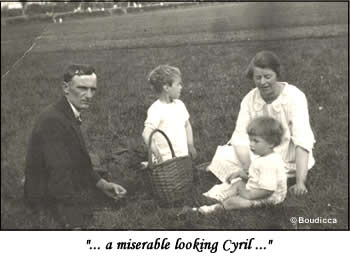 So, when I found a family photo of my infant father sitting with my gran and a miserable looking Cyril, I deduced that he must have been a horrible man, to abandon my gran and their two boys.
It wasn't until a conversation with my father's cousin that I discovered another side to my grandfather.
Cyril was born in 1897 in the quiet Suffolk village of Gazeley. His father was a groom and gardener, and Cyril went on to be a gardener to the Duke of Grafton at Euston. This is probably where he met my grandmother.
On digging a little further, I discovered that he had been in the Queen's Regiment Labour Corps during World War One. The Labour Corps undertook all the vital groundwork for the advancing troops, especially laying railway tracks and repairing roads. Their job was a highly dangerous one as they were unarmed and always well within range of the German guns.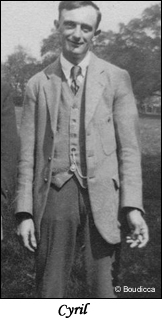 I do know that Cyril arrived in France in Spring 1917 and moved around the country digging trenches, haymaking, and fortifying defences. I also know that his corp was shelled in September 1918 and this is possibly where he was injured.
He left the army in February 1919 receiving the 'Victory' and 'British' medals. A note within his medal box described him as "a conscientious and good NCO".
Cyril did return to civilian life, working as a gardener in Surrey and marrying my grandmother in 1923. However, from all accounts he had been severely affected by his experiences in the war. Eventually in 1939, he was committed by his own mother to a mental hospital. My gran never forgave her mother-in-law for doing this, and she even had to pay the bill.
She returned to Suffolk where she made a new life for herself, and Cyril appears to have spent a great many years in the hospital. I was told that he was allowed to leave eventually, but as the world had moved on without him, he returned to the hospital as the gardener.
He died in the mental asylum at Shenley Hospital, Hertfordshire, in 1966, having never seen his sons marry, or laid eyes on his grandchildren. As far as I know, only my uncle visited him regularly.
Even though this all happened a long time ago, before I was even born, I feel a great sense of sadness and guilt. Sadness, because Cyril lived in an age where things like mental illness just couldn't be discussed and great shame surrounded them, and guilt because I had thought so badly of him.
Now, when I look at the grainy old photos of him, I don't see a sullen and selfish man, but instead a quiet, gentle man who was forced into the most horrific of situations and just never recovered.
Boudicca
© Boudicca 2008
Editor's Note – We will be featuring the medical profession and mental asylums for the January issue of the magazine.
---
SOURCES
Family recollections
---