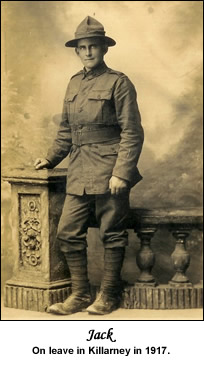 Recently a box of items belonging to John Leo O'Keefe (Jack) has surfaced during the clear out of a family home. He was born on 9th May 1895 in Temuka, New Zealand, and was the oldest of the nine children of Denis O'Keefe, an Irish immigrant from Co Kerry, and Mary Ann Moore, a first generation New Zealander, also of Irish stock.
The seventh child in their family, Beatrice, died on 20th August 1911, at the age of 3.
Jack, and his younger brother Bernard Daniel (Bert) were both keen sportsmen, involved in rugby, cycling and boxing, and both served with the Wellington Division of the New Zealand Expeditionary Force in World War One.
He enlisted in May 1916, and left New Zealand on August 20th 1916, arriving in France in November of that year. Within a couple of months he was wounded in action and spent the best part of 1917 in hospital in England, before returning to his unit in France in October 1917.
The recently discovered box contained a number of letters sent to Jack during the closing years of the war. This is a transcription of a letter sent to him by his mother in August 1918:-
Palmerston Nth
August the 20 1918
Dearest Jack, it is just two years ago today that you sailed from Dunedin and at that time I was in hopes that the war would be over before you got there and it is still going as strong as ever and it don't look much like ending at the present time.
Still Jack dear, two years seems a long time to be without seeing you and I often wonder when I will see you again, but Jack dear everything is in God's hands and we must only hope for the best.
It is just a year today that poor Bert went back after his final leave and seven since poor little Beatrice went to heaven. It seems strange that all seemed to happen on the 20 of August but perhaps it is our lucky day for I am sure that little Beatie was lucky when she went to heaven, for if she had lived to grow up it might not be so easy for her to go to heaven and I am sure she will be praying for you and Bert now, and you and Bert have been fairly lucky so far, and please God I hope your good luck will follow right through. There was another mass said for you and Bert last week.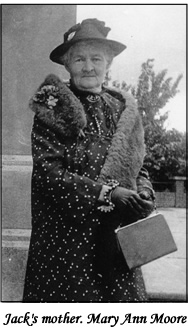 Well Jack we are getting some very nice weather here now and it is about time as we had a very rough winter. Father is working for Jack Lane at the present, the mill is supposed to be starting on the first of the month, that is in about a fortnight's time so I suppose father will go back to the flax. He was after the tram job but Sam gave it to a brother-in-law, so father was done out of it. Den is still at the glaxo and they are supposed to start making glaxo again next month. Den has been only knocking about there all the winter, painting and such like, still he was lucky to have a winter job when so many are idle.
Lena is in the best of health and still with Mrs Delune. Her and I went to the pictures with Kath and Alma last night, who are also in the best of health. Kath was 21 about a week ago. Den and Lena went to the Sullivans to tea for the happy event. Well Jack it seems strange that we had no twenty-first birthday party in our house yet as you had just gone to camp before yours and I suppose poor Bert had his somewhere about the firing line. Well never mind Jack we will keep them all up when you come home.
Monica's birthday will be next, she will be five years old the 12 of next month and is getting quite a big girl. She never forgets to pray for you and Bert no matter how sleepy she is when she is going to bed. She thinks Dad is a prodestent [sic] as he don't go to church. She asked him last night if he said any prayers and he said yes, she said well I don't see you praying and the least you can do is to pray for poor Jack and Bert. She often tells him not to make a noise drinking his tea. Father thinks it great fun to have Monica ordering him about.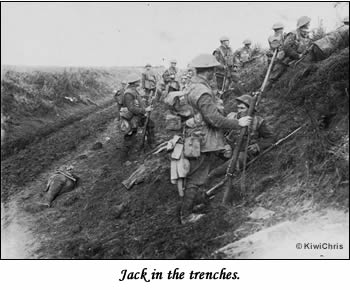 There was a little mail in a couple of days ago. I got a letter from Bert but not from you for the first time, but it must have left just after the other mail as the letter I had from Bert was wrote the 20 of June and I had one from him wrote the 15th the mail before. He said you are well and out of the hospital. He seems to see a lot of Jack Sullivan.
Jack, I am wondering if you got that cake, it is a pity if it went down as it was your birthday cake. Ethel sent one to her brother the same time, I ordered it for her when I was getting yours made at Rolands, so I suppose he did not get his cake either. Bother the Germans.
Well Jack dear I must close for this time with the best of love and heaps of kisses from all at home and your loving Mother.
The photograph of Jack in the trenches is of the New Zealand start line at the beginning of the battle of Le Quesnoy in the last week of the war. Jack is the soldier who is seated. The soldier who lies at the bottom of the photo was shot dead not long before the photo was taken.
Jack survived the war and returned to New Zealand in May 1919. He also enlisted during World War Two and served a year in the New Zealand Home Service.
KiwiChris
© KiwiChris 2008