I was not fortunate enough to be born into a family flush with heirlooms and mementoes which had been passed down through the generations. What few treasures there may have been were most likely sold in times of need (or more likely, in times of greed) by those entrusted with their care.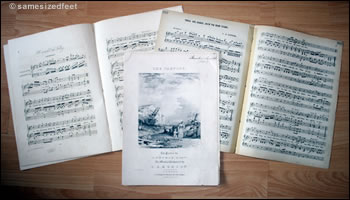 My good fortune lies in having a family history peppered with Victorian celebrities, and the ephemera surrounding them survives tucked away in archives and old book shops everywhere.
I started my collection of 'treasures' from scratch in 2003 and have been gradually adding to it as I've discovered pieces for sale around the world.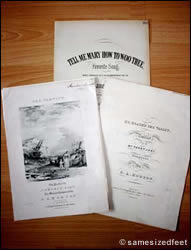 The details of my first 'purchase' were found in a book hidden away at the Theatre Museum, which was based in Covent Garden at the time. A whole chapter in Joseph A Cave's book "A Jubilee of Dramatic Life and Incident" was written about his time spent playing at the 'Bower Saloon' in Lambeth under the instruction of my great x5 grandfather, George Alfred Hodson. He turned the theatre, which was attached to the 'Duke's Head Tavern', from a common 'penny gaff' into a well run establishment, to which his customers would walk miles across town to see the "songs, vaudevilles and melodramatic spectacles".
As well as being a singer, actor and comedian alongside his wife Catherine, George had composed two of the most popular songs of the time, "Tell Me Mary how to Woo Thee" and "Oh give me but My Arab Steed". I found a copy of the first in a bookshop in Devon and was frightening the postman for days until it eventually arrived.
I have since added two further scores to my collection, "He Reach'd The Valley" and "The Parting", although there is confusion over those which were written by George Alfred and those by his composer son, my great x4 grandfather, also called George Alfred, who was once summoned to Osborne House on the Isle of Wight to perform for Queen Victoria and her family.
A couple of years later I found a theatre programme from 1895, for a play called "An Artists Model", on the internet auction website http://www.ebay.co.uk/ On the cast list was the name of my great x3 grandmother, Kate Hodson. Kate and her sisters Henrietta and Sylvia were the daughters of George Alfred junior.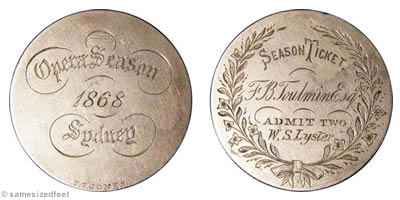 The three of them took to the stage as teenagers, but Henrietta was by far the most successful and well known. So I was delighted to find something surviving with Kate's name on it and paid almost £30 for a 110 year old programme, despite it having a piece missing from the back page. Two weeks later, whilst rummaging through boxes at a paper and ephemera fair, I found another copy of the same programme for a mere £1.95.
I've also been adding contemporary biographies and histories of the stage which mention my ancestors to my family collection. Although I have yet to track down a purchasable copy of Joseph A Cave's book which sparked off my inital interest, I do have books by Ellen Terry and George Bernard Shaw, as well as histories that associate my family with Oscar Wilde and William Schwenk Gilbert of Gilbert and Sullivan fame.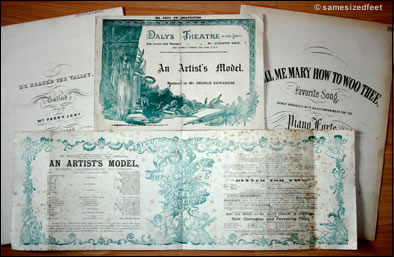 I'm forever scouring online auction and bookshop websites hoping to add to my growing collection, although I'm mindful of the cost. Two 'big ones' have got away from me, one which I still kick myself over and one of which was way over my budget.
A letter from Henrietta Hodson bearing her original signature was snatched away from me, for just over £50, in the last few seconds of an ebay auction. I had hesitated over how much I really wanted it and severely kicked myself after I was outbid.
The second and most desirable was a season token from 1868 to attend all of that year's operatic productions by my great x6 uncle, William Saurin Lyster, at the Prince of Wales Opera House in Sydney, Australia. It sold for AUS$4000 (about £1800) earlier this year. I was tempted to bid, but then realised that I could buy almost 260 BMD certificates with the money.
So, if you're ever rummaging in a bookshop, bored at a car boot sale or clearing out the loft, keep an eye out for an old bit of musty paper, as it could well be someone else's family treasure.
samesizedfeet
© samesizedfeet 2008
---
Editor's note: samesizedfeet, along with other FTF members, will be writing about their performing ancestors for the December issue of the magazine.
---