Edward Parker was my maternal great x2 grandfather and it has taken me years to research him, mostly because he was the first of many generations of soldiers serving in the Royal Artillery, plus his place of birth was transcribed incorrectly from early census returns and also because he was shown residing in different counties on each, depending on where he was posted at the time.
He was born in Hatherton, Staffordshire, in 1835, the son of William Parker, a gardener, and his wife, Ann Perry. He married Eleanor Tapp (born 1831 Poplar Middlesex) on 25th March 1853 at Devonport near Plymouth. After Eleanor died shortly after childbirth, in Woolwich, London, in 1869, Edward married her younger sister, Jessie, who was born in 1838.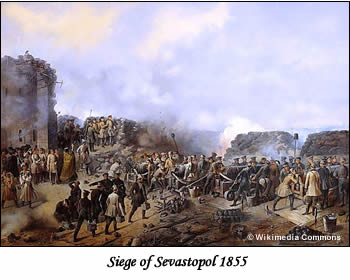 Edward was someone I knew nothing about until I received the marriage certificate of his son Alfred Thomas Parker, which recorded Edward's occupation as a 'compounder'. Now when I look back I have a little chuckle to myself, remembering that at the time I had visions of Edward breaking rocks to build roads! How wrong I was in that assumption, because it turned out that a 'compounder' was, in reality, a dispenser of medicine.
From the 1881, 1891 and 1901 census returns I discovered that Edward and his wife Jessie had settled in Dover, with Edward described as a 'Hospital Dispenser'. He died there in 1902.
I managed to contact a lovely man who knows so much about the Dover area, and he found Edward's obituary for me, which revealed that he had served in the Crimean War and that for many years he had been the dispenser at the Royal Victoria Hospital in Dover:-
The Dover Express, 20th June 1902.
DEATH OF THE DOVER HOSPITAL DISPENSER
Dover Hospital has lost a valuable officer in the death of Mr. Edward Parker, who was appointed Dispenser and Collector in 1875, and has filled the office of Dispenser with great ability for 27 years. He had previously been associated with the medical service of the Royal Artillery, and in that capacity served in the Crimean War, taking part in the very heavy work which fell to the lot of that branch of the service after the battles of Alma, Balaclava, Inkerman, and the terrible sickness including cholera, which attacked our troops in that trying campaign. He nearly lost his own life when assisting at an operation owing to the accidental cutting of his hand with a lance, which inoculated his blood with poisonous matter, which was very near proving fatal, the effects of which he felt more or less during the remainder of his life. He retired from the Royal Artillery after 20 years' service, the latter part of which was spent at Woolwich, and very soon after received his appointment at the Dover Hospital. The testimony of all the Doctors is that he was a most able dispenser, and that it will be difficult to find an equal to succeed him. His death was mentioned at the Hospital Meeting on Monday, and was referred to in appreciative and sympathetic terms by Sir William Crundall, the Rev. Canon Bartram, Mr. E. Elwin, and Dr. Osborn, and a vote of condolence was passed. The funeral took place yesterday at Charlton Cemetery.
The minutes of that meeting recorded that:
Sir William Crundall said that he was sorry to say that the next announcement he had to make was that Mr Parker, who has been their dispenser for the last 27 years, died on Sunday morning. The Governors and subscribers and the staff of the Hospital would all regret his untimely decease. He suggested that some expression of regret and condolence with the widow should go forth from the meeting. They would find it very difficult to replace him.
The announcement of his death in the same edition of The Dover Express read:
PARKER. On June 15th, 1902, at 9, Wood's Place, Oswald Road, Dover, Edward Parker, aged 66 years and 11 months. His funeral took place at St Andrew's, Buckland, on 19th June 1902.
I applied twice for his military records from The National Archives and twice they couldn't be found. So, eventually, I turned to the services of a professional researcher who specialises in military research, and his records were found, filed in the wrong year group.
His military records show that he enlisted with the Royal Artillery as a gunner and driver in Birmingham on 17th December 1851. His age was recorded as 19, although he was in fact just 16 years old. He was described as 5′ 9″ tall, with a fresh complexion, hazel eyes and brown hair. His trade was described as a 'servant'.
When Edward enlisted at the end of 1851 the company was serving at Devonport near Plymouth, and he remained there until being posted to Ireland in early 1854. At the start of 1855 he was in Woolwich, prior to being sent out to the Crimea.
The company embarked from Portsmouth on board the 'Himalaya' on 2nd March 1854, and landing at the Black Sea port of Balaclava, in the Crimea, on 28th March. The company mustered in camp before the city of Sevastopol on 31st March until the end of August, then were in camp 'on the Heights of Balaclava'. The siege of Sevastopol began on 17th October 1854 and lasted almost a year.
Edward served under Captain A C Hawkins of the 8th Company, 7th Battalion, and this is a short excerpt from the company's daily report, written at Sevastopol, which is somewhat akin to the conditions of the trenches in World War One, sixty years later:
Artillery Operations – 8th April 1855
A few shots were fired from the Right Attack; none from the Left.
A Gunner of the Royal Artillery, Right Attack, wounded.
Captain Hawkins' Company was ordered from the Right to reinforce the Left, where it remained till the end of the Siege.
In the afternoon the order was received to prepare to open fire in the morning at daylight. It had been hoped that a few days' more delay would have taken place, as No. XI, Battery, Right Attack, and No VIII, Battery, Left Attack were not yet armed.
The day had been showery, and towards evening the rain descended heavily, the wind rose and at midnight it was blowing a gale and pitch dark.
The trenches were flooded, the men completely drenched, and in some Batteries the men were standing in six to eight inches of water.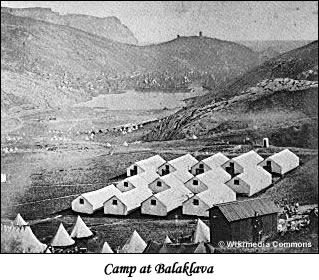 During his service he was awarded the Crimea Medal with the Sevastopol clasp for his involvement in the campaign. He also received the Turkish War Medal, which the Sultan of Turkey awarded to all participants.
In addition, at intervals, he qualified for four 'Good Conduct' awards, each meriting the additional pay of a penny a day, two of which were taken into his pay as a NCO.
After the Crimean War ended in February 1856 the company returned home on board the 'Imperatriz', arriving at Woolwich on 13th March, and in June of that year, Edward was promoted to a bombardier. By the end of the year the company were back in Devonport, but with the reorganisation of the Royal Artillery they became 1st Battery 8th Brigade and were posted to Aldershot in Hampshire.
On 1 May 1857, as the army were reducing their numbers, he was demoted back to being a gunner and driver, only to be unaccountably promoted back to a bombardier, a week later. He was further promoted to a corporal on 1st April 1858, and again to a sergeant on 1st August 1860 and served in this capacity for the remainder of his army service.
The company's Aldershot posting was followed by spells in Bristol and Ireland, as well as in Canada, although by this time Edward had transferred to the Coastal Brigade and remained stationed at Woolwich until his discharge in 1871.
It would seem that his initial service commitment was limited, as on 25th June 1863 he re-enlisted, presumably to complete 21 years service, which would have automatically qualified him for a long service pension. In the event, he nominally discharged on 1st February 1871, after a medical examination at the Herbert Hospital in Woolwich, the result of which attributed his premature discharge to the fact that he was suffering from angina caused by:-
"the result of military service and vicissitudes of climate, of more than two years duration aggravated by special circumstances of overwork and anxiety".
He was finally discharged 20 days later, having completed a total of 19 years and 67 days military service.
Researching Edward has been an incredible journey, even though up until now I have not been able to establish where or when he studied to become a dispenser, and can only assume that he did so whilst he served in the Coastal Brigade at Woolwich, but I am content with what I now know about him and feel rather proud of what he achieved in his life.
Kaye
© Kaye 2008