I was fortunate in being offered a free ticket from, and having the company of, Anne in North London for this show, which was held at London Olympia from the 26th to the 28th of February 2009. The show consisted of a main hall with large stalls for popular genealogy websites such as Ancestry, Find My Past and Familysearch. There were also smaller units for the many local history societies.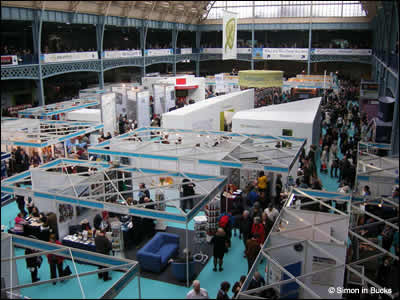 The stalls were grouped so that Wales, Scotland and Ireland were in one area, and there was a military corner with exhibitors including the National Army Museum, the Royal Artillery Museum and the Imperial War Museum.
The National Army Museum staff were able to identify a uniform from a photograph of my great uncle Charles. This is helpful as when the Ws finally get onto Ancestry's army records I will be able to identify him from all the other Charles Williams! I also collected some free postcards and bookmarks for my brother, who is very keen on military history.
Other exhibitors included specialist publishers such as Shire, and companies offering dedicated storage systems, family history charts etc.
A full programme of talks on specific aspects of family history was available, including a DNA workshop.
Refreshments included a sausage stall offering samples of speciality sausages, an ice cream/sorbet stand, as well as the usual coffee and sandwich purveyors.
Anne and I stocked up on free cloth shoulder bags from The National Archives stall (in exchange for signing up for their free newsletter), as well as from The Times Online archive, and received lots of free pens, pencils etc.
Many family history stalls were selling CDs and books. I was watching my budget, but there were bargains to be had, including the 1871 census for a Cornish village which I got for 50p. Easier to browse through than looking online.
There was a good general history bookstall, with a selection ranging from biographies to those concentrating on professional research, and with a tempting (though I resisted) bargain table.
I also went to two talks, one on Essex history, which was interesting in a general way but didn't touch my ancestral village, and one on Jewish genealogy which was very helpful as I hadn't known that the Jewish Genealogical Society of Great Britain library is open to non-members twice a month.
WDYTYA? started as a BBC television programme and throughout the three days there were opportunities to meet some of the celebrities whose family histories have been featured, but I wasn't interested in this aspect.
It was worth going just to have my photo identified, but what made it so good was having Anne's company and being able to say hello to FTF members Ron (of Genealogy Printers) and Phoenix who lived on her local family history stand!
Little Nell
© Little Nell 2009