As many of my Braidford relatives have discovered, the delight of researching an ancestor with an unusual surname can soon turn to despair. Church officials, enumerators and registrars of the early 19th century struggled with spelling, making any traces of the Braidford family difficult to find but, through perseverance and a little luck, we have managed to piece together the life of my great great grandfather William Braidford.
Where I've felt that further explanation may be of interest to the reader, I've added footnotes.
Upon his retirement as Manager of Lintz Colliery, Co. Durham in 1909, William Braidford attended a gathering of his colleagues, friends and family. A number of presentations were made to him and William gave a speech about his life and experiences in connection with pit work. The event was reported in the Consett Chronicle and was a useful starting point for our research. It seems he was held in high regard in the mining world, and was appreciated and respected as an official, "of tried service and as a man of rare personal qualities". William had a large family and, having invested in some property, was relatively wealthy by his retirement, but his speech did not mention his very early years, and he never talked about his childhood to his family. It was with some surprise that we discovered that as a child his family were described as 'paupers', and were subject to a Removal Order by the Overseers of the Poor (1). By the age of eight, William was an orphan.
William's story begins with his grandparents. Charlotte Robertson (born in Harpenden, Hertfordshire) and Robert Templeman (a flax dresser) were married in Isleworth, Middlesex, in 1810. Their surviving children's birth places pay testament to the fact that the family must have travelled looking for work, Helen being born in Isleworth in 1811, Mary Ann Templeman born in Barnard Castle, Co.Durham about 1816, and James Robertson Templeman born in Knaresborough, Yorkshire in 1821 (he was named after Charlotte's brother, who at the time of the 1841 census was an 'Ag. Lab.' age 45, living in Luton). It is supposed that the family arrived in Cockpen, near Edinburgh, for work, and that is where Helen Templeman met William Braidford, a flax dresser. They married on 19th April, 1834 at Cockpen Parish Church. Their first two children were probably born around the Dundee area, John Braidford (about 1837) and James Braidford (about 1839). Despite our best efforts we have been unable to find the family, either in Scotland or England in the 1841 census. Perhaps they are a group of unnamed lodgers, or a family who slept by the side of the road on the way to a new place of work. We think that William was probably born in Scotland about 1842.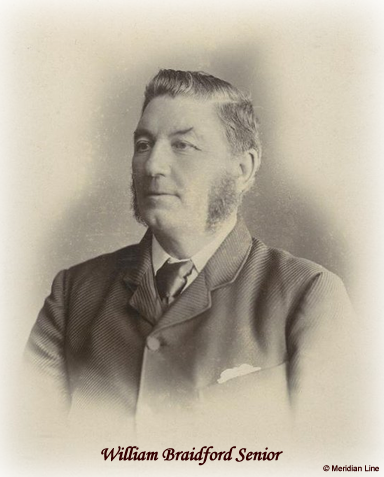 We do know for certain that by the beginning of January 1848, Charlotte Templeman, daughter Helen Braidford and her three sons had made their way to Luton, Bedfordshire and, since there appears to be no sign of Charlotte's or Helen's husbands, it must be assumed that they had died. I feel they had made their way to Luton because of the presence of Charlotte's brother James Robertson and perhaps they hoped to find work in the well established hatting industry that was flourishing in Luton at that time. Unfortunately, the family came to the notice of the Overseers of the Poor, and Removal Orders were obtained to send them to Isleworth, Middlesex, their original home parish. They appealed against the eviction order and the authority, realising that legal proceedings would be costly and probably deciding that the two adults were so ill that they would not be a charge on the rates much longer, gave up their attempt. Soon afterwards, Charlotte died in New Town, Luton in December 1848, age 61. Just over a year later, in March 1850, Helen, died of consumption age 38 leaving her three sons, John, James and William (aged approximately 13, 11 and 8) as orphans. Could this early period of hardship have stimulated William with the ambition to 'do well'? He may also have resented and feared the stigma of his family being 'on the Parish' and this led, in later life, when he was successful, to his unwillingness to discuss this episode of 'shame' which he underwent as a child. It certainly gave the three brothers a bond that remained for the rest of their lives. They seem to have kept in close contact and this fellowship apparently extended into the next generation as well.
The boys must have been taken in by their great uncle James Robertson, for in the 1851 census, nine year old William is a scholar living with James at Windsor Street, Luton. Also living in the household are William's two aunts, namely James' daughter Mary Robertson, a 26 year old bonnet sewer (Mary would later marry her cousin James Robertson Templeman, brother to Helen), and Mary Ann Templeman, 28, also a bonnet sewer, sister to Helen. William's oldest brother, John, is a 14 year old shop assistant at King's Walden, Hertfordshire (near Luton), to a grocer and tea dealer, whilst 12 year old James is employed as a 'page' in the Luton area.
By 1861, William is a 19 year old miner, lodging with a family in Rowley Regis, Staffordshire. We know that he had headed for the coalfields of South Staffordshire to become a bound apprentice under a firm of charter masters (2) called Messrs. Robinson. His brothers, John and James, had travelled north east to seek employment on Tyneside and William made the move north shortly after 1861 where he found work at several collieries in the Prudhoe – Ovingham area on the Northumberland coalfield. In March 1864 at St. Andrew's, Newcastle, he married his landlady, Elizabeth Wylam Young (nee Richardson), a widow with two young children whose first husband, John William Young, a coalminer from Gosforth, had recently been killed whilst digging tunnels in London. William would later tell the story that whilst lodging with Elizabeth the house was so crowded that on opening the front door he would have to pick his way over sleeping bodies to get inside. Shortly after his marriage, William took his new family across the Tyne into Co. Durham to South Pontop Colliery, where his first son, William Braidford junior (my great grandfather), was born on Boxing Day 1864.
Lintz Colliery at Burnopfield, Co. Durham, was his next move. It overlooked the River Derwent and therefore had advantages of good water drainage and a vital wagon way-rail link to the Tyne coal export route. He was soon promoted to the position of Deputy Overman. These men were specially hand-picked, experienced miners, acolytes of the manager/viewer/owner and responsible to them for the discipline, safety, productivity and smooth running of the colliery's underground workforce (known as hewers), who cut the coal from the coal face. William would have learned his skills the hard way starting as a trapper-boy, opening and shutting doors for ventilation and the passage of coal tubs, before moving up to pony driver and putter and helping transfer coal up to the surface.
The family remained settled at Lintz for about 14 years, and William set his sights on qualifying as a Colliery Manager, which would have entailed many hours of study, probably in the evenings after his shift at the pit was over. Elizabeth bore William a total of eight children, four of them dying as babies. His sons followed him into the pit; his youngest, a daughter named Missouri, was born in 1876. The name Missouri has always fascinated me, and I often wondered where it came from. Family legend has it that a next daughter would have been named Mississippi, thus ensuring his daughters would always be 'Miss'! A quick look at Ancestry shows there are very few people named 'Missouri' in the UK at that time, although there is one in Staffordshire in 1861, whose father was a miner… did William know this family? William and Elizabeth's use of the name seems to have set a trend, and there are number of girls named 'Missouri' living in and around Co. Durham by the 1901 census.
On 17th June 1881, tragedy struck when William and Elizabeth's son, John James Braidford, age 14, was killed in an accident at Lintz Colliery. In the April 1881 census, he had been described as a 'heap boy' and his job would have been to pick out any remaining stone, slate, shale or 'brass' (iron pyrites) from a conveyor belt carrying relatively large pieces of coal known as 'nuts' and 'roundies' or round coal (these had already been mechanically 'screened' over moving grids to eliminate the dust and small coal –'duff'). This round coal would then be thrown on to another belt running alongside. The waste would then be collected separately from the coal and carried off in large iron containers attached to an aerial rope-way where they were tipped on to a huge spoil heap. John James was knocked off the screen into a truck by a large piece of coal and killed. The stained glass window in the south-west wall of Burnopfield's Church of St. James was installed in his memory by the work people of the Lintz Colliery.
William achieved his ambition of becoming qualified to manage when he obtained his First Class Mining Engineer's Certificate (No.1,831) in Durham on 21st September, 1883. He decided to seek a colliery manager's position on the Staffordshire coalfield where he had been apprenticed and found a place at West Cannock. This move may have been precipitated by the imminent closure of Lintz Colliery by its owners, Messrs. McLean and Prior, who felt they had encountered insurmountable problems due to geological fault-lines. (In 1885 it was laid in, i.e., closed down). Whilst there, William Braidford junior would meet his future wife and my great grandmother, Laura Emma Garbutt. They married in Tipton, Staffordshire in 1890.
In the late 1880s William resolved to return north again, for as he put it, "like most men who have worked mines in Durham and Northumberland, there was nothing in the mining world like the North either for managerial positions or for the first class pitmen". After a short spell at Haswell Colliery near Easington in Co. Durham, he took charge, as a viewer (3) of Walker Colliery on the Tyne where he was within walking distance of his two older brothers, John and James, who were working in the shipyards of Byker. Meanwhile, rightly convinced that the geological problems at Lintz Colliery could be overcome, he was sent for by the new owner, Mr. John Shiel, and in 1890 was offered the manager's job in the re-opened pit. The appointment was reported in the Northern Echo on Thursday, March 6th 1890: "Mr. Wm.Braidford, sen., at present viewer at Walker Colliery, has been appointed by the Lintz Colliery Company manager of their Lintz Colliery."
He held this position until his retirement due to ill health in 1909. Having worked hard all his life, William had the means to enjoy a comfortable retirement with Elizabeth, something that would have been difficult to foresee during the hardship he endured in the first decade of his life. In his closing years, he was especially saddened by the loss of two of his grandsons in the carnage of the First World War – William and Percy Braidford – both officers in the Durham Light Infantry. William did not live to see the end of the conflict.
The deaths of William and Elizabeth Wylam were reported in Newcastle newspapers:
Newcastle Daily Journal Friday July 12 1918:
"North Country Notes: Mr. Wm. Braidford senior, who has just died at Lintz House at the age of 76 years, was, in his earlier days, one of the most ardent supporters of the Unionist cause in N.W. Durham, and, as a member of the Divisional Association, rendered signal service in several contests. He was also a governor of the Consett Technical Institution. It is only a few years since Mr. & Mrs. Braidford – who still survives – commemorated the anniversary of their golden wedding."
Newcastle Daily Journal Sat. Oct. 8 1921:
"Death: BRAIDFORD: Lintz House, Burnopfield, on the 6th inst. aged 86 years. Elizabeth Wylam, beloved wife of the late Wm. Braidford. Interment, St. James' Church, on Sunday at 4 p.m. Friends please accept this (the only) intimation."
Looking back on his life, William felt he had attained all he had set out to do, whether at work or in his personal life. He said, "he had been like a spoiled child and got everything he wanted". In my opinion it was due to his great strength of character and hard work that he achieved all the goals he set himself. Many remarkable men toiled in the collieries of the North East and I'm proud that my great great grandfather, William Braidford, was one of them.
Meridian Line
© Meridian Line 2009
Acknowledgements
I would like to thank Angela Braidford Sinclair for her family memories and Roy Sinclair for his research and also acknowledge the contributions to the research made by Marion C. Braidford and Stella Braidford.
---
Sources
North of England Institute of Mining & Mechanical Engineers, Newcastle
University of Durham's "Archives & Special Collections", Palace Green, Durham City.
Newcastle Central Library Local Studies Department.
Durham Mining Museum
Ancestral Trails by Mark D Herber
Volumes 2 & 3 of The History of the British Coal Industry published by the Clarendon Press, Oxford
The Great Northern Coalfield 1700-1900 by Frank Atkinson published by University Tutorial Press, 1968.
---
(1) The Poor Law Act of 1834 was passed in order to relieve the immense and increasing cost to individual parishes of supporting the poor. It attempted to stop the system of 'outdoor relief' whereby the poor stayed in their own homes and were given money or provisions to support themselves. The new system organised parishes into Unions, each Union having a Workhouse, where conditions were made deliberately harsh and hostile, so only the very destitute or ill would be forced to enter.
The system of settlement was brought about to prevent beggars from seeking help from parishes who were more generous than others. Everyone had a place of settlement and this was usually the parish in which they were born (or for a woman, that of her husband). Anyone who was thought to be liable to need parish relief and did not have a right of settlement in that particular parish could be removed from it after an examination by a magistrate, who determined whether they belonged to another parish or not.
(2) Most mine workers in Staffordshire in the first half of the 19th century were employed not by the mine owner, but by a charter master who was a sub-contractor and who accepted responsibility for supplying all the labour necessary to extract coal and raise it to the surface.
(3) A viewer is another term for the manager who was generally in charge of all underground and surface arrangements. He would have a mixture of skills, including manager, engineer, surveyor, accountant and agent, and would be involved not only in the day to day running of the colliery, but also in its design, construction and development.