Benjamin Williams Mathias was the father of John Alexander Mathias, the former Archdeacon of Colombo, who was involved in the clerical dispute at St Giles Church in Newcastle-upon-Tyne.
Once I found out that my great x3 grandfather, John Alexander Mathias, was born in Ireland, I was sceptical about how much information I would be able to dig up.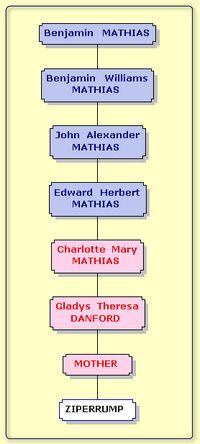 Little did I know that this family's history had a wealth of documented records just waiting to be discovered.
Benjamin was born on 12th November 1772, in Dublin, Ireland. He was the only surviving child of Benjamin Mathias Sr. Unfortunately no information about his mother has been found.
Benjamin Sr. immigrated to Ireland in about 1760, the youngest son of an affluent family from Haverfordwest, Pembrokeshire, Wales. Benjamin Sr. became involved in manufacturing woollen cloth and it is said that he became very successful in this trade.
Documentation also indicates that he was very patriotic and spent long hours hiding in the mountains protecting his fellow man from the robbers who were creating problems for the people of Dublin at the time. Unfortunately as a result of these long hours he died from 'complications' at the age of 35.
His wife, being a frail woman, was so shocked by his death that she herself died a few weeks later, leaving young Benjamin an orphan at the age of 10.
Unfortunately, Benjamin's father left his business in disarray and, because of young Benjamin's age, some took advantage of the situation which resulted in the orphan being left without his entitled riches.
Benjamin Sr. had appointed a good friend, Rev. Dr. McDowell, as Benjamin's guardian, an honour the good Reverend took very seriously. Rev. McDowell used his influence to obtain the best education for young Benjamin by convincing a Mr Kennedy to take on the task of the young lad's education.
Young Benjamin knew from a very early age that he wanted to become a leader in the church.
On 3rd October 1791, at the age of 19, Benjamin Williams Mathias entered Trinity College, Dublin, and graduated with a Master of Arts in 1799.
In 1797, Benjamin was ordained to the curacy of Rathfryland, County Down. Then on 21st October 1801, he became curate of Drumballyroney; a position he held until 1805.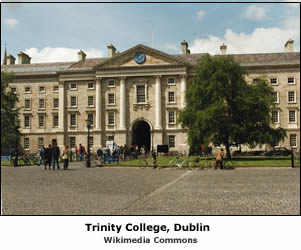 Even though Benjamin was working hard as a cleric he continued his education, and in July 1809 he received certification to be a licensed schoolmaster.
It was shortly after his appointment in Drumballyroney that he met Anna Stewart. She was born on 25th May 1770 in Wilmont, County Down and was the daughter of William Stewart. Benjamin and Anna were married in January 1804 and remained in Drumballyroney until 1810.
They had four children, Anna Mary Stewart Mathias (1807), William Benjamin Stewart Mathias (1809), John Alexander Stewart Mathias (1810) and Ellen Charlotte Stewart Mathias, whose birth date I have yet to find.
In 1810 Benjamin became the chaplain of Bethesda Chapel, which was located in Dorset Street, Dublin. He held this position until he retired due to illness, subsequently dying on 30th May 1841.
During his lifetime he wrote and had published several religious books:-
Compendious History of Council of Trent (Dublin 1832)
Twenty-One Sermons, chiefly preached in Bethesda Chapel (Dublin 1838)
Doctrines of the Reformation
Vindicae Laicae, The Right of Laity (published anon)
It is said that Benjamin was a passionate, kind and gentle husband, father and preacher, and well loved by his congregation who, upon his death, commissioned a monument to be placed in Bethesda Chapel in his memory.
Unfortunately in later years the chapel was sold and the commemorative tablet was moved to St. George's Church in Dublin.
It reads:-
To the Memory of the
Rev. Benjamin Williams Mathias A.M.
Who for 31 years
Faithfully Filled the Situation of
Chaplain of Bethesda
Passionate and Impressive in his Teaching
Kind in his Manner
Mild and Humble in His Deportment
Uncompromising in His Testimony
To the Truth
He Lived Beloved and Died Regretted
A Grateful Congregation and other Friends
Have Erected this Monument
To the Memory of One
"Who Being Dead Yet Speaketh"
He Died the 30th of May 1841 Aged 68 Years.
ziperrump
© ziperrump 2008
---
SOURCES
Trinity College in the University of Dublin for the Alumni Dublinenses 1593-1860, which details past students
Representative Church Body Library in Dublin for the Clergy of Down & Dromore Biographical Succession List and other information including the book 'Brief Memorials of Rev. B.W. Mathias, Late Chaplain of Bethesda Chapel' by William Curry (published Dublin 1842 June & Co).