My parents have a motley collection of cutlery with various monograms, which has been passed down to my mother. This includes two incomplete sets of rather worn silver plated spoons, which are used every day.
One set is monogrammed GAG, the other JSG but we weren't 100% sure who they had belonged to although we thought they had originally belonged to my great grandmother's parents and grandparents. Apart from being very useful to stir one's tea, they also helped me sort out some of my maternal family tree.
I knew that my great grandmother was born Susan Gillett, that her father's name was John, that she was orphaned early so she was initially brought up by one of her grandmothers and then by John Tompkins as his ward and that Susan married John's son Osborne Tompkins. To confuse things, Osborne's sister Rosa Ellen married Thomas Turner De Fraine and the daughter of Osborne and Susan, Kathleen Mary Tompkins, married the son of Thomas and Rosa, Thomas Leigh De Fraine, in a double wedding in 1890. They are my maternal grandparents.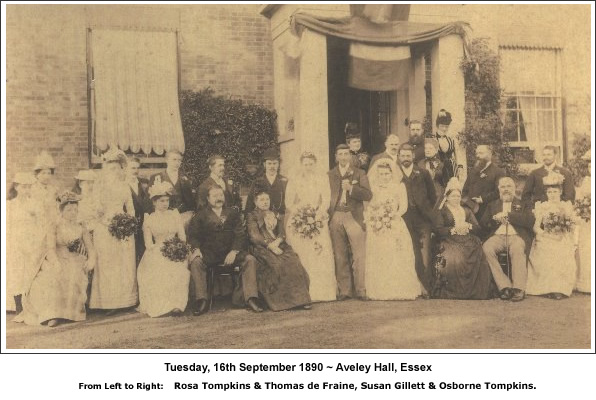 We had a partial family tree drawn up by John Manning, a grandson of John Tompkins from John's second marriage, but it didn't go into any detail about the Gilletts, so some detective work was needed to fill in some gaps.
I remember my grandmother showing me the picture of the double wedding and talking about brothers and sisters marrying and mentioning adoption when I was little, but of course I never really took it in. In fact I had a very confused mental picture of two brothers marrying two sisters after one lot of parents dying in a car crash!! Given the dates I now know, I don't know where a car crash came into it. Stow-on-the-Wold was important somewhere in the story.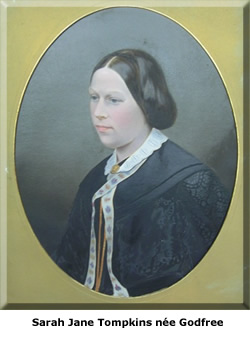 A Susan Gillett, aged 8, appears with John and Emma Gillett in 1871 in Maugersbury, Glos, listed as daughter. The 1881 census shows Susan living at the home of John Tompkins in Aveley, Essex and described as his ward – his wife's name on this was Emma. We have a portrait photograph of John Tompkins wife – we knew that her name was Sarah Jane and that she was the mother of Osborne and Rosa, so Emma must have been his second wife.
The assumption from this would be that Emma was Susan's mother. If you try to find Susan's baptism on the FamilySearch website you would also assume from the Pedigree Resource File entry that her parents were John and Emma Gillett. Since I was fairly sure that Emma was not Susan's real mother from what little I remembered from my grandmother, I had a strong feeling that this was wrong and it fact it proved to be so.
To be sure, I had to send off for her birth certificate. From the census entries, I knew Susan's year of birth, and a trawl through the FreeBMD site gave me the birth reference. The birth certificate named her parents as John Gillett and Susanna Gillett formerly Gillett which of course matched the JSG on one set of spoons, but which set of Gillett parents had owned the other set? (I was intrigued by her also being a Gillett, but that is another story of sets of cousins marrying and has been just as difficult to disentangle.)
I knew that Susan had been orphaned which was why she was taken in by John Tompkins and luckily a very short trawl through what was then called the 1837online indexes, now findmypast, gave the reference for the death of Susanna, which when I had received the certificate gave me her age to work back from. I was very sad to see that Susan's mother had died only 13 days after Susan's birth on the 19th January, 1863 aged 25, of consumption which she had suffered from for some time.
I found a baptism for Susanna, as an extracted entry on the International Genealogical Index (IGI), in 1837, daughter of a George and Ann Gillett in Brize Norton. This was unfortunately too early in the first year of Civil Registration to be able to obtain her birth certificate but remembering about the GAG monogram on the second set of spoons made me think that I had found my great great grandparents. To be as sure as I could, I sent for the marriage certificate for John and Susanna and this confirmed that her father's name was George Gillett, farmer of Brize Norton.
So how did Susan end up as the ward of John and Emma Tompkins? Susanna had died in January 1863 and John Gillett married Emma Godfree in May 1864. He died himself in December 1871 when Susan was aged 8. Sarah Jane Tompkins had died in January 1872 leaving John with 10 children to raise and in September 1873 John married Emma, who happened to be Sarah Jane's younger sister (!), and took her step-daughter in to his household.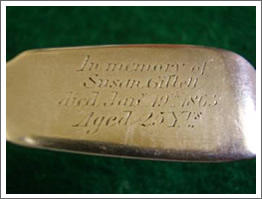 My grandmother died in 2003 (aged 105) and recently, my mother discovered that Granny had kept a spoon which had once belonged to Susan. It is a well worn baby's feeding spoon and the engraving reads:-
"In memory of
Susan Gillett
died 19th Jany 1863
Aged 25 Yrs."
Had I known earlier about the existence of this particular spoon the detective work would have been a whole lot easier!
Also, tucked away in Granny's writing case, there was a newspaper cutting reporting on the double wedding, which listed the wedding gifts and named the donors. My mother and I once spent a fascinating afternoon matching up the rest of the cutlery collection, and other bits and pieces which had been passed down through the family, with the list of gifts!
Sorting out Susan's parentage is a tangled story which needed the BMD certificates to sort out and made the point to me very early on in my research about how important it is to confirm your sources. Unfortunately, once uploaded, mistakes are impossible to correct, so the error in the Pedigree Resource File may well be perpetuated by other researchers. This was a case of just relying on census returns and is an understandable mistake to make. Without the picture of Sarah Jane and the spoons, I too might have assumed that Emma was my great great grandmother and left it that.
Caroline
© Caroline 2008