Article inspired by Liz from Lancs' recent thread on the General Board ~ 'Your adventures and obstacles overcome taking photos of places of worship'.
Let me introduce myself to you. I am Genie, a creation inspired by the collective experiences of Family Tree Forum's members who have been taking photos of religious meeting places for the site's Places of Worship (or POW) Project.
When the project was first created I thought that there had been a sudden resurgence in interest in prisoners of war, but soon realised the new meaning of the term.
My adventures are too numerous to recount, so I thought that I would put together a list of ten golden rules, which will hopefully assist, inspire, as well as amuse you.
1. Equipment.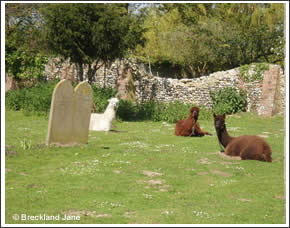 This may seem a little obvious, but don't forget to take your camera. I have driven miles into the countryside and walked all the way across town, only to realise that I'd left it back at home.
Don't forget to charge your camera before leaving home and pack some spare batteries. After lining up the perfect shot, the last thing you want to happen is your camera telling you that it's run out of energy, long before you have.
If you are a novice to digital photography, then practise using the camera before you go and take the instructions along with you.
The Alpacas I found in one particular graveyard, may well have been ideal to keep the grass low, but were pretty much useless when it came to advice on the complexities of my new gismo.
2. Be Prepared.
Living in the United Kingdom, you have to be prepared for all four seasons in one day, so it's best to pack accordingly with waterproofs and an umbrella, sunglasses, sun hat and sun block, as well as an extra jumper if it turns chilly. High heels and wet grass are not a good combination, so make sure that you wear a nice comfortable pair of shoes with a tyre like grip, otherwise you will end up in the nettles or flat on your back on slippery wet flagstones just like I did. Once you have completed your attire, please don't forget a can of WD40 for easing the joints on any seldom used gates you may find.
3. Be organised.
Before you jump in your car and charge around the countryside on the look out for a church steeple, please do some research before you leave home. Look at an Ordinance Survey map to locate the churches, and use the search engine site Google, to find out more information. Don't forget to take a notebook with you to record the names of the churches you have photographed. A good idea is to take a photo of the board at the entrance, which has the church's name on it. Take a map with you too, as local signposts can't always be trusted, as I've found out.
4. Dealing with Obstacles.
Of course, we all want the perfect shot, but very often that viewpoint is obscured by trees, buildings, people etc. Please do not be tempted to attack the foliage with a chain saw, even though it may well be overgrown, as this will not go down very well. Instead, visit in the winter months when the branches are bare and you have a better view of your target.
5. Have patience.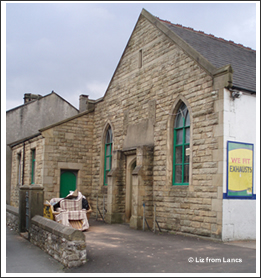 A degree of patience is required to wait through sudden bright sunshine, rain or sleet, until conditions are conducive. But even then you may have to wait for someone to walk by, for the mourners of a funeral to disperse, the builders to come down from the roof or for the local tramp to remove himself from the churchyard bench.
6. Getting the perfect shot.
Take some time to walk around the churchyard to find the best camera position. This may not be the most obvious, and may well involve holding the camera very low to the ground, sitting on wet grass or wading through nettles to get that perfect shot.
7. Be prepared for disappointment.
I have driven miles to my chosen POW, only to find it in a state of dilapidation and neglect, or being renovated and surrounded by scaffolding. For others, the building was no longer being used for its intended purpose and had been converted, at best into a home and at worst into a garage, with old furniture piled up outside.
8. Explaining yourself.
As genealogists, we believe that our activities are perfectly normal and rational, but unfortunately others do not share this view. Be prepared to get odd looks from passers-by, who find it inconceivable that anyone would want to take a photograph of this particular building. Some may go so far as to ask you what you are doing, which is an excellent opportunity to advertise Family Tree Forum and gain them as a member to help with the project. However, showing the remotest interest in the church may lead to a lengthy religious conversation with a parishioner, accompanied by coffee and biscuits, so beware. Although you may well come away with some free carrots and potatoes. However, what with the recent spate of thefts of lead from church roofs and with the concerns over terrorism and privacy, you may well be viewed with some suspicion, so don't be surprised if the strong arm of the law taps you on the back.
9. Health and Safety.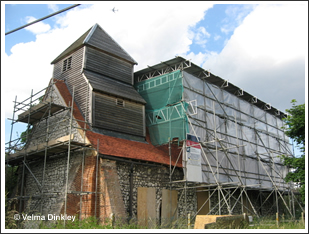 Please take care when taking photos for the project. I have to admit that I have stood in the middle of roundabouts and peered over the top of a multi-storey car park, causing great distress to the parking attendant, in an attempt to complete my mission.
I have suffered bruises, blisters, nettle stings and worst of all, broken fingernails. I've even been narrowly missed by a piece of falling plaster. Perhaps I should suggest to the Advisory Committee that all participants in the project be kitted out with hard hats and yellow jackets, emblazoned with the letters FTF?
Please drive carefully, keeping at least one eye on the road, whilst the other keeps a look out for your POW. Avoid sudden U-turns and sharp braking, and be considerate when parking your car or 40 foot lorry. Please don't forget the countryside code and keep a look out for sheep, cows and alpacas, as well as avoiding any deposits they may leave behind.
10. Enjoying yourself.
Being involved in the POW project is an ideal way to get out and about and discover the history of your local area, and the summer months are a perfect time to do this. You never know you might find your ancestors' graves in the process
Velma Dinkley
© Velma Dinkley 2008