Edward Guildford was born in 1853 in Portsea, Hampshire, and was the brother of my great x2 grandfather, Charles Guilford. I discovered Edward when I found the family living in Terminus Road, Brighton (just behind the station), on the 1871 census.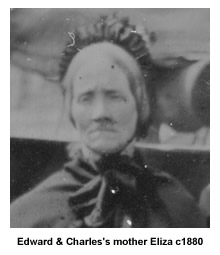 Their mother Eliza had been widowed nine years previously; their father Henry, although Brighton born, had moved the family around the towns of the south coast during his work as a railway guard and had died of Phthisis (Pulmonary Tuberculosis) in 1862, whilst the station master at Henfield.
On the census, my great x2 grandfather, Charles, was described as a wagon builder, and Edward as a blacksmith. The view from their home would have been across the railway tracks to the station's locomotive works, and I think that this is where they both worked.
When I looked for Edward on the 1881 census, the only Edward Guilford I could find born c1853, Portsea, was a theology student at a missionary college in Islington. It seemed such a world away from being a blacksmith in Brighton, that I dismissed this 'find' and pursued other lines of research.
Some time later when I discovered the Times Digital Archive, I was entering different family names into the search box and was quite astounded when I discovered Edward's obituary in August 1937 :
The Rev E Guilford, Honorary Canon of Lahore Catherdral from 1916 to 1930, who did great work on behalf of the lepers in India, died on August 13th at Clifton, Bristol, at the age of 83. Born in Portsea on November 25, 1853, Edward Guilford was the son of the late Henry Guilford. He was educated in Brighton and at the Church Missionary Society (C.M.S.) Theological College, Islington, after which he was ordained in 1881. The same year he went to the Punjab as a missionary at Amritsar, and continued that work until 1884, when he founded, and become superintending missionary of the C.M.S. mission to the Sikhs, Tarn Taran, and was also appointed honorary superintendant of the Tarn Taran Leper Asylum. Both of these enterprises were fortunate enough to have the benefit of his services until he relinquished the appointments in 1923. He found time also to take part in other public work, being president of the Tarn Taran Municipal Committee (from 1890-1923); a member of the Amritsar District Board; a member of the Punjab Board of Economic Inquiry; and chairman of the Punjab New Testament Revision Committee. Among his other offices were those of secretary and treasurer for the Canadian Mission Kanga District, honorary chaplain, Dharinsala Cantonments; and vice-president of the C.M.S. His publications included the Book of Psalms in Punjabi and `Sikhism`.
During the war he spared no effort to help his country, and he had the rank of captain, Indian Army reserve of Officers, for recruitment and propaganda. In 1908 he had been awarded the Kaisar-i-Hind Medal (First Class), receiving a bar six years later. He was made O.B.E. in 1919 and C.I.E. in 1923. In 1883 he married Louisa Compeigne, daughter of Mr S Chase, of Reading. She died in 1895. There were four children of the marriage, one son and three daughters. He married secondly in 1896 to Elizabeth Rose, daughter of Mr G A Grimwood, of Shern Hall, Walthamstow.
Sir Michael O`Dwyer writes:
The death of the Rev. E Guilford will be lamented by the thousands of friends, British and Indian, who for the last 50 years have known him as "Guilford of Tarn Taran" (near Amritsar), where he was for so long in charge of the Punjab Leper Asylum. His devotion to the hundreds of lepers under his care and his outstanding qualities as a missionary and a man made his name a household word in the Central Punjab, and won for him the respect and affection of the sturdy Sikhs who predominate in that area. No man understood them better or had a wider influence for good among them.
His cheery, frank manner, his broad humanity, and keen sense of humour won their confidence, and his knowledge of the Sikh mentality was most valuable to the Punjab Government and local officers. The leper asylum under his sympathetic but firm control was a model institution. At my last visit I was so struck with the happy and cheerful spirit of the inmates, that I compared Guilford with Father Damien, but in his breezy way he made light of his work there. The greatest tribute to his personality was paid when the rival Sikh factions, contended with Sikh obstinacy for the control of the famous and richly endowed Sikh temple at Tarn Taran, united in requesting him to take over the management. His position as an Anglican clergymen of course debarred him from doing so. But the offer was unique and reveals what the man stood for – the high ideals of a true Christian gentleman united with broad sympathy and sound common sense.
Whilst making interesting reading into Edward's life, the obituary also provided further lines of research.
I found the marriage of Edward and Louisa in Bombay, India, on 25th January 1883 on the International Genealogical Index on the Family Search website, where I also found the baptisms of their two eldest children, daughters Lilian and Edith, in 'Bengal Presidency, India', in 1884 and 1886 respectively.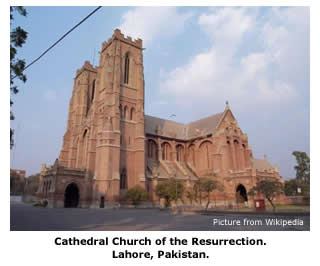 Interested to find out if either Edward or Louisa returned to the UK at some point, I looked for them on the 1891 and 1901 census returns, and did in fact find Louisa and her children, living at 62 London Street, Reading, Berkshire, with Chase family relatives, in 1891. The 'son' described in the obituary was an Edward Montmorency Guilford, who was born in India c1888. Edward and Louisa's fourth and youngest child, Evelyn, had been born in Reading in the spring of 1890, yet Edward appeared to have remained in India.
I then found Louisa's death in 1895 in Hastings district on the FreeBMD website. After not finding either hers or her children's names on any passenger list of a ship sailing back to India in the intervening years, on the Find My Past website, I was intrigued to find out what she died of. When I received her death certificate the cause of death was entered as 'double pneumonia', and I did wonder if ill health had prevented her from rejoining her husband in India.
Whilst Edward was remarrying in 1896, his children appear to have remained in England, as the 1901 census shows Lilian staying with a maternal aunt in Ramsgate, Kent, whilst her brother Edward attended a local boarding school. As for their sisters – Edith was boarding at Buckhurst College, Woodford, Essex, and Evelyn, was boarding at a school in Bexhill on Sea, Sussex.
Looking again at the passenger lists on the Find My Past website, two female passengers by the name of 'E Guilford', one of whose year of birth is listed as 1886 and the other unknown, travelled to Bombay onboard the Peninsular & Oriental Steam ship 'Persia' on 11th September 1913. I feel sure that this was Edith and her sister Evelyn visiting their father in India.
I was interested to find out what became of Lilian, Edith, Edward and Evelyn, after all they were my great grandmother Maud's first cousins. I found Edward and Evelyn's marriages listed on the FreeBMD website. Edward married Kathleen Bigger on 28th May 1913 at St Margaret's chuch in Westminster, London, their marriage being reported in The Times two days later, and Evelyn married Arthur C Champion in Croydon, Surrey, in 1914. I found two birth registrations with the surname of Champion and mother's maiden name recorded as Guilford, as well as a possible daughter for Edward and Kathleen on the FreeBMD website. Perhaps one day I'll be able to contact living relatives on this side of the family.
Further searching for Edward Montmorency Guilford on the Times Digital Archive revealed that he too was a clergyman, but unlike his father lived in the UK, and that he played hockey for Wimbledon Hockey Club. I found and downloaded his medal card from the National Archives website, which showed that he served as a chaplain in World War One. I also found his father's medal card on the site. Both of these are now available to view, by subscription, on the Ancestry website.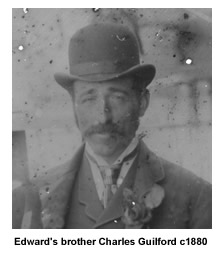 I also discovered various references to Edward Guilford's work on websites found through the search engine website, Google, and began to feel certain that a photo of such an eminent man would still be in existence. Typing 'Church Missionary Society + archive' into the Google search box, I soon discovered that the archive was held at Birmingham University. The archivist very kindly sent to me a photograph of Edward amongst a group of dignitaries in the 1890s. Unfortunately she has forbidden me from reproducing this photo, so sadly I cannot share it with you.
She also provided to me a list of dates when Edward travelled to and from India and it appears that he did come back to England in March 1889, returning to the Punjab the following October. He came back to England again the following March staying until November, presumably to visit his wife and children, including his newborn daughter Evelyn. His next visit was in April 1894, described as 'to England with sick wife', so it does look like Louisa did rejoin her husband after all. However, Edward returned to India in July 1894, and with no further references to his travels after this date, one can only assume that this was the last time they saw one another.
The archivist also told me that Edward's daughter Lilian married Charles Shaw, who was a clergyman and missionary like her father and that they had spent their lives in India, where she died in 1954.
I am sure that my great grandmother, Maud, must have been aware of her uncle's work in India and told her children, yet the story did not reach mine and my mother's generations, which seems rather strange. Nonetheless, it has been an honour to place the Reverend Edward Guilford, missionary, superintendant of the Tarn Taran Leper Asylum and Canon of Lahore Cathedral into my family tree and I hope that I share some of his compassion and humility.
Velma Dinkley
© Velma Dinkley 2008