Francis William Stanbridge was Margaret in Burton's husband's first cousin twice removed. He was born on 26th November 1885 in Burton-on-Trent, Staffordshire, and was the son of Oxfordshire born Bernard and Matilda Stanbridge.
At the time of the 1891 census the family were living at 16 Moor Street, Burton-on-Trent, with Bernard described as a railway clerk.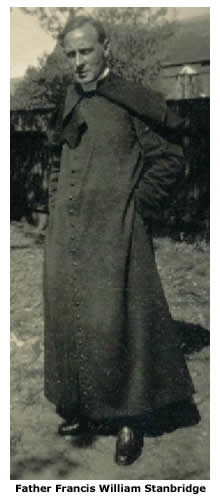 Francis's older brother, Bertram, also worked for the railway as a telegraphist clerk, so you would imagine that it was expected of him to follow in his father's and brother's footsteps.
However, inspired by Burton-on-Trent's Canon Flynn, Francis attended St Wilfreds Catholic College for Boys in Cotton, Alton, Staffordshire, where he was recorded as a student at the time of the 1901 census. He completed his studies at St Mary's College, Oscott, Sutton Coldfield in the West Midlands, and was ordained as a priest, starting his ministry as a curate at Solihull in 1911.
It was during this time that he officiated at his brother Bertram's marriage to Catherine Blake in Burton-on-Trent in 1917.
Francis left Solihull for nearby Southam in 1918. As an enthusiast and keen sportsman, known a 'Goaler', he put his skills to use reorganising the local cricket team. He also worked with disabled boys and organised the local sea scout troop.
He moved away to Pershore in Worcestershire for a year in 1922, returning to Staffordshire to take up a position in Rugeley where he remained until 1927. After spending part of that year at Besford Court, he moved on to Fenton, near Stoke-on-Trent, where he remained until 1935. It was at Fenton that he became active on the Education Committee, safeguarding the interests of Catholic schools, work he continued during his next appointment at Leamington in Warwickshire.
It was ill health that forced his next move to nearby Hampton-on-the-Hill in 1945, where he became involved in local affairs.
In 1950 he returned to Alton in Staffordshire with his health in decline. Through numerous illnesses, he remained the parish priest right up until his death on 8th November 1962. He is buried in the churchyard at St Peter's church in Alton.
His obituary described him as a fine and loyal priest, enthusiastic, thorough and efficient in his duties, who courageously bore the illnesses of his later years.
Velma Dinkley
From material supplied by Margaret in Burton
© Velma Dinkley 2008