Some parts of mine and my husband's family trees have been researched extensively. However, other branches remain mere frameworks or 'skeletons', with just names, dates and information gleaned from census returns, the birth, marriage and death indexes and the International Genealogical Index (IGI).
My husband's paternal grandmother's maternal line is one of these skeleton branches. Her maternal great grandfather, John Keeley worked as a shoemaker in Cookham High Street in Berkshire. John and his wife Ellen, whom he married in 1831 in Clewer, near Windsor, had at least ten children, with Sarah, born 1843, being my husband's great x2 grandmother.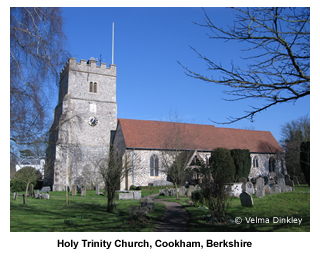 John Keeley died in 1896 and it appears that his son Edward, born in 1838, took over his business, as he was described as a shoemaker on the 1901 census.
A while after I discovered this family, I was idly browsing through our local newspaper and found the following:–
Maidenhead Advertiser, 17th March 2006
75 Years Ago (1931)
The death of Edward Keeley, Cookham's oldest resident and co-founder of the Oxford Diocesan Guild of Church Bellringers, was announced.
'Old Ted', a former shoe repairer died, aged 93, following a short illness. Spending his whole life in Cookham, Mr Keeley was known throughout the village as an early riser. People bidding him 'good morning' any time after seven would be greated with: "Yes, it's been a nice day".
Mr Keeley, however, was most proud of his work in establishing the Bellringers Guild.
In 1879 he took part in a special peal of the church bells at All Saints in Boyn Hill [in nearby Maidenhead], which resulted in the formation of the East Berks and South Bucks Society of Ringers – the forerunner of the Oxford Diocesan Guild.
Mr Keeley was buried in Cookham churchyard to the accompaniment of half-muffled bells rung in tribute by former colleagues.
So, quite unexpectedly, I had been able to put some 'flesh and bones' onto to the bare skeleton of this particular branch of my husband's tree, which goes to show that genealogists should have their eyes and ears open at all times!
Some time later, when I was out and about taking photos for Family Tree Forum's Places of Worship project, I visited Holy Trinity church in Cookham, and found Edward's grave. It was in a quiet corner of the churchyard under the shade of a tree, with a good view of the bell tower, where the church bells continue to be rung.
Velma Dinkley
© Velma Dinkley 2008