Equity is the trade union for the entertainment industry, which is renowned for its uncertainty, and was formed by a group of West End performers in the 1930s. Its main objectives are to protect members' rights and conditions of employment, ensure fair pay and deal with the distribution of royalties. It provides advice, not only in respect of members' careers, but in legal (including contractual, personal injury, conveyancing, wills and probate), taxation and welfare benefit matters.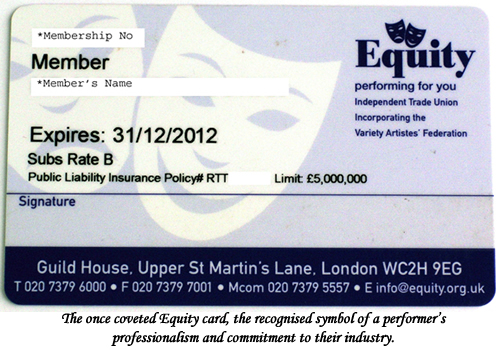 The union provides its own pension scheme, and automatically covers members for accident and backstage insurance, as well as public liability insurance. It is also actively involved in lobbying Parliament on issues affecting the industry.
Up until 1981, when closed shop unions were made illegal, performers had to be members of Equity to find work and to be taken on by an agent. However, to apply to the union they had to show that they had worked in the industry professionally, so for many it became a 'Catch-22' situation.
Since 1981 these regulations have been relaxed, with performers having to just show one example of paid, professional work to be eligible, although they are actively encouraged to become members once they have a foothold in the industry.
The union rules also stipulate that only one person can have a particular name on their books, which has led to many performers, including the actor David Jason, adopting a stage name. He was born David White in 1940, but when he applied for membership of Equity there was a David White already registered, so he chose the surname Jason instead.
There is a similar organisation in the USA called the Actor's Equity Association, which was formed in 1913, and reciprocal arrangements exist between the two, allowing members to work in either country.  
Velma Dinkley
© Velma Dinkley