When I was about 6 years old I was 'helping' Dad tidy the garage. Amongst the dusty boxes I found a box full of rocks and asked him about them. I had uncovered his fossil collection, begun when he was a boy of 8 or 9. He showed them to me and named each one and where he found it. One rock in particular caught my eye, it looked like a piece of coal but there was a coin embedded in it. Dad was always available for a yarn, so we forgot tidying and he told me the story of the strange rock.
Dad had been in the 8th Army in WWII and they had moved from Africa to Italy early in 1944. Dad's unit was based near Naples in March of that year. They were disturbed one evening by what sounded like thunder and the ground was vibrating. They rushed out of their billets and witnessed the beginning of the last big eruption of Vesuvius. You can watch an old news reel of the eruption through this link: YouTube – Eruption Of Mt Vesuvius 1944.
Some days later Dad and some friends had been able to travel very near to the site and had seen the lava streams close up. Some of them had pressed coins into the soft, cooling lava and returned later to chip them out to keep as souvenirs.
I asked Dad if I could take it into school to show my teacher and of course he said yes. For years afterwards the piece of lava lived on my bedside table, until I got married and left home.
Dad moved into a nursing home in 2006, as he was very frail and almost unable to move around the house. He said he didn't want to be 'a burden' to us or his neighbours and insisted that we found him somewhere where he'd be looked after. We were very lucky and found the perfect place not too far from home.
Then we began the sad task of sorting through everything. Dad had always been a hoarder so it was a mammoth task. Among the many boxes in the garage we found the box of fossils and rocks and I was thrilled to discover that the piece of lava had found its way back there.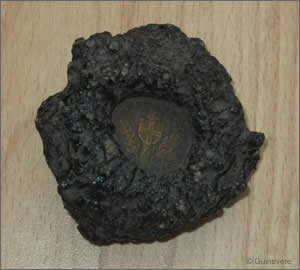 There were also a lot of folders and paperwork to sort through, which I've been doing slowly, a little at a time. Dad died in March of this year and I didn't feel able to look at them for a while, but as we were moving house I had to begin going through them again. In a brown envelope I found pages and pages of pencil written notes on pieces of paper of varying types and sizes. Fortunately they were numbered so I was able to put them into order, although it seemed a few pages were missing. I began reading Dad's notes from the beginning and realised that I had found a sort of diary that he had kept during his time in Italy. It began with his journey from North Africa.
1A Trip Over
After standing 3 days wait at B- we departed at dusk. There was a freshening breeze and a heavy ground swell. We waved goodbye to NA and soon were out at sea. We were LCI about 260 including crew officers and men. Our ship 176 was acting as an escort vessel. Nowhere to sleep stretched out just stand or sit. The night humid and a lovely full moon soon appeared from behind the SE horizon.
I have begun to transcribe them and, to my delight, found Dad's account of the eruption.
18 III 44
An amazing spectacle. Vesuvius started an eruption at dusk the whole sky was lighted. Red clouds moving over the crater. The lava stream could be seen slowly flowing down the mountain slope. At midnight the stream had arrived at the lower reaches of the volcano. The whole mountain was edged with molten lava which glowed a fiery red. Hot ashes every so often were thrown many feet into the air.

21 III 44
Visited Vesuvius in eruption. Had our own transport to Pugliana station. Funicular Railway not working as lava had crossed the rails. A steep walk up passing villages with well kept and ordered gardens. Cherry trees and almond trees were in bloom, most attractive. Stocks, peas, beans all in bloom. The soil was black and fertile. Rained heavily all the way up, the air smelt more like English air than I have experienced to date. We looked into the Halfway Station, where we observed the lava stream slowly encroaching on the track.
We roamed around and saw three separate streams, slow moving at the centre and practically stationary at the sides. Greyish black on top, molten red underneath. Heat very fierce. Skies cleared a bit, we could see rocks and ashes being thrown thousands of feet into the air with a huge glow of clouds red to black, black to grey, grey to white.
The lava stream crushed houses like cardboard, twisted the railway lines like tin foil. We saw the station house surrounded by lava catch fire as lava flowed over it.
22 III 44
Ashes and dust from the volcano blew many miles from Vesuvius to Salerno. Roads 2 feet deep in ashes. Houses and fields covered just like a snowstorm. Lightning playing round volcano all night. An awe inspiring sight by night as huge flames leap heavenwards and a cascade of molten rock is cast down beyond the ever thickening stream of lava. The smoke at day presented a huge sea anemone blue sky in colours expanding and inflating.
Dad always said that he had a charmed life and had been lucky enough to come back from the war when so many friends didn't. He was 98 years old when we lost him. He and Mum always hoped that we'd move into the family home 'after their time' and refused to consider moving, despite us urging them to get a bungalow as their health failed.
As soon as Dad was settled in Oldbury Grange he insisted that we started work on the house. We took photos of every stage of renovation to show him and moved in a few weeks ago. I kept the old china cabinet that once belonged to my grandmother, which now stands on the landing. Inside are pieces of china and glass once owned by both sets of grandparents and, in pride of place, is Dad's piece of lava.
Guinevere
© Guinevere 2008