My uncle, Reginald Morley, known as Reg, was born in 1921 and joined the local Hucknall drama club in Nottinghamshire as a very young man in about 1935. He started along with Robin Bailey, who went on to appear in plays, films and television right up until his death in 1999.
Uncle Reg appeared in many productions including 'Ghost Train' and 'Death Takes a Holiday' in which he played the part of Fedele.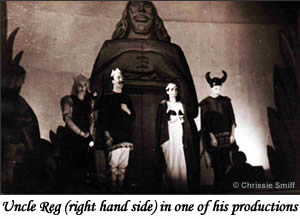 He also appeared in other Hucknall and Nottingham amateur productions including Charles Condomine in 'Blithe Spirit', John Trench in 'Winter Sunshine' and Dady Whelk in 'Pearl the Fishermaiden'.
He was then invited to join Tod Slaughter's Repertory Theatre in Goldsmith Street, Nottingham, where he played in 'East Lynne', 'Trilby' and 'Jekyll and Hyde' amongst others.
He then moved away and was a member of White Heather Productions at The John Gay Theatre in Barnstaple, playing in 'Mystery at Greenfingers' and 'The Chinese Bungalow' as well as many others.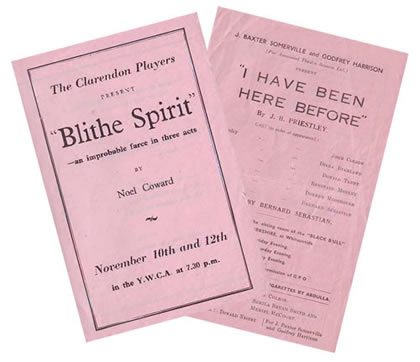 Reg also performed in rep at Llandrindod Wells where, amongst other productions, he played in 'I have Been Here Before' by J.B. Priestley.
Afterwards he joined a touring repertory company, but finally decided that he couldn't stand the life any longer, as he had to stay in some awful digs with fleas in the beds. So he reluctantly gave up acting.
He never married and was a much loved son, brother and uncle. He died in 1994.
Chrissie Smiff
© Chrissie Smiff 2008
FURTHER READING
Theatre History Online