Mildred Hammond was born Mildred Sidebottom on 27th May 1903 in Rothwell, West Yorkshire, to Albert Sidebottom and Ethel Hammond. She was the first of their three children. My grandad, Norman, was their second child and my aunt, Ethel, was the youngest.
By 1921 the family had moved to Castleford and Mildred married Fred Gummarsall there, in the autumn of the same year. She later married Ralph Shaw and stayed with him until she died in 1985.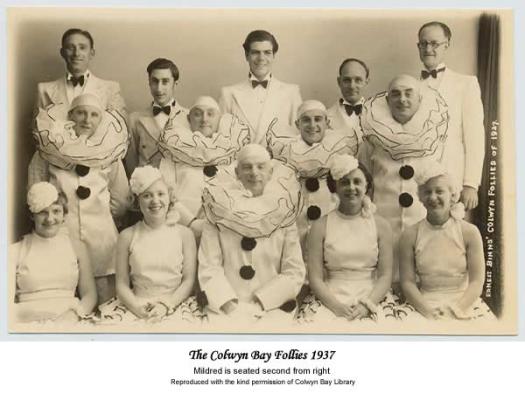 I had always known that Mildred was theatrical from stories I'd been told, but didn't know to what extent. All of the family were involved in performing in the local theatre, mainly pantomime, but Mildred was the only professional. She used the stage name of Hammond after her maternal line.
Whilst researching her mother's family I came across her great grandfather, William Hammond, who was an organ maker, as well as her grandfather's brother, John Hammond, who was a professor of music.
I first came across her in late 1929 advertising in The Stage newspaper, describing herself as:-
THE 'ACME' OF VERSATILITY!!
MILDRED HAMMOND
Top C Soprano.
Play parts.
Mover.
Assist piano.
In 1934, during the summer months, she appeared in 'Ernest Binn's Happy Mountebanks', a revue show typical of the time with comedians, singers and dancers. When winter came the same company would turn to pantomime.
By 1935 Mildred was the lead female singer in the 'Colwyn Bay Follies' during the summer, and was performing in 'The Arcadian Follies' later in the year, which were another two shows put on by Ernest Binns.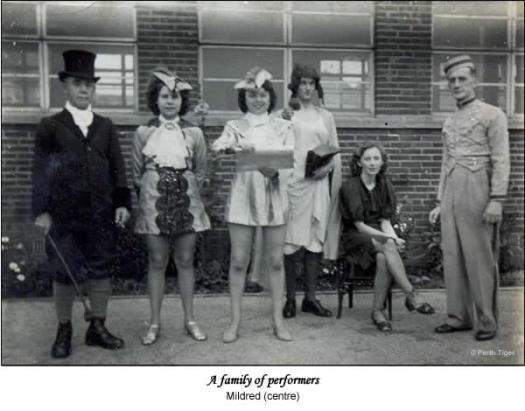 Mildred worked for Ernest Binns until at least 1940, then moved on to work in a new show. Albert Modley had started a road tour around 1940 and Mildred worked with him until about 1946-7, while still doing pantomime for different companies.
She also toured with the BBC radio show 'Happidrome' with Harry Korris. You can watch an excerpt of the 1943 film 'Happidrome', starring Harry Korris, using this link YouTube: Happidrome – Harry Korris, Cecil Fredericks & Robbie Vincent She also worked with Jimmy Slater, Teddy White, Dick Tubb jnr and Billie Manders.
I found her advertising her talents again in The Stage newspaper in 1951:-
MILDRED HAMMOND
SOPRANO
VACANT SEPTEMBER 30, ON
SUMMER SEASON-MR. BILLIE MANDERS
"QUAINTESQUES," AMPHITHEATRE, RHYL
PANTO FIXED.PRINCIPAL BOY.MR. JIMMY SLATER'S
"CINDERELLA" CO 2nd YEAR
I cannot find anymore references to her in The Stage newspaper after this date, but I do know that she went back to Castleford and produced and appeared in several shows with the local amatuer societies.
It seems to me that she had a very good career and, judging by her write ups, was hardly out of work between 1929 and 1951. I didn't see much of her from the 1970's up until her death in 1985, but I wish I had, especially since I've started researching my family's history.
perth tiger
© perth tiger 2008
---
SOURCES