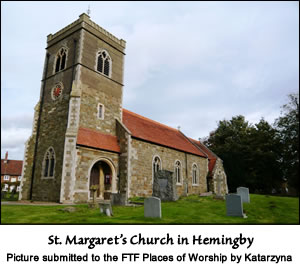 On Children and Tragic Death in Rural Victorian Lincolnshire, as described in rhyme by Elias Marshall.
These two poems have always been with our family bible and attributed to Elias Marshall 1808 – 1882. The poems, written in simple four line stanzas, contain numerous references to his faith and not a small amount of humour and humanity. They are printed on single sheet paper, copies of which were no doubt distributed amongst his friends, family and churchgoers.
Elias was the uncle of my great grandmother and the son of Elias Marshall born 1776 in North Somercoates, Lincolnshire, and Mary Pickwell born 1777 in Scamblesby, Lincolnshire. His father is recorded as being a farmer in both the 1841 and 1851 (of 9 acres) census returns for Hemingby, Lincolnshire.
Elias was born in nearby Minting; some three miles from Hemingby, being the third of eleven known children. The family moved from Minting to Hemingby about two years after his birth.
Elias married Elizabeth Hicks born 1807 in Baumber, Lincolnshire, on 22nd April 1830 at St. Margaret's Church in Hemingby and had four known children. He was an agricultural labourer and acquired an adequate amount of education as by 1851 he was the parish clerk of St. Margaret's, a post he held until after 1861. His religion is evident in both the pieces published here.
Elias died in 1882, predeceasing his wife by nine years, and is buried in Hemingby churchyard. It would appear that all the couple's four children died before 1866.
Interestingly the Rector of Hemingby during Elias's time as parish clerk was George Thackeray, who was cousin to the novelist and social commentator William Makepeace Thackeray.
RULE – OR RUIN
One thing on earth I'm greiv'd to see,
That Parents should so foolish be,
And will not make the Child obey,
But let it have its will and way.
One thing on earth I'm greiv'd to see,
That Parents should so foolish be,
And will not make the Child obey,
But let it have its will and way.
I wish that Mothers were more wise,
And teach their Infants as they rise ;
Early they will I know begin
With disobedience, the first sin.
School and Teachers may do their best,
But much I say with parents rest ;
For if there be no rule at home,
The Child in sin is sure to roam ;
Now if you fear the road to take,
Their stubborn will to bend or break,
The law will teach in after years,
And cause them pain, and you some fears.
I think that Parents are to blame,
Their evil passions not to tame ;
If I had Children I would try
And use the rod, and teach them why.
Do pray to God for grace I say,
To teach your Child in the right way ;
For Solomon as a truth foretold,
That they shall not depart when old.
I could not live as some men do,
I love being quiet, now what say you ?
My home with joy I must confess,
Is blest with peace and happiness.
I do believe that a good wife,
Is a great blessing in this life ;
Husband and wife should both unite,
To order home and Children right.
ELIAS MARSHALL,

HEMINGBY
A WARNING VOICE
A man has fall'n, as I've heard say
At Fullerby mill, not far away ;
It caused his death I understand,
I hope he's now at God's right hand-
This man had clim'd the sails that night,
The cloth was wrong, he tried to right ;
The wind blew strong, the night was cold,
By means unknown he lost his hold.
His friends in search with sorrow found
Poor Johnson lying on the ground,
He fell so fatal, beyond restore ;
On earth, poor man, he's seen no more.
The wind doth blow where God doth list,
The stroke of death none can resist ;
A sudden death is God's intent
That men on earth should all repent.
His absence caused his friends some grief,
His soul was saved – that brings relief ;
It's God appoints the death of all,
A sparrow cannot unnoticed fall.
Our friend is gone, but we remain,
Let us prepare to meet again ;
Our time is short on earth to stay,
But soon like him must pass away.
Seek ye the Lord, prepare to die,
For life is short, and death is nigh ;
Repent, believe, and be forgiven,
And God will take your soul to Heaven.
ELIAS MARSHALL, HEMINGBY
The date of 'Rule or Ruin' is unknown but the message regarding discipline or lack of it with children appears just as relevant today as it was then, although the method described in verse five is certainly not!
'A Warning Voice' can certainly be dated at about the end of 1871 or shortly afterwards. The Johnson whose death is described is Henry Johnson. Henry was born in 1841 in Withern, Lincolnshire, the son of William Johnson born 1800 in Hagnaby, Lincolnshire, an agricultural labourer, and Ruth Norton born 1806 in Fotherby, Lincolnshire. He was the seventh of eight known children. His father died in 1858 and his mother in 1862. The 1861 census shows Henry living as a servant in the post mill at Willoughby, Lincolnshire with his occupation as a miller. His 'master' being George )Lenton, a miller and baker.
,

By 1871 and unmarried he was living with his sister Mary Ann at Mill House, Fulletby, with his occupation as a miller and baker. He appeared to be making his way upwards in life after a difficult start but fate was to intervene at the end of that year. On the evening of the 20th December whilst working on the sails of Fulletby windmill, as described by Elias in the poem, he fell to his death. An inquest was held on 22nd December at nearby Louth and the death registered by the coroner on 27th. The cause of death being 'Accidental falling from the sail of a windmill'.
I would assume, due to the description of the detail of the weather and what he was doing, that the poem was penned soon afterwards.
ofap1
© ofap1 2009
Addendum ~ December 2009
I have been given more information about the life of the miller, Henry Johnson, from an article in "Lincolnshire Life" (1969) with the help of a current resident of Hemingby.
After a number of years serving the local farmers as a miller, Henry was instrumental in converting the mill from a wooden 'smock mill' to a brick 'tower' mill. However he was not to enjoy the fruits of his labour due to his death as described. He was well known locally and held a number of public offices including 'Overseer of The Poor'.