My childhood holidays consisted of two weeks in Blackpool every August, although we used to return there a few weeks later for a number of days to see the illuminations.
Other than that, my father used to take us in the car most Sundays to Skegness or Mablethorpe when the weather was nice. One of the memories which sticks most in mind is when I went hunting for autographs of the 'celebrities' appearing in the local shows.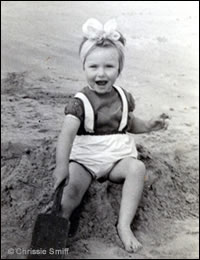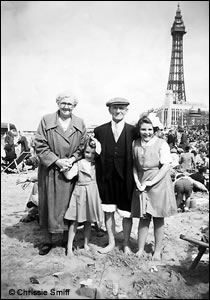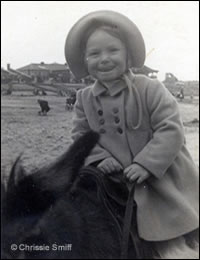 On one such occasion, I was fortunate enough to meet Ken Dodd after one of his performances on Blackpool's Central Pier. He was lovely and chatted to us for a while, and gave me a signed photograph of himself, with the words 'To Christine'.
You would think that he would soon forget about us, but the very next day we were walking past the Central Pier just as he was walking off of it. He immediately headed for us and said, "Hello Christine", and chatted some more saying that he was pleased that he had seen us as he had another photo for me.
I did do a lot of autograph hunting and the difference between some of the 'stars' was amazing; most were lovely, but Frankie Vaughan for instance was most unpleasant.
I also remember, in Blackpool, the little pen shops where they had auctions pretending that you were getting a wonderful bargain, when it was, in fact, all rubbish. One year, a family who were staying in the same small hotel as us, couldn't carry all their 'bargains' home which they had purchased during the week.
Although the memory which reminds me most of the summer is my father's 'holiday attire'. He was a suit and tie man who didn't do 'casual', but Mum insisted that he had lighter wear for holidays. She got him to buy a casual beige 'safari style' jacket with pockets top and bottom. He had a wonderful sense of humour and he called it his 'Poona jacket'. Every time he wore it he used to put on a very plummy voice and say, "When I was pig sticking in Poona!".
Chrissie Smiff
© Chrissie Smiff 2009