What was your favourite holiday break when you were young? Was it a Butlins' weekend or a hostel…. maybe a caravan or a tent or even just a day trip in this country … or were you one of the very few posh people who flew to the Costas in the 1970s/80s?
That was the question posed by Astro Lady (Valley) on a recent thread. Holiday camps were very popular 40 or 50 years ago, and several of us have memories of camps, like Butlins and Pontins, others spent time in caravans or cottages and some of us spent time with relations.Valley can remember having a great time at Aldbrough on the East Yorkshire coast with her two brothers, her mam and dad when she was only 7 years old, also a caravan holiday in Hornsea when she was about 10. When her father got his first car he was so chuffed that he organised a day trip to Cleethorpes for all the family. Her aunt, uncle and cousins went in their own car and they all had a lovely picnic on the cliff top.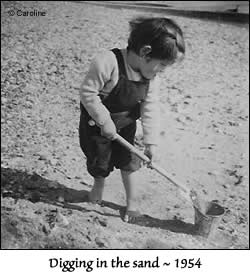 After that, all hell broke loose because Valley decided to go walkabout and was missing for about two hours. All she remembers is feeling lost and thinking she would never ever see her parents again, She was bawling her eyes out stumbling along the cliff edge when a policeman found her and took her to a police station. Her parents were frantic and had already called there an hour earlier.
Jess spent time at a holiday camp 3 years running at Corton, near Lowestoft, but when she went back to look at it as an adult, she found that the swimming pool where she had learnt to swim was a flower bed, all of six by eight feet, although the pool had seemed huge at the time. And the beach, which was no longer accessible from the now adult camp, was nudist. Of all the strange things that stick in her mind from those holidays, it's watching the entertainment and then having Horlicks afterwards – she never had Horlicks at home! For half term week every October, they used to chose a neighbour's chalet in California Cliffs on the east coast. "It was b**** freezing, but saying we'd been to California was good for bragging!"

Terri (Bev&Kev) had great times at Pontins camps, on the Isle of Wight, Wooton Creek and Atherfield. "Mum, bless her, thought Pontins was posher than Butlins, and the Isle of Wight was virtually abroad". Kelly Smith also spent some holidays at Pontins and loved it until she hit her teen years. She and her sister are going to 'revisit' Pontins in Camber Sands this year so they can show their kids where they went as children.
Elaine…Spain can remember quite a few holidays in a caravan at Pagham (near Bognor), also many holidays in various Warner holiday camps and once the family went to a Butlins hotel on the south coast, which was considered to be very upmarket. Nell only had three family holidays, one to Pagham, about which she can only remember that it rained every day. The second one was at North Walsham, which is when they visited Limpenhoe and she took a photo of her great-grandparents' grave, "feeling they were very remotely connected to me and little knowing I would end up knowing more about their lives than my Dad did". For the family's last holiday together they stayed on a farm in Dorset and had a lovely time.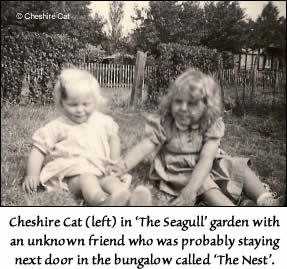 Val (Valice in Wonderland) used to go to a great aunt who lived in Weston Super Mare; she had a summer house in the garden, which was nice to play in when they weren't at the beach.. But her family, too, started going to the ubiquitous holiday camp when she was about 16. "About the age of 16 we started going to Butlins; grandma, aunt, uncle and cousins were often there too (Pwhellli). The entertainment was varied for all the different age groups. In 1963 we went to Butlins in Bognor Regis, grandma was terminally ill and stayed in bed, I got engaged whilst I was there. Grandma died a week later".

For years, Joy, Cheshire Cat, went to Mablethorpe with her mother and grandma and stayed in a wooden bungalow called 'The Seagull'; no mod cons – a portable toilet outside at the back and a pump for water. This was before all the caravans moved in. She took up horse riding and during her early teens spent her holiday money on lessons at the nearby riding school. Last year Joy had a nostalgic trip to Mablethorpe to see if 'The Seagull' was still there but it had long gone, and had been replaced by modern houses and bungalows; the amount of caravans seemed to have quadrupled. The only place that hadn't changed was the lovely stretch of beach and sand dunes. "You can walk for miles along there and hardly meet anyone else". Those were the days. She wishes she could turn the clock back, just for a little while.
Joy's family had a break for a few years and holidayed in Filey where Anne in Carlisle spent some summer holidays. Anne also spent some time at Runswick Bay and Bridlington. Then Anne says, "we got adventurous and went to the west coast of Scotland for years". She loved it there because, "we could run wild on the vast open beaches, even though it was cold and raining a lot of the time". Just Barbara used to go to Bridlington as well. She used to love it, in particular waking early and going for a walk with her dad, and going to have a cup of tea outside a big hut near the harbour; she still remembers the seaside smell….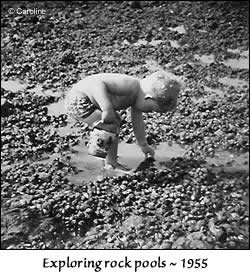 For years in the 1950s, Langley Vale Sue and her mum and dad, along with another family with two children, hired 'The Boat House' on the front at Felpham, West Sussex. It was a wooden building, painted black and she remembers that it had a balcony. It was literally on the seafront, right at the end of the esplanade. Further back from the beach, there were old railway carriages that had been turned into holiday accommodation. They looked like a wonderful place to stay, but sadly Sue and her brother never had the chance to find out. 'The Boat House' was usually hired for three weeks, her dad being there for the first two weeks and the other dad was there for the second two. She remembers one year, when she was about 9 or 10, another lady came with her child – and no man! She had never come across a single parent before. The days were sunny and warm (weren't they always!), and the beach was sandy enough to build aeroplanes and boats from sand, big enough for everybody to sit in. If they got fed up with the beach, they would all walk to Hotham Park and go on the pedal cars and the swing boats, and see the animals in Pets' Corner. She remembers watching Butlins being built, but it took her over 50 years before she actually went inside and stayed there.
Sue never went to a holiday camp like Butlins or Pontins, "Mum thought they were common", although the family did stay at an ex-army camp near Brixham, Devon, for a couple of years in the early 1960s. The chalets consisted of three rooms, a lounge/kitchen and two bedrooms – no toilet or bathroom; these were in a block about 300 yards away. There was a cold water tap in the sink and two electric points, as well as a small cooker. There was no entertainment, apart from a table tennis table in the recreation hall. Sue and her brother were very jealous of their friends who stayed at 'proper' holiday camps.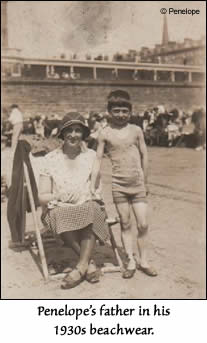 Quite a few of us spent time with relations. Gwynne had seaside holidays all year round – her dad's family were from Lowestoft and her mum's from Barry. Barry was "wonderfully trashy". Her dad's family traditionally held a huge family picnic on the Denes once a year. They had begun doing this when her dad was young and sometimes there were as many as forty family members there. Every summer the family used to club together for a beach hut. The smell of meths still carries her back to that time and the meths stove to boil the kettle for tea. Barry Island used to fill up with trippers from the valleys at weekends and she can still smell the aroma of "fish and chips for the beach". Chips in newspaper with added sand was a real treat.
Wendy Pusey's parents couldn't afford much, so the family always went to the Isle of Wight for their summer holidays as her dad came from there and her aunts and uncles all lived there. "When we were small we stayed with one or other of them until my dad died, then we hired a caravan at Shanklin. I remember having to go and fill the water cans up so we could wash and cook. We always seemed to get the gas canisters that were nearly empty and they used to run out just as we were sitting down to a meal in the evening!" Little did she realise all those years ago that she would end up marrying her favourite cousin and live and raise a family there. Another person with happy memories of the Isle of Wight, where she stayed in the Chilton Chine holiday camp, is Marilyn from Essex. It was a proper holiday camp with entertainment each night, with fancy dress competitions and talent nights.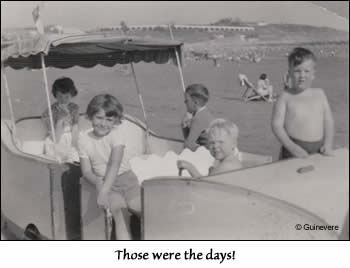 Maggie_4_7 went hopping in Kent and has memories of sausages, mash and onions on the steps of the hut, running through the big muddy furrows of the hop fields with her cousins, hands green from the hops. She also remembers Uncle Ted's caravan at Canvey Island circa 1963, (he wasn't a real uncle – he owned the cheese shop up the road), and winkle picking for her nan and being amazed at feeding the mussels in a bucket. Then there was Cousin Alan, who was a lot older, and his wife Jeannie. He had a chalet at Leysdowne, Isle of Sheppey. Jeannie's brother was the caller at the local bingo hall and she won something everyday – "us kids used to laugh all the way home with our hands full!" But, best of all were the annual summer holidays in Binfield, Berkshire with her Aunty Doll and cousins.
In the Easter or summer holidays each year, Gwyn in Kent's family travelled from Hampshire to South Wales to stay with relatives. Sometimes they stayed with her grandparents who lived in a small cottage. They really thought they'd 'got modern' when they no longer had to fetch water from the village pump (before Gwyn's time) and, instead, had a tap outside the front of the house. The toilet was at the end of the garden and they used to hope for dry days, so that one's legs didn't get soaked by the rain-drenched flowers bordering the garden path. "The small building backed onto the pig sty and the pigs could be heard snuffling and grunting as we read the cut-up pieces of newspaper on the nail on the wall".
They were carefree days, spending happy times with their cousins and other family members, carrying picnics over the fields to reach the glorious beaches of the Glamorgan coast. "Some days we'd pick laverbread off the rocks and my aunt would take it home to cook 'with a nice piece of fat bacon' and later form into oatmealed shapes to fry for breakfast". She says, "Simple pleasures, but very happy memories". From the age of 8 until she was 13, Stella used to go to her grandmother's in Yorkshire (from London) for the whole six weeks of the summer. Her mum and dad put her on the train for Doncaster at Kings Cross and left her under the watchful eye of the guard, "with my pack of sarnies and some sweets". After her grandmother died, the family used to have two weeks in a caravan at Bracklesham Bay.
More recently, Michael remembers staying with his grandparents in Swansea every summer – "the mediaeval festival at Oystermouth Castle, walking along the seafront with an ice cream, the beaches just along the coast, making sandcastles, playing cricket, or just 'helping' (probably more often hindering!) grandpa in the garden".  Jeanette in Yorkshire also remembers playing cricket on a holiday somewhere 'ooop north'. Her mother's Yorkshire terrier used to run after the ball when it was bowled. One time when her sister wasn't paying attention, instead of hitting the ball, she cracked the dog on the head and knocked her out. The dog lay flat on its back with its legs in the air, still running. Fortunately, she did make a full recovery.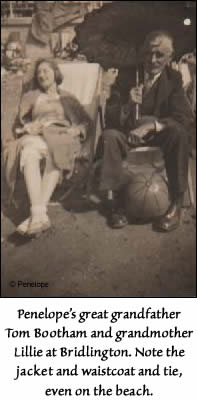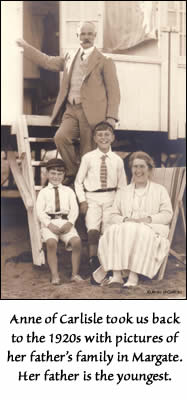 Jill on the A272 had a lovely fortnight every summer in her grandparents' two up two down terraced house in a Lancashire mill. She also stayed with her other grandparents in East Wittering in Sussex at their former coastguard's house – "wonderful beaches, cousins to play with, Granny's wonderful cooking and Granddad to help in the garden". Just Barbara also spent holidays with her grandparents – in County Down. The sea was at the end of the street and she remembers being given far more freedom than at home and … the sun always seemed to shine.
Trish@Somerset spent years going to what was then a small campsite at Sandy Bay in Exmouth. Her parents and some friends owned a couple of the caravans there and rented them out, so they went to check the caravans and enjoy a weekend or week away. "It was glorious there with a deserted beach with loads of rock pools to investigate". There was a cliff top walk with fields behind where she would sit for hours reading a book, and a tree-lined path called Smugglers Walk where she used to play.
Some of us reminisced about our first trips abroad. Mine was to Lloret de Mar in 1967. On the way out, the plane forgot some of our luggage and we had to return to Luton to get it. We finally arrived in Barcelona at four in the morning. Valice's first foray abroad was in 1965, to Majorca on honeymoon, next was to Yugoslavia in 1967, then Germany in 1969. She then went to live in Kenya for 7 years in 1971. Michael doesn't remember his first trip – he was only 18 months old. His best memories are of his first solo trip, to Germany, Austria and the Czech Republic in summer 2004. Anne in Carlisle's first trip overseas was to Iceland.
The very first time Astro Lady went abroad in 1998 was on a ferry from Hull to Rotterdam and then on to Filsen in Germany where they were not at all impressed with the manners of the manager/owner and felt they would have preferred staying at Fawlty Towers! She is terrified of water and despite having eight double sherries she still felt stone-cold sober. On top of all that, the sea was choppy and she was a nervous wreck and didn't sleep a wink all night. Five days later it was all repeated and she vowed never to take another ferry trip. In complete contrast, the following year she and her husband flew to Menorca – this time with the aid of only two sherries. She's been flying every year since and loves it.
Going back to earlier times, Velma's great grandmother went on a cruise with her daughter in the 1930s on what Velma believes may have been the Queen Mary. Velma has seen a photo of her in a chef's outfit for an on board fancy dress competition – and she won! It must have been a real adventure for them both.
Anne of Carlisle took us back to the 1920s with pictures of her dad's family in Margate. Penelope's grandparents and great grandparents ran a dairy and they never got holidays, just a day off now and then. She posted pictures of them on the beach at Bridlington. Note the jacket and waistcoat and tie, even on the beach.

We all seem to have happy memories of our childhood holidays, the vast majority of which were spent somewhere in the British Isles. The sun nearly always shone and the days seemed endless. The advent of cheap air fares in recent years has meant more opportunities to holiday abroad and our children and many families today travel much further afield to find sunshine and sandy beaches – a far cry from the seaside holidays our parents and grandparents knew. When they look back over the years, will our children be as nostalgic about their holidays as we are now? Probably.
jenoco
© jenoco 2009
---
Summer Holiday Nostalgia

Butlins Memories – includes Warners, Pontins and other camps