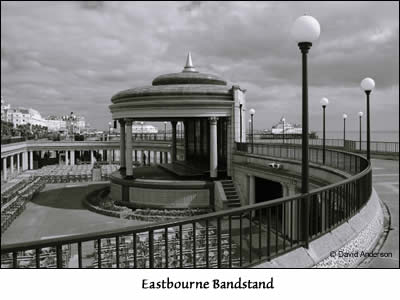 I was born in Eastbourne, East Sussex, in 1969, and as I was growing up, for all intents and purposes, we were 'Eastbourne People' – a phrase my mum likes to use. Living near the sea was rather taken for granted, as summer days were spent playing on the pebbled beach with our buckets and spades, waiting for the tide to go out far enough to reveal the sand. We would paddle and swim in the sea, and it's difficult to forget how painful it was to walk on the pebbles with our small feet, or accidently swallow a mouthful of salty seawater. I remember the annual carnival which ran along the seafront, and trying to see through the crowds of people lining the route. When I got older and joined the Brownies, I rode on one of the floats, shaking my collection tin. The procession would finish at the fairground, and it was here that I tasted my first candyfloss. Each year the Red Arrrows would visit the town for one of their aerial displays, and this was met with squeals of excitement as they flew over my primary school.
I grew up and moved away to land-locked Berkshire, although returned to my 'home town' to marry in 1990. It was only after I started to research my family 5 years ago, that I began to realise that living by the seaside was very much in my genes, and perhaps explained why I'd never felt really settled in my adopted home.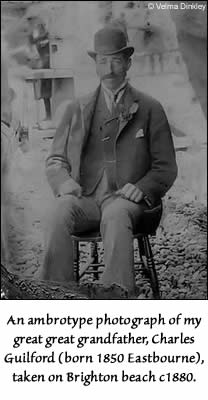 My maternal grandfather was born in Eastbourne in 1897, so I imagined that's where his family had originated from. His wife, my maternal grandmother, was born in the Sussex village of Fletching in 1907, whilst her mother was born in London. So I knew that branch wasn't going to be local. As I started to research my maternal grandfather's family, I discovered that his father, who had arrived in Eastbourne in time for the 1891 census to work as a gardener, was from a long line of farmers from Rotherfield, Sussex. His mother had come to the town, around the same time to work as a domestic servant. This is where they met and lived for the rest of their lives, although they returned to her home village of Maresfield to marry in 1893. Rather interestingly I have discovered that my great grandmother's paternal line also originated from Fletching, and that her first cousin's son married my grandmother's first cousin in 1923 – 9 years before my grandparents married!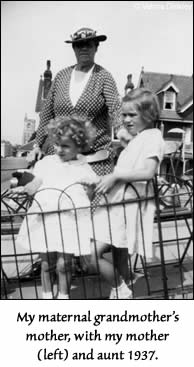 This pattern of ancestors coming from the Sussex countryside to work in the 'new town' of Eastbourne continues through my paternal line. My father's mother was born in East Hoathly in 1898, and by the time of the First World War had come to Eastbourne to work as a servant. Two of her three brothers joined her – one to train with mules on the Downs in preparation for the Western Front, and the other to work for the local newspaper. He went on to run a hotel along the seafront just after the Second World War. My paternal grandfather's family originate from Seddlescombe, near Battle, but by the 1870s were to be found in Hollington, just north of Hastings. However, by the turn of the century they too were living in Eastbourne.
My parents were born in Eastbourne in the 1930s, however their seaside childhoods were to be shattered as both were evacuated away from the town until peace was declared in 1945. I can remember my father telling me how exciting it was to walk on the beach again once all the wartime 'obstacles' had been cleared.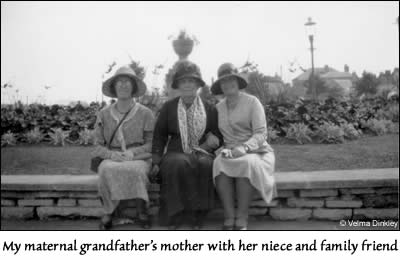 As I said earlier in this article, my maternal great grandmother was born in London. So it was rather a shock when I discovered that her paternal line had actually come from Brighton. A fellow researcher has been able to take this line back to the 17th century, with ancestors working as ship's carpenters and fisherman. They would have seen the first visitors arriving in the town to 'take the waters', as well as seeing the first bathing machines. I wonder if they knew Martha Gunn or Dr Russell? They would have seen the building of the Royal Pavilion, which was literally a pebble's throw from where they lived and mended their nets. Did they ever catch a glimpse of the Prince Regent? They would have seen the building of the chain pier and the arrival of the packet boats from France, as well as seeing their small fishing village, being drastically changed into a popular seaside resort. The arrival of the railways in Brighton in 1841 assisted that change, but on a more personal level, my 3x great grandfather took a job as a railway guard, and it was literally his ticket away from the town.
So you can imagine my surprise where I found him on the 1851 census – yes you've guessed it… Eastbourne! It appears that when the railway arrived in the town in 1849, he took up residence in one of the railway company's cottages beside the new station. The town had yet to grow into the elegant resort which I grew up in, so perhaps he found it too quiet a backwater and that's why he moved his family away, never to return.
However, they stayed long enough for my great great grandfather to be born there in 1850. He's my earliest born ancestor in my home town, and ironically I was born in the same month 119 years later, just a few hundred yards away from his birthplace, at the local maternity home. All of my cousins on this side of the family, who are his only great great children, were born there too, proving that we are 'Eastbourne People' after all.
Velma Dinkley
© Velma Dinkley 2009