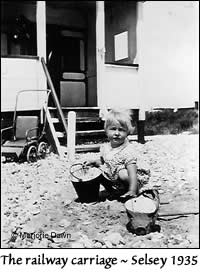 What happened to the railway carriages in which Herbert and his family travelled to Ramsgate in the 1880s?
[See A Seaside Holiday ~ 1880s in this issue.]
As the new carriages became fitted up with upholstered seats and lavatories the old ones were sold off for sheds and chicken house. (Some of which are still in use.)
After the 1914-1918 war, housing was short and old railway carriages were often turned into small bungalows, but along the south coast between Portsmouth and Worthing carriages was placed right on the beach where land was free, and were let out as holiday homes in the summer. Their renovated remains can still be seen around Selsey and Pagham and hired for your holiday.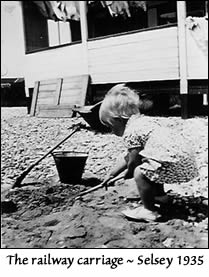 In 1935 we, that is me, my sisters, my mother and our mother's help, stayed in one for a week right on the beach at Selsey Bill. The first time we had seen the sea. I think I can still hear the whoosh of the waves on the shingle and the fishy smell of the seaweed – but I am probably letting my imagination work overtime.
We did not travel by train though. Father had brought us in the car, a large American Studebaker, which had a bench seat in the front to seat three, room for three more in the back plus all our luggage and the toddler's pushchair. He went back to work and came to collect us at the end of the week, when I would think my mother was only too glad to go home again.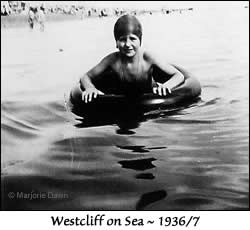 The following years 1936 and 1937 we were in Westcliff-on-Sea, but living in a house by now. Here we had sand to build castles and boat trips round the pier, and as the eldest I had a new woolly swim suit and my old one was handed down to my sister.
I was allowed to try to swim in the inner tube, although it was a bit too big to do more than splash around. A family friend thought one could learn to swim by being thrown in and nearly drowned me, everyone thought it was very funny but I do not recommend it. I did not learn to swim after that until I had proper lessons in a swimming pool.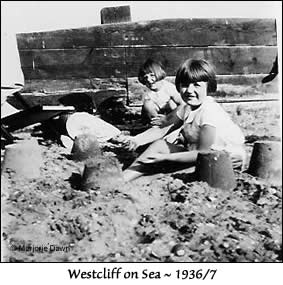 There was much more to see at Westcliff, more people and lots of shops and the Walls ice-cream man with ice-lollies in their sticky paper wrappers or the occasional chocolate covered bar.
Sometimes we would visit the Kursaal to see the animals or to see a show or travel in the pier train at Southend, but there was not a lot of money to spare so they were exceptional occasions.
An especial treat, for which we were allowed to stay up late, was to tour the lighted tableaux along the front in Southend at Carnival time. There were dazzling strings of fairy lights for miles, with the pier and the Kursaal Dome all lit up. Nowadays in the age of computer generated animation it would seem very tame, but it was wonderful to us to see tableaux of fairy tale characters or a grotesque scene with moving figures lit in all kinds of colours high in the air, followed by the firework display, and the expedition was the highlight of the year.
Marjorie Dawn
© Marjorie Dawn 2009