William Christmas Capps, brother of my great great grandmother Elizabeth, was born on Christmas Day 1815 and baptised in St Margaret's Church, Lowestoft on December 27th.
In Lowestoft the name Capps is synonymous with fishing and William's father Isaac earned enough from the trade to apply to the Manor of Lowestoft to buy copyhold land in the area known as The Beach. Here he built a home for his family and a shed for his nets. In his will (proven in1850) he left all his goods to his wife Mary and decreed that after her lifetime the buildings should be sold and the moneys raised divided between his children. Mary Woods Capps died in 1859 and letters of administration were granted to William Christmas Capps on August 16th of that year.
William was recorded as a ship's carpenter when he married Jane Jenner on Christmas Day 1840. Earlier that year Jane had given birth to a child baptised William Christmas Capps Jenner, which leaves little doubt as to his parentage. In 1841 the family were living down the coast in Aldeburgh, where William jr's surname is given as Capps. By 1851 the family were back in the Beach Village, Lowestoft, and William sr is a fisherman, William jr is with them, an only child, his surname Capps.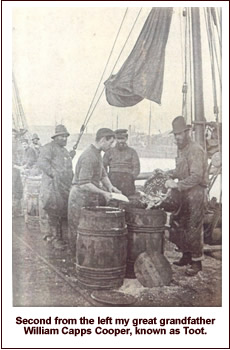 1861 found the family still living in the Beach Village and both Williams are fishermen. This time William jr's name is recorded as William C Jenner. In 1871 Jane is living with her niece and William sr must have been at sea because I haven't been able to find him. William jr's wife Charlotte is a fisherman's wife, surname Capps, living in Whapload Road, Lowestoft, with her two sons, no sign of William so I expect he was also at sea. William Christmas Capps didn't live to see another census.
The headstone on his grave records "In affectionate remembrance of William Christmas Capps who was drowned out of the "Elizabeth" of Lowestoft March 30 1873 aged 58 years". There are many gravestones in the churchyard which are engraved with the words "In affectionate remembrance" because the bodies of those lost at sea are often never found so this is the only way their families can record their passing.
William jr continued to confuse with his surname. He became coxswain of the Lowestoft lifeboat (1883 – 1901) and was decorated for bravery many times. My gt grandfather, his first cousin, served with him in the lifeboat. In the records William is variously known as William Capps Jenner, William Jenner Capps, William Christmas Capps Jenner, William Jenner als Capps and William Jenner als Capps.
His service as the Lifeboat's Cox is remembered in many books written about the history of Lowestoft and on several websites including this one, where there is a photograph of William with one of his medals:- Lowestoft Lifeboats
He died in 1901 and was buried in Lowestoft Cemetery –
William Capps died 10th February 1901, aged 60 years.
For 18 years Coxswain of the Lowestoft Lifeboat.
Decision made about his surname!
Guinevere
© Guinevere 2007