Well, Grandma Waterfield was the stuff of whispered family legend.
She was a tough old bird who didn't take any nonsense; even her grandchildren had to ask for permission to breathe. Grandma Waterfield was religious, always having to find a new church as she had fallen out with the vicar, but she had a pint of stout a week on health grounds as 'she had low iron, you know'.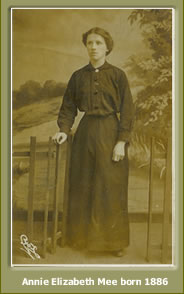 Grandma Waterfield was the reason why I fell into family history. In 1993 when my great aunt was visiting from Canada, she asked for us to find out about her mother as her older sister had finally told her the family secret: The story was that Grandma Waterfield had her pension book arrive a year early and didn't know that she was in fact a year older than she actually was.
Grandma Waterfield married her husband Albert on 29th February 1908 in Mansfield, Nottinghamshire, as Annie Elizabeth Bellamy. I found her in service on the 1901 census, and even more confusingly, she appears to have known how old she was then.
How and why had this story come about?
I traced her parents Paul Bellamy and Sarah Mee, who were both originally from Derbyshire, but seem to have made their home in Nottinghamshire. I found their marriage on 9th April 1887 in Mansfield. I knew from her death certificate that Grandma Waterfield's birthday was on the 31st October. I also found her baptism at the same time, as well as her sister Gertrude's on 9th June 1889, but still I was a little confused. I looked for her birth under her mother's maiden name and I found it. She had been born in George Street, Hucknall on 31st October 1886 as Annie Elizabeth Mee. Why there, who knows, as there doesn't appear to be any family in the area. Annie Elizabeth Waterfield, it seems, decided not to be buried with her husband but is buried with her parents and her brother. Perhaps Paul Bellamy really was her natural father.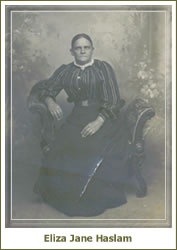 There had been another Grandma Waterfield in living memory – another that had been sterner and stricter, and a force to be reckoned with. Perhaps the seeds of Annie's behaviour had been sown by her mother-in-law, Eliza Jane. On the face of it, there was the romantic story of Grandma and Grandad Waterfield, who had lived in a small 2 bedroom house with their 23 children and their in-laws. However, the truth seems to have been that their lives had been a lot harder than that.
Eliza Jane was born on 20th May 1866; the illegitimate daughter of 17 year old Harriett Haslam, herself the illegitimate daughter of Hannah Haslam. It appears that Harriet had very little to do with her eldest daughter's upbringing, leaving it up to Granny. Even when Harriet went on to marry Thomas Evans, Eliza Jane never went back to live with her mother. Eliza Jane was even baptised at the age of 8 and ¼ under the name Sleightholme, which was the name of her Granny's new husband.
The Evans children seem to have had good and varied lives and all married well. Eliza Jane married Herbert Waterfield in 1882 at the age of 17 and from then she constantly had children until she was 45, in the end naming her children after her grandchildren. I suppose you run out of ideas once you hit 15 children.
Eliza Jane's life took a turn for the worse when one of her children died in a horrific pit accident. Herbert had got the job for his son Isaiah and witnessed the accident. It seems that after that he could not live with himself and suffered a nervous breakdown, spending hours crying by his son's grave. Eventually, Herbert ended up in the county lunatic asylum where he died. I would like to think that he is now with Isaiah. Eliza Jane then lived on for a few years until she suffered a stroke and was found dead by one of her children.
By finding out about her family history I think that I can forgive her behaviour and only hope that I have her strength.
Pippa Doll
© Pippa Doll 2007