My great aunt always maintained that we were related to Lord Baden-Powell. The closest I have got is my great great grandfather who married an Elizabeth Rebecca Powell in Ireland in 1841. However, this is not my great aunt's family line but my grandfather's, so I am confused as to why my great aunt, on Grandma's side, knew about my grandfather's family history. I have no idea if the Baden-Powell link is true.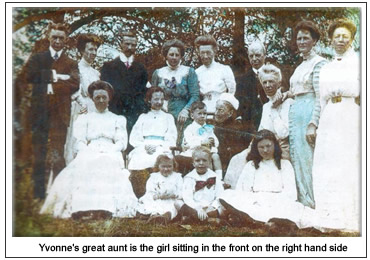 The same great aunt always maintained that the family used to be very rich but that, although the brothers married, no-one was 'good enough' for the daughters to marry.
So they lived at home in 'genteel poverty' with their parents for all their lives, except for the youngest who defied her father and married. However, she paid the price because she died when a ferry sank.
This has all turned out to be true!
Marshall Bayley Senior (1832-1895) was a founding member of the Stock Exchange in Sydney and a prominent person in the Sydney business world in 1870's and 1880's until the collapse of the Mt Morgan gold mine in the 1890's. His daughters Caroline, Helen, Constance, Edith and Florence never married. Mabel, the youngest, did marry but died tragically in 1927, leaving a husband and one son.
"On the afternoon of 3 November 1927, Sydney residents were shocked by the news that forty passengers on the ferry Greycliffe were dead after a collision with the liner Tahiti in Port Jackson".
GREYCLIFFE – STOLEN LIVES by Steve Brew.
The other interesting story about this family is that one of the sons who did marry left his wife, who had to place the children in orphanages as she couldn't support them. Unbeknownst to the children, the orphanage the boys were placed in was their grandparents' original country residence. I met some of these 'children' who are now in their 90's and they had no idea about this, until another cousin of mine doing family history unearthed it. So the boys were actually brought up as orphans in their family 'home'.
Yvonne from Oz
© Yvonne from Oz 2007