There hardly seems to be a family which doesn't have stories handed down through the generations, some of which you feel must be pure myth as they seem so fantastical. My mother told just such a story about one of her uncles and we always used to laugh at her. That didn't stop her insisting it was the truth, so once I had found my way around family records, I decided to put it to the test. To my amazement I found that most of the story was actually true.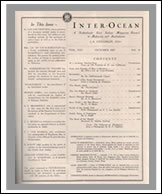 My great uncle was Archibald George Beaumont – Uncle Archie to my mother – born in 1878. My mother always said that Uncle Archie was a soldier who was seconded to the court of the King of Siam (now Thailand) where he became the court playwright. You can see why we laughed at her when ever she told this story.
On the 1881 and 1891 censuses, Archie was living with his parents and two brothers in Brighton. By 1901 he had moved away from Sussex and was working as a schoolmaster in Hampton, Middlesex.
From now onwards it was going to be more difficult to find out what happened to him, but resorting to Google, I eventually found a web site devoted to the history of a school in Kuala Lumpur, Malaya, which listed A.G. Beaumont as having joined the staff in 1904. When findmypast put shipping lists online I found the record of him sailing from London to Singapore in February 1904. The school web site also mentioned that he went on to become headmaster of a school in the north of Malaya in a town near the Malay/Thai border. This was beginning to look promising.
More Googling found a Siamese/ English dictionary edited by A. G. Beaumont in 1936. This entry told me that he had been connected to the Amnuay Silpa School in Bangkok. Uncle Archie wasn't a soldier and perhaps he hadn't written plays for the court but he may have written school plays!
I was also thrilled to be able to buy a copy of an English language South-East Asia magazine, dated October 1927, which contains an article entitled 'Siam's Musical Heritage' by A.G. Beaumont. A biographical note says that he was employed by the Siamese government's Department of Education at that time. Clearly, my mother is owed a posthumous apology from her family for ever doubting her story about her uncle.
It was this example from my own family which lead me to put a thread on Family Tree Forum's General Board asking if anyone else had 'myths' in their family. As I expected, there was a tremendous response. Some people have proved that their family stories are quite true. A relative of Jenoco's was told that one of his distant great grandfathers was found under a haystack which was why he had the surname Odd. It turns out that the Parish Register for the place in question does indeed have a John Odd, also known as Odboye who was baptised in 1728 and was noted as having been found under a haystack.
At the other social extreme, Guinevere slept in 'The King's Bedroom' in her aunt's home as a child. Her research has uncovered the fact that George II slept in the room in what was, in Guinevere's childhood, a shop converted from a Lowestoft merchant's house and there is an engraving to commemorate the occasion.
Wilf found, through contacts on Genes Reunited that her mother-in-law's claim to be descended from gypsies was correct.
Jill on the A272 had ancestors who were said to have had a grocer's shop on The Old Kent Road. They did indeed and the site is still a 'grocer's shop' to this day: it is a Tesco superstore!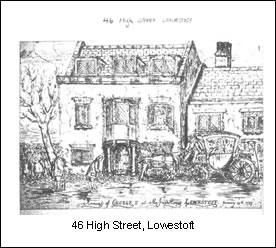 So many of these stories appear to develop like chinese whispers over the years, but nevertheless, do have at least some truth behind them.
Geordiegirl was told by an aunt that her paternal grandfather was a Cornishman, something which was doubted as the family all seemed to be from Durham. The story was in fact true and he was Cornish. She also told her that her great uncle murdered his wife in America. Again this story was true, except that it was in Canada.
The great grandfather of Anne of Carlisle's husband was supposed to have drowned at sea. He didn't, but Anne has discovered that two other members of her husband's family, a father and son, were lost over board from different trawlers on the same day. The story was true but had become attached to the wrong people. Bel was told she was connected to Alexander Peden, also known as Peden the Prophet, although she had never come across the name in her family. Research showed that her great x3 grandmother was a Peden and that it is possible that Alexander may be that lady's brother. Bel has more work to do on that theory but there was truth in the story. Bev and Kev's father-in-law might claim the same. He frequently boasted that his grandfather had been a sea captain. He was captain of a ship, but it was the Lowestoft Ferry with a crew of two, which travelled up the coast to Yarmouth and back.
Like Bev and Kev's story, lots seem to acquire a degree of exaggeration. Kate from Scotland's grandfather was described as being well over 6 feet tall. His army records show he was 5ft 7 ins and weighed slightly over 10 stone. Olde Crone Holden's grandmother was proud to say her father was a master jeweller. In 1901 he was a shopman in a pawnbroker's in a slum area. Vicky the Viking's father-in-law had a brother who was knocked down by a bread van and so the family refused to buy that brand of bread. He was run over by a taxi whilst playing football on a main road in 1922 when he was supposed to be running an errand – Vicky wonders if it was to buy a loaf of bread!
Little Nell's Great Uncle Thomas was said to have 'ran the docks at Tilbury'. He worked as a fireman in the dockyard for a few years. Nell also had a great grandmother who was said to have been a cook at Hampton Court but the only evidence is that she did live close by for a while. Even more off-course, Suejmog was told she was of Spanish/Irish descent, having a Spanish great grandmother, who turns out to have come from Sheffield as did several generations before her; those that weren't from Lincolnshire, anyway. As a distant great grandfather was in Liverpool in 1841 Suejmog wonders if the family did originate in Ireland,even though he was born in Lancashire.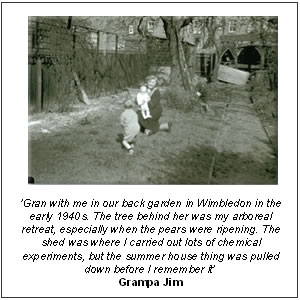 Some stories have clearly grown, as assumptions were made about known facts, especially certain names. Grampa Jim's gran claimed descent from Hereward the Wake and had the middle name Wake. All Jim can find out is that her mother was brought up by an uncle and aunt, whose maiden name was Wakes. Similarly, Jill on the A272's husband's family think that they are related to the Bee Gees, because a cousin married a Gibb. Caroline's mother's family thought they might be Huguenots as their name is de Fraine, but Caroline has traced her direct line back in England to before the Huguenots fled persecution. Now she is wondering if she can prove they came over with William the Conqueror!
Another famous name which has caused a family to wonder is Turpin, which was West Yorkshire Maggy's great grandmother's maiden name. Maggy has been told by a distant cousin that they are related to Dick Turpin but she has yet to prove it. If highwaymen are glamorous ancestors, so are pirates. This is supposed to be the ancestry of Mandyblueknees. Her 2x great grandmother was born at sea off the coast of Scotland but so far Mandy hasn't found that it was on a pirate ship. Gruesomely, one of Mandy's relatives was said to have had his head exhibited on a spike on London Bridge, but again, no proof has surfaced so far.
Several families feel that there is a fortune waiting to be discovered somewhere.
Some are vague and have yet to be verified: Tom's family think that they have some connection with a fortune in France, a tartan and a man called Sylvester, whilst Dead Rellies biological father thinks their family is related to a rich clan of gypsies. In Dead Rellies case, there has been contact with another relative who has heard the same tale but no proof has yet been found. Other stories revolve around fortunes which have been lost or stolen in some way.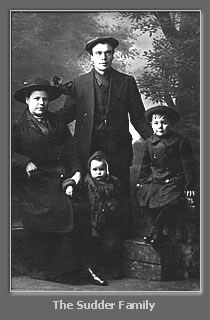 Heather Positive Thinker's father told her that there are streets in Rotherhithe and Bermondsey named after their Dixon ancestors. Heather has found that not only are there streets and passages but also an ancient hospital in the area, named after John Dixon, a timber merchant. She thinks there may be a family connection. A relative, now in his 80s also claims that there are warehouses in Rotherhithe which belong to the Dixon family. He is adamant that they were never sold but only leased and so a large part of the docklands riverside development still belongs to Heather's family. Cherry Tradewell's great grandfather was cheated out of his fortune when he invented a revolving cowl for chimneys, only to have the idea stolen and patented by his apprentice. Pippa Doll's grandmother was said to have married a disinherited Scottish Duke who fell out with his father because he lit a cigar with a £5 note. Well, at least Pippa has found that he was born in Scotland.
Family origins can become confused. Pippa Doll's Sudder family were said to come from Russia and were descended from Mongolians. The 1841 and 1851 censuses say they came from Prussia. Joanne's grandmother has always said that the family is part Jewish, but Joanne has found that the family in question seem to have been silk weavers, making Joanne wonder if they were really Huguenots.
Sometimes present-day family members will pass on stories to the researcher. Pippa Doll's 2x great grandparents are known by all their descendants to have had 23 children. Pippa has found only 19 of them. Yummy-mummy-of-2 has names which have been handed down which have enabled her to uncover some family skeletons. Patience of Pendle got her father to put a list of questions to his aunt which resulted in her saying that, at school, she had used a book written by a relative of Patience's great grandmother. She has now heard from an American contact that the family is related to an historian whose books were used in schools, a connection Patience is still working on.
Ellen Proctor has found that the truth is actually better than the myth. Ellen's mother said that her grandfather had fought in the Boer War. Ellen has found that he took part in The Charge of the Light Brigade in which he was wounded.
Finally, here is a 'myth' in the making for future generations of Quiffdo's family. Quiffdo has discovered that he is related to famous actor Sir Bernard Miles and is now in touch with Sir Bernard's son. Keep all your records Quiffdo so that your descendants will know this story is no myth but is absolutely true!
Ann from Sussex
© Ann from Sussex 2007
---
INTER-ORIENT MAGAZINE
I was also thrilled to be able to buy a copy of an English language South-East Asia magazine, dated October 1927, which contains an article entitled 'Siam's Musical Heritage' by A.G. Beaumont. A biographical note says that he was employed by the Siamese government's Department of Education at that time.