Sometimes we look at information on official documents, the censuses for instance, trust it to be true and it turns out not to be so. At other times the information gives us only half the story but we feel instinctively that it is correct. In my quest for the whole truth, the following stories give an example of each scenario.
Was Minnie From Littleport?
Edward Norman was born on 23 October 1904 and his brother Tobias on 10 October 1906, both in Balderton, Nottinghamshire. Their mother was called Minnie and both the boys were illegitimate. I found a Minnie Norman on the 1901 census working as a domestic servant in Newark, the town three miles away from where the boys were to be born. Minnie was listed as being aged 20, unmarried and born in Littleport, Cambridgeshire. I always had a feeling that she was the person I was looking for, but couldn't be sure that she was the mother of Edward and Tobias unless I could find them on a document with 'Minnie Norman of Littleport' as their mother. My only hope looked like waiting for the 1911 census to be released.
Nevertheless, I followed my instincts and decided to search earlier censuses. I found Minnie on the 1891 census living in Balderton with her widowed mother Sarah, her brother George and her sisters Kate and Florence. They were all born in Littleport, except Florence who was born in Balderton. Going back to the 1881 census, I found the Norman family living in Black Horse Drove, Littleport. Minnie's father was called William and there were two sisters not mentioned on the 1891: Eliza and Mary. The 1871 census reaffirmed that they were a long established Littleport family. At this stage I put all the information safely in the file; it could turn out to be completely the wrong family after all and I didn't want to waste too much time and effort searching a line that wasn't mine.
The Normans sat quietly on the shelf, occasionally being taken down and thumbed through for over three years. At a loose end one day I decided to send a short letter to my local paper (still in the Newark area) asking if anyone had any information about Edward, Tobias and Minnie who was possibly from Littleport. After about a week an email plopped into my Yahoo box from a woman whose grandmother was Florence Norman. Florence had been born in Balderton but the Norman family did hail from Littleport. She went on to say that she remembered Edward (Ted) who had a son whom she named as my other half! This made my new contact a second cousin of his and they knew each other as children, little knowing that they were related!

This gave me the confirmation that Minnie did come from Littleport after all, so my instincts turned out to be correct.
I have since found out that there is a Norman ancestor who died in the Great War, but that is another story.
The Hunt For The Death Of George Thatcher
In my search for juicy tit-bits about my ancestors, to put meat on the bones as we say, I have been working my way through 'killing them off' in the hope of finding something of interest.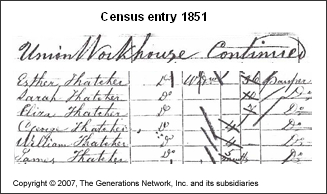 George Thatcher was a tallow chandler from Marlborough, Wiltshire. Tallow is rendered-down animal fat which was then fashioned into candles. Could George have met a gruesome end in a vat of hot fat?
I needed to assess the information I possessed to try to find a possible date range for George's death. George married Esther Gale on 15 November 1840 and at the time of the 1841 census they were living in Kingsbury Square, Marlborough, next door to George's mum Lydia and his siblings Francis 13, James 10, Lydia 8, Charlotte 6 and Edward 4.
At the time of the 1851 census Esther was widowed and an inmate of Preshute Workhouse with her children Sarah 10, Eliza 7, George 4, William 4 and James 5 months. Given these facts I went in search of possible deaths between January and February 1850 when James would have been conceived and 31 March 1851 when Esther was described as a widow on the census return. This seemed a logical timeframe.
I set about searching the death indexes on the Ancestry website and came up with these five possibles:
December quarter 1848 Reading district
March quarter 1849 Kidderminster district
September quarter 1849 Eaton district
December quarter 1850 Clifton district
March quarter 1851 Thornbury district
Frustratingly, none of these really seemed to 'fit', as is so often the case. Thornbury and Clifton were good dates but why on earth would he have been in those places? Reading seemed to be the closest to home but the date was way out. Kidderminster and Eaton were also too early, bearing in mind the assumed conception of George's last child, James. Added to this quandary there was, of course, always going to be the chance that George's death had not been registered at all and it was none of these!
A friend on Family Tree Forum had a look on the National Burial Index for me and the Thornbury death was a child aged 4, so I was able to eliminate him immediately. That left the most likely candidate as the Clifton one, so I sent off for the certificate and waited impatiently for it to arrive, wondering what could have taken a tallow chandler so far from home in 1850. When the post lady delivered the certificate a few days later she brought with her a huge dose of disappointment; this George Thatcher was also a child aged 4. The only good thing to come from this was that another one of the five was now eliminated. This needed to be tackled from a different angle or I could end up spending another £21 in vain.
I decided that the best track to take was to get James's birth certificate as I was now beginning to suspect that the Reading death was indeed 'my' George and that maybe James had been fathered by another man. There was a hit on the birth index which was spot on in terms of place and date. At least there was the likelihood that this certificate would be a family member and not just some obscure George Thatcher with no connection.
After another interminable-seeming wait (was it really only six days?) the certificate arrived and immediately confirmed my suspicions. James Manns Thatcher was born on Monday 4 November 1850 and there was no father named. He was the son of George's wife because the certificate gives her maiden name as I knew it. So, Esther had been up to no good after George died. Probably with a Mr Manns, judging by James's middle name. This gave me the confidence to send for the Reading death certificate for George, and sure enough, that was the right one.

George Thatcher, tallow chandler, died on Monday 27 November 1848 in the Royal Berkshire Hospital Reading from consumption. So, after all the excitement of tracking down the correct certificate, it was common or garden TB that despatched my great, great, great grandfather at the age of 32 years old.
The truth may be out there but don't take the 'facts' for granted!
Rosie Knees
© Rosie Knees 2007