Cyclone Tracy devastated Darwin in the Northern Territory of Australia on the night of Christmas Eve 1974. On the day of the cyclone, most residents of Darwin believed that the cyclone would not cause any damage to the city as Cyclone Selma had been predicted to hit Darwin earlier in the month, but it had instead moved north without affecting Darwin in any way. As a result, Cyclone Tracy took most Darwin residents by surprise.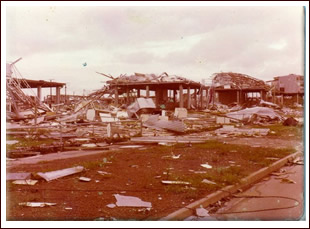 FTF member Sunny Kate recalls her personal experience of Christmas Eve 1974.
A cyclone struck at Christmas of 1974
Thunder, gales. torrential rain, cruel nature in the raw.
A harbinger of tragedy, broken homes and shattered lives.
It left destruction, loss and heartbreak for those who did survive.
It headed straight to Darwin, by the Arafura Sea
Where beer and casual lifestyle in the tropics were the key.
This storm from the sea was Tracy, category five or was it four?
Her gifts of terror, fear and death shook people to their core.
We'd all heard she was coming from the warnings loud and clear
But the peoples' minds were full of thoughts of coming Christmas cheer.
Like most who lived in Darwin, we had planned to celebrate,
We thought we'd go out for a while, we wouldn't stay out late.
But then the lights began to fail, the rain was a waterfall
We left for home and just in time, the drive a torturous crawl.
By then the wind was gaining force, it was hard to stay upright
'Twas a prelude to the next six hours of feeling Tracy's spite.
We saw the fury of the storm begin to do its worst
Flying iron from roofs crash down in each successive burst.
Wires were sparking, falling, tree branches hurtling by
Objects sailing through the air that were never meant to fly!
We made it home uninjured to find much water on the floor
Carpets, curtains sopping wet, windows gushing more.
I put away the presents, moved the pretty Christmas tree.
"Get some sleep," my husband said, "I'll wake you if there's need.'
But no sleep came on that night as the storm began to bite
All hell broke loose as windows blew, it was a time for flight!
We sheltered in our bathroom, a small protected place
But shrieking, roaring, howling noise filled every minute space.
We've never been so terrified, so helpless or distraught
Outside our world was ripped apart, a terrible onslaught.
We huddled there for many hours, we held each other near,
Tracy's shrill and strident, screaming rage was painful to the ear.
And then as light began to bring the dawn of Christmas Day
Tracy's rage was over, spent, the maelstrom moved away.
We crept out from our shelter to a world we'd never seen
A nightmare sight awaited, all was smashed to smithereens.
Outside was like a bomb site, not a a leaf upon a tree,
Twisted metal, flattened houses, gardens covered with debris.
Looking down along the road the damage was wide spread
So many homes had disappeared, there must be many dead!
Tracy's wrath was long ago: she did her worst that night
Ruined families, lives and dreams, a town changed by her might!
Christmas came to Darwin in that savage, lethal blast
And those, whose lives were altered, do not forget the past.
Darwin was our home for 30 years. It has been destroyed 6 times since 1878 – 5 times by cyclones of which Tracy was the worst and by Japanese bombing during WWII.
Each time Darwin rose again like a phoenix from the ashes.
Sunny Kate
© Sunny Kate 2007