Having gone back to 1521 in the usual ways, with my direct line, I started looking for the flesh on the bones. Amongst much else I found, in my local Public Records Office, some Sun Fire office records and discovered that my great 4x grandfather, shown as a Gentleman, had taken out an insurance policy in 1818, on his house in Primrose Street London (just behind the present day Liverpool Street Station). Another policy was dated 1822. I later tied this in with the church rate books and found that my grandfather and his brother had both lived in this street.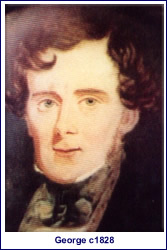 My great 3x grandfather George was born in 1793, and I am lucky to have a photograph of a portrait of him painted about 1828, at the time of his engagement to my great 3x grandmother, Harriet Caroline. She also sat for her miniature. Her dress shows a wide silk collar edged with dozens of seed pearls, fastened at the front with a complex and beautiful ruby and diamond brooch. Her cap was edged with lace and more pearls.
Harriet was the youngest of 13 children all born in Kent, of which 12 survived into adulthood.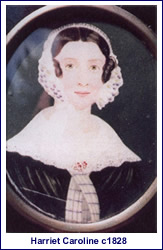 Later in 1821, I found her parents as witnesses in a trial at the Old Bailey.
The thief had stolen my great 4x grandparents' washing from the washing line – five petticoats – valued at 5s, two pairs of stays – valued at 4s, plus shirts and a handkerchief! – the poor thief was transported.
George had previously been married in 1819. He and his wife had a son and a daughter. The latter died in 1827 aged only 5 years and 9 months, whilst at boarding school, and her body was removed to her grand-parents' home in Primrose Street. There she lay in her coffin for the family to pay their respects before being buried. The son went on to become a clergyman, much involved in the Temperance Society. So much so that when his only daughter fell in love with a young Oxford undergraduate he forbade the marriage as the young man's father had been involved in the wine trade. However, young love never dies and the young man borrowed money from his father and spent three years at theological college. When he was ordained the Vicar relented and all of Hereford rejoiced at their wedding, garlands were hung from all the cottage windows and everyone was happy.
However, that was in the future. In 1828 George and Harriet were married and they had two girls and two boys.

One son also became a clergyman and the other was my great, great grandfather who carried on in the family business. He was a frustrated clergyman and eventually he gave up the business in order to become a lay reader. This was much regretted by his son as this fall in family income put paid to his hopes of going to Cambridge or Oxford and becoming a barrister.
Harriet Caroline died young at only 36 years of age. A couple of years later, in 1838, her husband married the young widow of an army officer and went on to have another 3 daughters before suffering a gruesome death in 1850. His son's diary entry for that date best describes the unhappy event-
"My poor father suddenly summoned out of time into eternity by falling under a cart, the wheel of which passed over his loins. He was conscious but for a moment during which in answer to the surgeon's question whether he was much hurt replied "my back", he never spoke afterwards".
He died later the same day.
daisiesinmay
© daisiesinmay 2007