My father was born in 1910 in Lowestoft, a town dominated by the fishing industry until the middle of the last century. Christmases were always "feast or famine" when he was a child. A few good catches and the children had far more than an orange and some nuts. If the Home Fishing was poor they made do with what my grandmother could provide with money put by from net mending.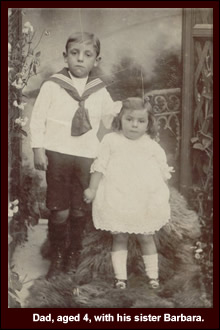 Deep sea fishing was the most dangerous occupation of the 19th century and many superstitions and traditions evolved over the years, for example the men never said goodbye when they left to go to sea.
Some never even told their families when they would be going. They quietly got their gear together and slipped away without a word.
Quite often the men were away on Christmas Day and a tradition began in our family, which is maintained until this day. My father has no idea when it began but knows from his grandfather that it must have been observed in the mid 19th century.
At 11 a.m. on Christmas morning every member of my father's family stop what they are doing and drink a toast to absent family and friends, calling out the names of those who aren't with them and of those lost in the last year. Dad brought the tradition into my Mum's family as well and I can remember this happening when I was a very little girl.
Over the years this has linked men out fishing in the cold North Sea with their wives and families at home. In WW1 my father's two cousins, Jack and Charlie Brittain, drank the Christmas toast while they were in the trenches, as letters home recorded. Sadly, neither survived to drink the toast at home again.
In WW2 my father drank the toast (being aware of the time zones) in Africa and Italy and for a short while was united with my Mum and his family knowing all would be doing exactly the same thing. He introduced the tradition to his army pals and I often wonder if any of their families still observe it.
Some years it has introduced a note of sadness into the festivities when family members have died in the last year but it also gives a feeling of continuity, which is, in a way, comforting.
Dad will be 98 in January and lives in a nursing home as he has become very frail. Last year he was well enough to come to us for Christmas and we made sure he was here in time for the toast. His eyes lit up when he saw the glasses and wine laid out ready. Who knows what this Christmas will bring? If he is too ill to come to us we will be there with him at 11 am to drink the toast, knowing that my cousins, second cousins and even third and fourth cousins and their families will be doing the same.
"To absent family and friends".
Guinevere
© Guinevere 2007