I started researching my husband's family many years ago. As he had a fairly uncommon surname, I thought it would be easy. The things we learn!
It wasn't until about two years ago that I realised that I knew very little of my own family history. I did know a little about my mother's side, but nothing about my father's. He had died when I was five years old and we had very little contact with his family. All I knew was that my second name was my paternal grandmother's name; as well as my father's name and the year that he died.
So I began my journey. I got my father's death certificate and even that was an eye opener. He had been previously married and I found out that I had an older half brother. Unfortunately, I have never met him, although I do know that he has severe health problems from his time fighting in Vietnam and probably would not cope with meeting me. Sometime maybe.
Luckily in Australia, certificates have a lot of information on them. So from the death certificate I got my father's age and place of birth, which led me to find his birth certificate. This gave me his parents' names and their marriage information. I must admit that I shed a few tears when I saw that I share my second name with my grandmother. I do cry easily.
During this time, my step-father asked if I could look at his tree. I was quite happy to do this as I had four half siblings who otherwise would only get our mother's side of their tree. Lo and behold if I didn't find a convict!
I was impressed, having a convict in Australia is classed as better than having royalty, especially as Ned Kelly is our national hero and Waltzing Matilda (a song about a sheep thief) is our national song. So continuing my trip back through time, I got caught up in my Scottish ancestry for a while; I had always wondered why, even as a child, I'd picked tartan as a favourite in anything new, and loved bagpipes.
I was a bit worried about tackling my paternal grandfather's history as his surname was quite common. A few more certificates later and I could go no further. When I saw on my 2 x great grandfather's death certificate that his place of birth was Ireland, I thought I'd quit while I was ahead.
I thought I'd go one step further back and get his marriage certificate. Well, I recognised his wife's maiden name straight away. Every child in Australia was taught about our early explorers, and two of them were brothers, John and Henry Batman.
Here was my great great grandmother's maiden name, Batman. So, another lot of certificates to put on my wish list.
About this time, I decided to see if anyone else was researching this tree through websites such as Genes Reunited. Until this time, I really didn't think that I realised just how big the world wide web was. There were so many, my mind was spinning. These were all of my family, people who were my flesh and blood. I'd come from not knowing my own father, to being related to half of Australia. So, onward and upward, I'd come this far, I was going all the way.
I knew that the Batman brothers had explored Tasmania and that John was known as the founder of Melbourne. I also dragged from the depths of my mind (it was a long way back to primary school social studies) that John Batman's father was a convict. Hooray, I'd done it, I'd found my convict!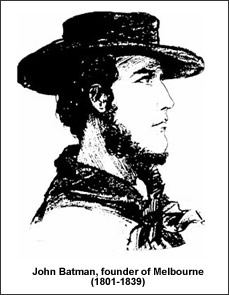 Now, how was he related to me? Eventually, I found out that my great great grandmother, Euphemia Batman, was the niece of John and Henry. Her father, Robert, born 1796, had come to Australia with his mother, Mary, and father, William.
William was a cutler. He lived with his wife, Mary Mobbs, at Long Alley, Moorfields in London, above his shop. As a member of The Cutlers Society of London he would have had his own stamp.
In December 1795, William and his brother in law, William Mobbs, were found guilty of the theft of 'six hundred pounds weight of saltpetre, property of the King'.
Between the two Williams, there were 15 witnesses called who gave character references. However, they were both sentenced to transportation, Batman to 14 years and Mobbs to 7.
William Batman embarked on the 'Ganges'. His wife, Mary, decided to come with him as a free settler, along with her two babies. Not much is known of their first couple of years here in Australia, but by 1800 they were settled in Parramatta as a family and lived independently of Government assistance. By 1808, the Batman family had six children and all except the youngest lived well into adulthood. All of the children were educated and literate, as was their father. William died on the 30th December 1833 and is buried at St John's Cemetery Parramatta.
The 'New South Wales Magazine' of February 1834 printed the following notice:
"29th, at Parramatta, Mr William Batman, aged 68 years. He resided in the colony thiry-seven years, was highly respected and his loss will be long felt by a numerous circle of friends and acquaintances"
However no mention was made of his convict past.
William's son, Robert married Eleanor Turner in 1819. These were my 3 x great grandparents. Eleanor had even humbler beginnings. She was born in 1796 in Parramatta, the daughter of Carolina Laycock and Mark Turner. Mark Turner was a convict on the second fleet. He had been found guilty in 1787 of "feloniously stealing and carrying away one hen fowl and fifteen chickens". He was transported for 7 years and sailed on the 'Scarborough', arriving in Australia on the 28th June 1790. He died in 1802 and is buried in the Sydney Burial Ground, which now lies under the Sydney Town Hall.
Eleanor's mother, Carolina Laycock, was a convict on the first fleet and arrived here in 1788 onboard 'The Prince of Wales'. I don't think that her life was anywhere near as easy as the Batmans. It seems that she had numerous children, to several men over the time of her life. She may have left children in England when she came to Australia. Certainly for the time she and Eleanor's father, Mark Turner, were together, things seemed relatively sedate.
When I first found Carolina I was excited at the thought of a first fleeter and had visions of some poor young girl convicted of the theft of a loaf of bread, that she would settle down with the 'love of her life' and 'never do wrong again'. It took me a while to reconcile her life of different partners and petty crimes. I've since read a lot more of those times and wondered if I would have been able to do any better myself. Carolina's life is a book in itself and probably best left to another time.
When I set out on this quest I never thought that I'd find such great stories, real people and laughs and tears aplenty. I can still find tears when I think of Carolina's life.
I would never have found all of this without the help of many family members, particularly Diane F Budd, who has put together a book on my family entitled 'Into Good Ground'
Harrys mum
© Harrys mum 2008
---
Photographs in the public domain from Wikipedia
Research sources
"Into Good Ground" by Diane F Budd
The Proceedings of the Old Bailey, London 1674 to 1834
Further reading
Batman, John (1801 – 1839) Biographical Entry – Australian Dictionary of Biography Online