Jennie's grandmother's maiden name was Launchbury, and when she started to research her family history she told her about her Uncle Frank and his family who had died in a fire in Boston, Lincolnshire, in 1936.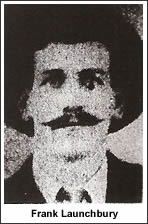 Jennie found all of their deaths on the BMD indexes on Ancestry and visited her local library to obtain copies of the local newspaper reports on the tragedy.
They confirmed her gran's memories of the event. She was 11 years old at the time.
Frank Launchbury was born in Witney, Oxfordshire in 1885. He married Beatrice Coles there in 1902. They came to Boston in 1911, where he worked as the first manager of Messrs Halfords cycle department in the town.
In 1914 he opened his own radio and cycle shop at 24 Dolphin Lane, a thoroughfare just a few yards wide leading from the Market Place, and became a well known local businessman. By April 1936, Frank had been widowed for three years and lived with his 30 year old daughter Edna, who was also his housekeeper and sons Samuel (15) and Albert (10).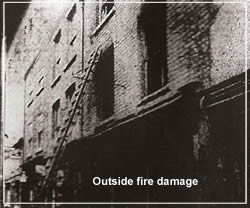 Samuel worked for his father and Albert attended Boston's Staniland school. Albert suffered from a crippled knee which was held in an iron frame; his father had spent a great deal of money in an effort to cure him.
At around 2 in the morning on Tuesday 7th April 1936, a fire started in the shop. A neighbour, Ada Sutton, awoken by what she later described as 'the sound of articles falling', had discovered smoke pouring out of the building. She had hammered on the door and tried in vain to open it, but without success. She ran to a policeman on Boston bridge to raise the alarm. Jennie walks this journey regularly and it usually takes her 5 minutes. It was reported to the Fire Brigade at 2.34am and they arrived 4 minutes later.
PC Broadbent and PC Rand were the first on the scene and smashed through the back door, where they immediately found Edna's body, which they dragged from the building.
PC Broadbent then spotted Frank Launchbury lying partially clothed a few feet further inside. He dragged him outside on his hands and knees, where he discovered that he was still alive, although seriously injured. Frank was immediately given morphine injections to ease the pain of his burns.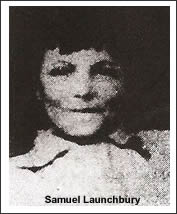 The fire caused tins of paint and carbide, as well as sports ammunition, to explode and raged for nearly 2 hours, fuelled by tyres, celluloid and other inflammable materials.
The firefighters managed to confine the fire to the Launchbury's property, even though their engines could not enter the narrow lane, having to work from either end.
Entry into the building was not possible until 4.20am, when the bodies of Samuel and Albert were found lying in debris at the bottom of the stairs. It was believed that Samuel had been giving his crippled brother a piggyback ride to rescue him from the fire, as Albert had landed on top of Samuel. He was said to have always looked out for his younger brother.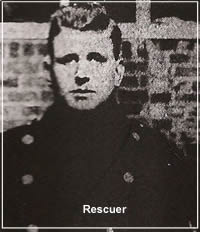 At the inquest, it was the doctor's opinion that Edna, Samuel and Alfred had all died of suffocation and shock, and had experienced little pain. Samuel was also found to have a broken right collar bone.
When Jennie's great grandfather, Henry Launchbury, visited his critically ill brother, Frank, in Boston Hospital a week after the fire, he did not recall the incident and thought that he had been in a car crash, whilst his children were safely at home. Frank died of Septic Pneumonia later the same day. Mindful of his children right until his death, his last words to his brother were, "Is Sammy down at the shop with you?".
It was thought that the fire was caused by an electric accumulator charger. However, after Frank's death, there was no way that they could know for sure. Damage was estimated to be between £1500 to £2000 (approximately £70,000 to £93,000 in today's money using the retail price index to calculate the comparison).
Edna, Samuel and Albert's funeral was on Good Friday, with hundreds of townspeople lining the route of the cortege to pay their respects. All three were buried in the same grave, which was lined with daffodils.
Frank's funeral passed much more quietly almost a week later, with just the immediate mourners in attendance. He was buried near to his children's grave.
The Vicar of Boston, Canon A M Cook, conducted both services and he, together with the Mayor of Boston are reported to have said that, "nothing like this was known in the history of the town"
Velma Dinkley
© Velma Dinkley 2008
Story written from material supplied by Jennie.