I'm not sure what my great great uncle, William H Oxborrow, a Suffolk preacher and coach painter, would have made of his story appearing in FTF Magazine under a criminal theme, but in January 1903 he found himself at the Ixworth Petty Sessions charged with refusing to have his youngest daughter inoculated against Smallpox.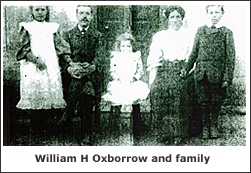 Compulsory inoculation had been introduced some fifty years earlier to great opposition. Much like today, people were wary of some medical practice. Others felt that it infringed their individual rights, while some objected on religious grounds. For reasons only known to William, he was adamant that his daughter should not be vaccinated.
Therefore, William incurred a fine of one shilling as well as costs. On leaving the box he was quoted as saying –
"I shall not pay a farthing, I have the whole British public behind me"
True to his word, William, along with two other co-defendants, known as the 'Walsham Three', refused to pay the fine. Thus a few weeks later the police arrived to seize the three men's assets, and furniture was taken from the other two men's houses, to be sold later at auction. Although as the Bury Free Press reported on 4th April 1903: "As for Mr Oxborrow, a large proportion of his assets had mysteriously disappeared"
Eventually William was sent to Ipswich Gaol for seven days. From all accounts he was treated fairly, dressing at 8 o'clock and then tidying up before having breakfast. He then went to church, being the first to go in and the last to come out. He even had his own seat on account of him being from Walsham le Willows! On his release, William received a hero's welcome, with the Walsham local band marching past him as he arrived at the train station.
Parliament later rescinded compulsory vaccination in 1909.
William was a very devout and committed person. A member of the Temperance Society and a very active member of his community. Like many others of his era he lost a son during the Great War. All in all a most unlikely criminal!
Boudicca
© Boudicca 2008