I have been researching my family history for nearly twenty years now and until recently, if anyone had asked, I would have said that my ancestors led pretty ordinary, even dull lives.
My father, especially, had been able to tell me names and dates going back to the early 1800s and there were no hints at secrets or mysteries that I knew of. None that is, until I began to access records other than census returns, and birth, marriage and death certificates.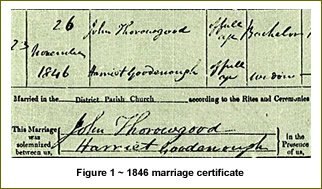 Quite early on in my research I purchased the 1846 marriage certificate of my great great grandparents, John and Harriet Thorowgood (part of which is shown on the right). This shows Harriet to have been a widow, her surname recorded as Goodenough and that her father was Tobias Hobbis. At the time, though saddened to see that Harriet had been widowed, I was more interested in trying to track down the Hobbis family, than following up Harriet's first marriage. I did find John and Harriet on the 1851 census in Islington (HO107/1499 folio 666), with a 14 year old son, John, who although listed under the Thorowgood surname, was born in Harriet's home county of Berkshire. I was then able to find a probable baptism for John Goodenough in Letcombe Regis on Christmas Day 1836.
Meanwhile, and unknown to me, members of the Goodenough family, including Linda here in England and Max in Australia, were also researching their family history. Eleven years later, and by now computer literate, I was searching for 'my' surnames on Genesconnected (now Genes Reunited) and spotted an Edward Goodenough born 1805. I sent this message to the owner of the tree:
"Hello Linda,
My great great grandmother Harriet Hobbis was a widow when she married my great great grandfather John Thorowgood in 1846. She had previously been married to Edward Goodenough and had a son, John Goodenough, born Letcombe Regis in 1836. I believe her husband to be the Edward Goodenough born in Letcombe Regis in 1805, son of Alexander and Susannah. Is this the Edward in your tree?".
This simple message started a search on two continents by four relatives of the families involved.
Linda was able to tell me more about the Edward Goodenough on her tree. She was in contact with Max, a descendant of Edward, who lives in Australia. This Edward died in Arulean, New South Wales in 1884; 38 years after Harriet Goodenough claimed to be a widow on the marriage certificate. Oh well, I thought, not the same man then; except that Max then said that this Edward was married to a Harriet Hobbs [sic]!
Linda said in her reply:
"I don't see therefore how my Harriet could have been widowed and remarried in 1846 (unless we're talking bigamy here!) Any ideas?".
We cooked up several ideas between us. Max had evidence that Edward, and his two sons Joseph and John, had been successfully involved in gold mining before buying land and becoming graziers. This son John must surely be 'my' John as his death certificate showed him to have been born in Berkshire, the son of Edward Goodenough and Harriet Hobbs [sic] (helpfully the online index for New South Wales deaths NSW Registry of Births Deaths & Marriages shows parents' names).
Perhaps when Edward decided to go off to try his luck, Harriet had thought him mad and chosen not to accompany him, or perhaps he had intended to send for her later and lost touch, so she believed him dead. Well maybe not, as in 1846 two Goodenough relatives were witnesses at 'widowed' Harriet's second marriage, and the 1851 census made it apparent that the boys, or at least John had not left with Edward, and so there must have been later contact.
Messages flew back and forth as Max set off to track down the Goodenough family in ship arrival indexes, and also brought in Cliff, another Goodenough relative whom he had contacted through Curious Fox.
It was at this stage that I threw this thought into the equation:
"By the way, are we sure that Edward chose to go to Australia rather than doing something naughty and being sent? This might have been another possible reason for Harriet giving up on him and remarrying".
Max then searched out Edward Goodenough on the Society of Australian Genealogists ~ Ticket of Leave Index finding the following information:
Edward Goodenough
Ship: Asia
Year: 1837
Native place: NR
Trade or calling: NR
District: Goulburn
Ticket no.:46/389
This fitted with the information on a listing of Convicts and Convict ships sent to NSW, Tasmania and Norfolk Island from 1801 – 1849, on the web site Convicts to Australia:
'Asia V arrived 2nd December 1837, sailed 4th August 1837 from Torbay, duration of voyage – 120 days, 280 men embarked, 277 men disembarked at Sydney'.
So Edward had indeed been a 'naughty boy' and had been transported less than a year after son John's baptism. I searched the 1841 census at the Family Records Centre in London and at last found Joseph and John Goodenough, aged 7 and 3, in the workhouse in Newbury (HO107/33/8 folio 4 page 4), which was the town where Harriet's parents were also living. Although I could find no Harriet Goodenough of the right age, there was a Harriet Hobbis living in Wantage (just up the road from Edward's home village) working as a servant. She would have needed to earn a living and would have been unable to care for two small boys. So perhaps she had left the boys at the workhouse and reverted to her maiden name to find work without awkward questions being asked.
Now the question for all of us was – what did Edward do that was bad enough for him to be transported? The answer to this was provided by Linda who searched the internet and came up with extracts from the Windsor and Eton Express on Rootsweb Newspaper Transcripts, including this from 8th March 1837:
"Edward Goodenough, aged 29, was indicted for stealing a sheep, the property of Ferdinando Barnard, at Wantage. It appeared, that during the night of the 6th ult, one of the prosecutors' sheep was stolen from a flock of 100. Foot-prints in the morning traced in the direction of the prisoner's house, and upon obtaining the assistance of a constable and searching his house, two necks, and other portions of a sheep were found between the bedding and the sacking. The prisoner's shoes exactly corresponded with the foot prints which had been traced. The prisoner was found guilty and sentenced to be transported for life".
The list of convicts onboard the ship 'Asia', which Max obtained from the Archives Office of New South Wales (AOFiche No 729), bore out this information and provided us with a description of Edward:
Name – Edward Goodenough
Age – 29
Education – R & W (read & write)
Religion – Protestant
Single, married or widower – married
Children – 2 male
Native Place – Berkshire
Trade or calling – labourer
Offence – sheep stealing
Tried – Berkshire assizes, 23rd February 1837
Sentence – life
Former conviction – none
Height – 5′ 8 1/2″
Complexion – ruddy & freckled
Hair – brown
Eyes – grey
Particular marks or scars – two raised moles right side of throat, scar ball on right thumb, scar between the fore and middle fingers of the left hand. Scar back of little finger of same. Top of same contracted.
Cliff joined in the search by obtaining from The National Archives of the United Kingdom, extracts from the Berkshire assizes, which showed that Edward was sentenced to transportation for the term of his natural life, having been found guilty on four counts:
"(i) With force and arms he feloniously did steal, take and drive away a ewe worth 20 shillings; (ii) He wilfully and feloniously did kill with a felonious intent to steal, take and carry away the carcase of said last mentioned ewe; (iii) With force and arms he feloniously did steal, take and drive away a lamb worth 20 shillings; (iv) He wilfully and feloniously did kill with a felonious intent to steal, take and carry away the carcase of said last mentioned lamb".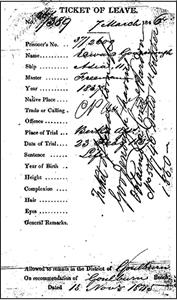 So far so clear, but these questions now arose – how did a man transported for life for sheep stealing become a wealthy gold prospector and grazier, and when did his sons join him?
Max obtained the ticket of leave which had previously been found in the indexes. This showed that on 7th March 1846, Edward had been granted a ticket of leave, which meant that although still subject to restrictions he was able to live and work independently.
The ticket was then written over to show that on 1st October 1860 the ticket of leave was torn up and Edward obtained a pardon. By this time Joseph and John had already joined their father. We found them listed on the Index of Inward Passenger Lists for British and Foreign ports 1852-1911 at the Victoria Public Record Office Public Record Office Victoria (PROV), as well as on the Index to Unassisted Inward Passenger Lists to Victoria 1852-1923.
John, aged 19 and Joseph, 23, sailed on the ship 'Sultana', departing Southampton on 14th March 1856 and arriving in Sydney on 27th June 1856.
Max found references to their gold mining activities:
'Braidwood Gold Fields 1850-1860s' compiled by Roslyn Helen Maddrall (1978), refers to Edward Goodenough, father of Joe, being a lucky digger who in 1859-1860 found the Gulf of Nerrigunder diggings which turned out rich.
'The History of Araluen' by Lindsay and Roger Thwaites, refers to Goodenough's Gully, which was likely to have been named after "the Goodenough who discovered considerable gold finds on the South Coast.
The NSW Registry of Births Deaths & Marriages show that both Joseph and John married, with John being married twice. Joseph was apparently childless and died in 1893, but John had a son by his first marriage and 11 children by his second to Emma Jones. Max is descended from John and Emma and is my 3rd half cousin.
The searches set out above took just two months from my initial contact with Linda on 24th May 2004. From being two separate families with no known secrets or scandals, we have become one family with shared ancestors and a sad story.
Harriet was legally entitled to remarry after seven years absence of her transported husband, but chose to claim widowhood rather than state the truth. Did this mean that her new husband did not know the truth? Surely not, as the witnesses Henry and Harriet Goodenough were Edward's brother and sister (Henry was married to Tryphena Hobbis and may well have given a home to the young Joseph Goodenough who gave Whitechapel, near where Henry and Tyrphena lived, as his birthplace on later documents). Certainly there was later contact to enable the boys to join their father. Did they stay in touch with their English relatives?
My late aunt, born in 1909, recognised the Goodenough surname, so perhaps there was contact in later years, although I shall never know for sure. Harriet outlived both her husbands, to die aged 84 in 1901.
As I sit here typing I am accompanied by the ticking of a grandfather clock, which probably belonged to Harriet's father Tobias, but even though it must have seen many of these events, it will not share its secrets!
JudithM
© JudithM 2008