My husband's great x2 grandfather, Thomas Anderson, was one of ten children, born in the farming community of Bisham in Berkshire between 1814 and 1830. His grandfather, also called Thomas, who had his origins in Scotland, had leased Cross Roads Farm in 1796 for a term of 100 years, and this is where he grew up.
It appears that life was tough for this growing family with all these mouths to feed, so as soon as the six girls became old enough they were put into service.
As for the four boys, Thomas did eventually take over the running of the farm, with the help, as it appears, of his older brother George. However, at the time of the 1841 census Thomas was recorded as living at the workhouse in nearby Maidenhead, working there as a porter. His younger brothers – Edward, aged 15, was living at the farm, and William, 11, was working as a servant at Bisham Abbey.
Clearly, there wasn't going to be enough work at the farm to sustain all four brothers.
Edward married Ann Pinegar in 1847 in Bisham. Their marriage certificate records that they were both residing in Bisham at the time, although there is evidence to show that Ann worked as a servant at the 'Swan Inn' in Rickmansworth, Hertfordshire, during the 1840s. So Edward may well have moved to Rickmansworth before his marriage and that's where they met. However, by the time of the 1851 census, the couple were living in Rickmansworth and Edward was described as a brewery worker.
By early 1856, William had joined his brother in Ricksmansworth, as on 3rd February he married Ann's younger sister Elizabeth in the parish church. Edward was one of the witnesses.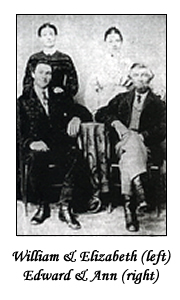 I think that Edward and William worked for the Salter's Brewery in Rickmansworth, which had been established by Samual Salter in the early 18th century, alongside 'The Coach and Horses' in the High Street. In the latter half of the 18th century, the brewery started to take over the ownership of several inns in nearby towns and villages, therefore controlling the sale of beer at these premises.
The brewery was located near to a cut on the River Chess which was used as a canal. The casks of beer were put on barges and transported to nearby Uxbridge.
By the time Edward and William worked for Salter's Brewery, it was run by the Fellows family. After the founder's grandson's death (also called Samuel) in 1829, it was being run by two trustees – Thomas Fellowes, a local landowner, and William Capell, Samuel's grandson.
Samuel's will stipulated that a cask of beer was to be left outside the brewery each day, so that passers-by could help themselves. Unfortunately, this became so popular that a unruly crowd would assemble each day in anticipation, so the practice was forced to end by the late 1850s. The riotous scenes were reported in The Illustrated London News in October 1851, and no doubt Edward and William would have witnessed these events.
William and Elizabeth had six children, with the oldest, Thomas, born in November 1856. However life was not so fortunate for Edward and Ann and they remained childless.
The 1861 census described both Edward and William as brewer's labourers, although in later census returns Edward was described as a night watchman and William, a drayman. As a drayman, William was responsible for looking after the horses, as well as delivering the beer to the local pubs.
William and his family lived on the Chorleywood Road in Rickmansworth, whilst Edward and his wife Ann lived in the High Street. One of their near neighbours was the novelist Mary Ann Evans, better known as George Eliot, who had a summer residence at 'The Elms', in the High Street, next to the brewery. In 1875, she wrote to a friend saying that she, "Preferred a county where I don't make bad friends by having to see one public house to every six dwellings, which is literally the case in many spots around us. My gall rises at the rich brewers, in Parliament and out of it, who plant their poison shops for the sake of their million-making trade, while probably their families are figured somewhere as refined philanthropists and ritualists"
It does seem highly plausible that she was referring to the owners of the Salter's brewery.
At the time of the 1881 census, Edward and Ann were living apart. She is recorded as having been the housekeeper to a member of the Fellows family in Stanhope Gardens in Kensington, London, and it seems most likely that she acquired the job through the brewery. By 1891, she was back living with Edward in Rickmansworth.
None of William's sons followed him into the brewery. His eldest son, Thomas, worked as a footman, his second son, George, became a school teacher and eventually a school master in Bolingbroke Grove in Battersea, and his youngest son, Edward, was apprenticed to a female printer in Rickmansworth, for which William paid his first year's keep. For the second year Edward was paid 2s 6d per week, rising by a shilling a year. This was comparatively low, considering an agricultural labourer was earning 13s 6d a week around the same time.
Sadly, William did not live to see Edward finish his apprenticeship and died at the relatively young age of 55, on 17th October 1885. His family mourned their loss, recording the following on his memorial card:-
Our life is but a fading dawn,
It's glorious noon how quickly past,
Lead us, O Christ, when all is gone,
Safe home at last
The arrival of the Metropolitan Railway in 1887 right next door to Salter's, led to the construction of a new five-storey brewery with a boiler house and chimney, a two-storey malt-house, and stables for the dray-horses. Two years later, in 1889, the brewery was registered as a limited company.
Around this time it produced nine draught beers, including 'table' beer, 'pale' ale and stout.
Edward survived his brother by 15 years, dying on Christmas Day 1900, aged 78.
Meanwhile, back in Bisham, their brother Thomas had continued to run the farm, but by the 1890s had become bankrupt shortly before he died, leaving his only son, John, to move into Maidenhead and work as a labourer. So, it would appear that Edward and William had made the right decision to move away and find work elsewhere.
The brewery site was sold in the 1920s and was bought by a firm of local boatbuilders. The site was later used as a cinema, by a tennis racquet manufacturer and a fertiliser firm. However, the buildings were demolished in 1972 and offices were built in their place.
The 'Swan Inn' in Rickmansworth, where Ann Pinegar was a servant before her marriage to Edward, dated from the 17th century, and many artefacts were found when it was demolished in 1966.
Velma Dinkley
© Velma Dinkley 2008
SOURCES
Many thanks to William's great granddaughter, Janet, who has provided material for this article.
Bisham Parish Records