I had been researching my Meller ancestors in Shropshire for several years without turning up much in the way of exciting information, until a chance search on A2A – Access to Archives revealed a hit that indicated details contained within the Quarter Sessions related to my great x3 grandparents, James Meller and Elizabeth Scale.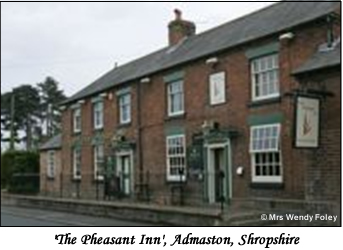 James and Elizabeth had married at St Luke's Church, Cannock, in 1852, with six children following. Sometime after the birth of their youngest child, Mary, at Cleobury Mortimer in Shropshire, in 1864, and before the 1871 census, they had become the publicans at 'The Pheasant Inn' in Admaston. They remained at the pub until 1890 when, at this point, they handed over 'the reins' to my great x2 grandparents, James and Alice Jane (formerly Plant), and they themselves went to live in Wroxeter, where Elizabeth died in 1904 and James in 1916. From census records, certificates and images located on the internet, I've managed to glean a wealth of facts and information about these ancestors, which has allowed me to put the 'meat on the bones', rather than just having names on a tree. However, it was the information contained on the A2A site that intrigued me, as it had indicated that James and Elizabeth had been involved in a court case. I contacted Shropshire Archives only to be met with the disappointing response that they couldn't supply me with copies of the transcripts, if indeed the papers were still there. I was once again rescued by a wonderful Family Tree Forum member who was prepared to go along for me and note down the details on my behalf. The papers showed that they had indeed been involved in a court case relating to a theft from the public house by a customer on 31st December 1871.
Mr Evan Jones had been accused of stealing a horse rug and two candlesticks to the value of ten shillings from 'The Pheasant Inn' on that date and the incident had been investigated by local policeman, George Meredith, who had given the following deposition statement:-
"I am George Meredith, a police constable stationed in Wellington. About half past nine last night I was sent for to the Crown Inn. The prisoner was there creating a disturbance. He had the rug on his arm and also two candlesticks. I asked him who the rug belonged to. He said "It's my own and you take care of it for me". I told him I should not do so. I then made enquiries respecting it. At eleven o clock the prisoner was very disorderly in the streets. He had not got the rug with him then. I took him to the police station. I afterwards went to the Crown Inn and took possession of the items that had been left there. After I came back to the police station, the prisoner said he took them for a lark from Mr Shepherd of Admaston. I told him I knew Mr Shepherd of Admaston. He then said it was Mr Meller's of The Pheasant Inn. This morning I showed it to Mrs Meller who identified it as her husbands' property".
Mr Jones pleaded 'not guilty' when charged of the crimes and continued to maintain that he "took them for a lark" and that he had no intentions of keeping them.
The case had been referred to the local Justices of the Peace, where Elizabeth had attended and given a statement:- "I am the wife of James Meller, publican of Admaston. Between seven and eight o clock on 31st December, the prisoner came to our house and had two glasses of ale. He stayed about twenty minutes. Some time after he had gone, I missed two candlesticks. I suspected the prisoner, and my husband went in search of him but could not find him. The following morning between nine and ten o clock I missed a horse rug too. The rug and two candlesticks now produced I identify as my husbands property. They are worth ten shillings".
It had then been revealed that Evan Jones had been convicted of felony at Shrewsbury on 16th March 1868 but had absconded. He was found guilty of the theft at 'The Pheasant Inn' and sentenced to seven years penal servitude. The transcripts are a wonderful addition to the information I had already collated on my publican ancestors and, although I have searched the census for 'Evan Jones', I am unable to establish him with any certainty. The Quarter Sessions gave no indication of age, occupation or place of birth and the name is fairly common, even in Shropshire.
jemima puddleduck
© jemima puddleduck 2008
SOURCES
Shropshire Archives – Quarter Sessions
Mrs Wendy Foley of Wellington, Shropshire, for the photograph of 'The Pheasant Inn'
And with special thanks to FTF Member, Wilf (Allie) for her time and patience in transcribing the Quarter Sessions records