My maternal great grandmother was called Julia Holder. The Holder family were descended from Huguenots who had settled in Taynton, Gloucestershire, in the 17th century.
At the time the area was renowned for its orchards, in particular in the growing of the 'Taynton Squash Perry Pear', which produced a cider considered equal to Champagne that was sold far and wide. In the 17th and 18th centuries nearly every farm in Taynton had its own fruit orchard and cider mill.
J. Evelyn wrote in 1670, "About Taynton, five miles beyond Gloucester, is a mixed sort of land, partly clay, a marle and crash, as they call it there; on all which sorts of land there is much fruit growing, both for the table and for cider; But it is the pears it most abounds in, of which the best sort is that they name the Squash-Pear, which makes the best Perry in those parts. These trees grow to be very large and exceedingly fruitful ….."
Between 1690 and 1702, my ancestor, John Holder, of Taynton House, built barns using local brick and set up cider presses. The barn measured 200ft by 20ft and had a large vaulted storage cellar beneath it. He was mentioned in a book of the time. "I have known Mr Holder of Tainton [sic] sell a hogshead of golden pippen cyder [sic] for twenty four shilling a dozen, and the high prices which Tainton [sic] Squash bring at the mill are too well ascertained to require mentioning"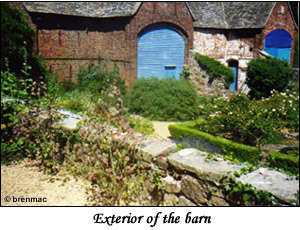 However, things weren't to go smoothly for the Holders. John's son, also called John, recorded in his diary that the 'Great Storm of 1703' blew down 200 of their fruit trees. It was a storm which inflicted great havoc to Southern England causing damage and destruction, as well as many deaths.
Although it seems that they were able to recover from this disaster, as John's diary records that more cider presses were set up in the Taynton area in 1705. These were subsequently left to his son Robert in his will.
Many members of the Holder family are interred at St Lawrence Church in Taynton, either under the aisle or in the vault, as well as in the church yard.
The Taynton Squash pear tree became almost extinct by the 20th century, however in 1994 a sapling was found and planted on Hownhall Green, Taynton. In 2001 the tree bore its first meaningful crop of fruit and this was made into perry.
Grade one listed Taynton House and its grade two listed barns still stand today. The house has recently been restored by the present owner.
Velma Dinkley
Written from material supplied by brenmac
Many thanks to Phil Sherratt, who has kindly given his permission to reproduce the information on the site.
© Velma Dinkley 2008