In the summer of 2006 I made a visit to Adderbury in Oxfordshire, where my great x2 grandparents, George Henry and Mary Buck, had lived their married life together.
George and Mary were married in 1858. He was a commercial traveller in tea and met Mary through his work, as her family owned a grocer's shop in Witney which he visited in the course of his business.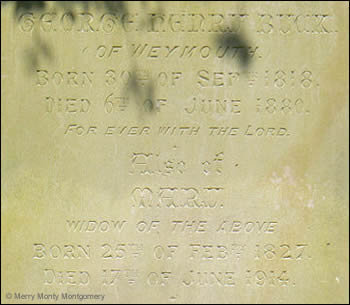 George was a member of the Church of England, whilst Mary, and generations of her ancestors, were members of the Society of Friends (or 'Quakers'). Until 1850, Quakers were not allowed to 'marry out' and if they did marry 'contrary to Friends' rules' then they were disowned from the society.
It was against this background that Mary and George were married at the register office in Croydon on 26th October 1858 and then set up their home at Ivy House in Adderbury where their two daughters were born. Unfortunately, having suffered a stroke in 1877, George Henry Buck died at Adderbury in 1880 at the relatively young age of 61.
His obituary stated, "Although not in membership, the deceased was an admirer of the principles of the Society of Friends, and desired to be buried where others of that denomination had, from time to time, been laid to rest"
And so, on the 14th June 1880, George Henry Buck was buried in the grounds of the Quaker Meeting House at Adderbury, which had not seen the burial of a non-Quaker before, despite having been built over 200 years earlier, in 1675.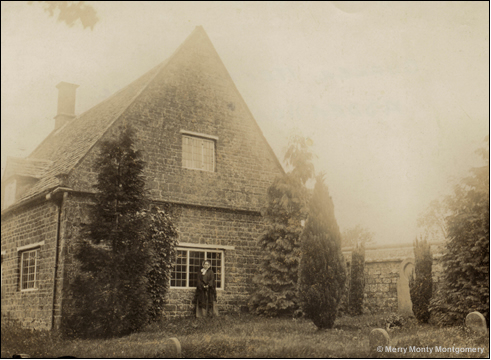 Mary lived out her widowhood in Adderbury. She cut an unusual figure, dressing in traditional Quaker clothing of black plain floor-length dress and black silk poke bonnet, right through until her death in 1914. Despite her unusual old-fashioned appearance, Mary was perhaps not your average Victorian widow, as she purchased two properties in Adderbury which needed a lot of restoration work over many years, and was regularly to be seen up ladders inspecting the proceedings, apparently causing much merriment in the village.
For the last ten years of her life Mary worshipped alone each Sunday at the Adderbury Meeting House, after the rest of the local membership transferred to the one at Banbury. Following Mary's death, her body was interred in the same grave as her husband on 17th June 1914.
So, in 2006 I visited the Adderbury Quaker Meeting House and photographed the gravestone of my great x2 grandparents.
On my return home, I was looking through various old photographs in my collection and was quite shocked to find this picture of Mary Buck standing outside the Adderbury Meeting House, as over on the right, by the wall, is her grave.
Yes, I know, the grave must have only had the body of her husband in it when the photograph was taken, but my brain refuses to accept that. As far as I'm concerned, that is the ghost of Mary Buck, forever walking the roads and lanes of Adderbury, rustling along in her Quaker skirts, on her way to the Meeting House where she worshipped for 56 years.
Merry Monty Montgomery
© Merry Monty Montgomery 2008
SOURCES
Quaker Monthly Meeting records.
The Banbury Guardian – the cutting from which was found in my grandfather's wallet.
Family photographs