I only ever knew one grandad and he was as special to me as I was to him. He would have moved heaven and earth for me, so special was our relationship. He spent all of his working life on a farm, but took a part-time job, after his retirement, in the local ironmongers, Woods, and we would visit him there on the way back from shopping.
The ironmonger's shop was like an Aladdin's cave; row upon row of buckets filled to the brim with nails and the like, just ready for small children to fiddle with!
"Don't you mess those up", he'd call, and we never dared to! They were just so tactile, running our hands through those tiny nails was simply something we couldn't resist.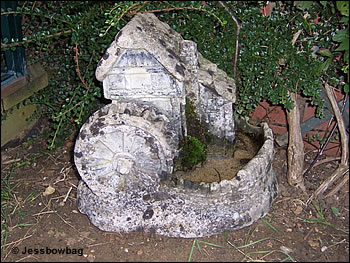 As well as ironmongery, the shop sold garden tools and the like, and on sunny days we wandered into the yard to look at the garden ornaments. Amongst the stone bird-baths and ornamental bits and pieces there was a stone water-mill with a tall chimney. One of grandad's workmates whispered one day, "It's where the fairies live'', and being a very small child, I believed him.
One evening disaster stuck; news filtered up the hill to where we lived that the shop was on fire. We all trotted down the hill and watched the shop burn to the ground. Grandad was gutted, it was a place which he loved and held many happy memories for him.
Soon after the fire, what was salvageable was sold off. Little remained of the shop's contents, although the garden ornaments survived reasonably intact; the fairy house stood wet and smoke damaged in the corner, with its tall chimney broken off.
Grandad's birthday was approaching and the fairy house was purchased for his garden for just a few pennies, supposedly by me, although I guess Mum paid for it really. We lugged it home in Mum's shopping trolley and set about cleaning it up with scrubbing-brushes, wondering if the chimney could be fixed. It was far too heavy and awkward to be wrapped, so we carted it back down the hill and placed it ceremoniously in grandad's garden, just in front of his water-butt.
Of course the fairies needed water to keep their magic water-mill working and it was my job to keep it filled. I would dip his huge watering can into the water-butt, soaking myself and everything around it in the process, and this continued for quite a few years.
Eventually Grandad died. As a young teenager he was still my favourite person and I felt lost without him. However, we still had Nanny, although as time went on she become less and less independent and eventually the time came when their cottage had to be sold off.
When we sorted out their possessions, I wanted the fairy cottage from the garden. Mum couldn't understand why I wanted "That old thing", but I did want it very much; with all the hopes and dreams of a young married couple, I wanted my daughters to share in the fairy's magic.
Sadly that never happened, although the old fairy cottage still stands in my garden, reminding me of a very happy childhood.
It might only be a lump of old concrete and it will never mean the same to anyone else as it does to me, but it's as precious as the memories that come with it – my grandad always believed in my hopes and dreams… and fairies.
Jessbowbag
© Jessbowbag 2008
---