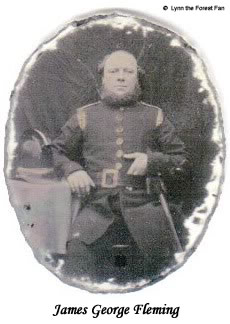 James George Fleming was born on 5th February 1819, the youngest child of John and Mary Fleming. He came from a family of watermen – his father and grandfather had worked on the Thames, as had his uncles. On 13th February 1834, he was apprenticed to James Kippen, who had married his older sister, Mary, in the April. He was still a waterman at the time of his marriage to Jane Brown on 19th May 1839.
However he never completed his apprenticeship, and by the time of the 1841 census was listed as a fireman and living at St Anne's Soho.
He appears to have worked for the London Fire Engine Establishment (LFEE) for several years, and in 1851 his wife and daughter are shown at 39 King Street, Westminster, with other firemen and their famiies. James himself was missing that night, presumably out on a call. By 1859, he was working at the Chandos station in London and was mentioned in The Times newspaper in a report on an inquest resulting from a fire that he had attended, where two adults and two children had perished.
The 1861 census shows him at the Fire Engine Station at Hermitage Street in Paddington. He is listed as being the 'parish fire engine keeper', and is with his wife and four daughters. He would no longer have been with the LFEE as they didn't have a station there at the time.

My mum has a cameo brooch with a photo of James George Fleming in his fireman's uniform (shown opposite).
When I sent a photo of it to the London Fire Brigade Museum, they were able to tell me that he must have been a high ranking member of the Paddington station, due to him wearing a single breasted jacket with metal epaulettes.
In 1866, there was a fire at the Daily Telegraph offices in Fleet Street. The arsonist was found to be a disgruntled former member of staff and, as a result, they began employing their own in-house fireman. The 1871 census shows James and his family living in Fleet Street at the Daily Telegraph's offices with him employed as their fireman. The following year, he died at St Thomas' Hospital in Lambeth from cirrhosis of the liver. His death certificate lists his occupation as waterman and fireman.
Lynn the Forest Fan
© Lynn the Forest Fan 2010
---
SOURCES
The Daily Telegraph newspaper
---