Wanting to know something about my paternal grandfather has been an obsession for me since childhood.
His name and the fact that he was a soldier were the only concrete facts there seemed to be about him. He had supposedly died whilst serving in Hong Kong around the time of my father's birth and there were rumours, coming mainly from my grandmother's sisters I think, that he might have been Canadian.
Neither my grandmother nor my father was willing to talk much about him, something which only fuelled my curiosity. After my grandmother's death we found a photograph and her marriage certificate but, apart from giving us her husband's age at the time and the name and occupation of his father, we were no further forward in knowing where he had came from or what his family background was.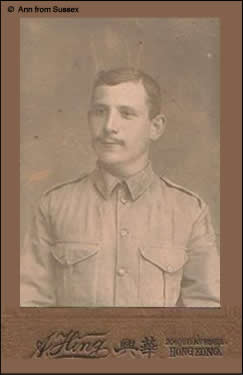 I had searched at the General Record Office for a birth 2 years either side of 1880, the year the age on the certificate suggested he had been born, but there was no trace of anyone with his unusual and rather foreign-sounding surname having been born in England or Wales during that time span. I made enquiries about having professional research into his army service, but was told that there was little likelihood of there being any useful army records anywhere.
Another 10 years were to pass before we bought our first computer and I began trying to use the internet to track down this elusive grandfather of mine. Our family name might have been unusual in this country but, as I soon discovered, it wasn't so rare in America and all I ever got when putting it into a search engine were American web sites, much to my annoyance since he wasn't American. How could he have been? He was a gunner in the Royal Artillery and only British subjects would join the British army – or so I thought. Many more years later I was to learn how wrong I was in making such assumptions.
In the summer of 2006 I asked Ann Swabey, a researcher who is also a member of Family Tree Forum, to look through the army records at The National Archives in Kew as a last, desperate attempt to trace my grandfather.
Ann did a brilliant job for me. Far from there being no records as I had been told in the 1980s, she found a couple of very badly damaged pages from my grandfather's attestation papers. They had been misfiled in the World War One records, although he had gone missing around 1907. His record was amongst the 'burnt documents' which had been damaged in an air raid in World War Two. He had joined up in 1905, almost a year before he married my grandmother. Unfortunately, the pages were so badly burned that his birthplace was illegible and there was no next-of-kin mentioned, but we were able to make out his name, age and occupation plus the fact that his religion was Presbyterian. This was a shock as all my family were Church of England, but it proved to be of considerable relevance to what I later found.
At around the same time I discovered that the records of the register office in Kent, where my grandparents had married in 1906, were now held at Maidstone registrar's office and that they could supply me with a copy of the actual register, showing the bride and groom's signatures. Seeing his rather stylish and distinctive handwriting made this man seem more real to me than he ever had before. I truly thought that was as far as my search would go as I felt that the army records were my last hope of finding where he had been born or who his family were.
One Saturday evening in November 2006 I was playing around on the computer, not really concentrating on any one thing, when I logged on to Ancestry and found that they were having one of their 'freebie' weekends. Their American sister site's immigration records were available to UK subscribers. I had always put my grandfather's name into any new records I came across, always with negative results, of course, so I didn't expect anything to turn up on this occasion. I couldn't resist trying though. Up came the results… and there, at the top of the list was someone with my grandfather's name and the information that he had entered the United States through San Francisco in May 1908, having left Hong Kong in April of that year. Surely there could not have been two people with that unusual name in Hong Kong at the right time? When I opened the image of the record it showed that this man was the same age as my grandfather and that he was a member of the crew of an oil tanker – the third engineer in fact. My grandfather had been a boilermaker in civilian life, according to his army records, so would possibly know something of the workings of a steam-ship's boiler-room. The shock of finding this record meant that it was several minutes before I realised that every entry on the list was in different handwriting, suggesting that each person had filled in their own details, and that the writing for my grandfather's entry was suspiciously familiar. I fetched the marriage register copy that I'd had from Maidstone and, sure enough, the way the entry was written on the immigration record was identical to the signature on the marriage entry. I had found him and, instead of dying in army service as the family story went, he had been a deserter from the army and from his wife and newborn son. No doubt this was why my grandmother would never speak of him and secretly kept his photograph, never showing it to anyone else.
The most astounding thing to me though was that, according to the record, he was a United States national and that he was a 'bone fide seaman'. He wasn't Canadian as my great aunts had thought, but American. I imagine it would have been very easy for Kentish farmer's daughters to confuse the accents. And he wasn't only a soldier, but a sailor too.
A member of Family Tree Forum who at that time lived in America and had full access to Ancestry.com very kindly undertook to look for my grandfather and his family on the American censuses. By the next morning she had emailed the images to me. In 1900 he had been living with his parents, two sisters and a brother (whose name was the same as my father's second name) in New York City, which was also his birthplace. And in 1910, two years after deserting the British Army and arriving back in America, he was living in Long Beach, California, and working as a boilermaker at the US Navy shipyard there.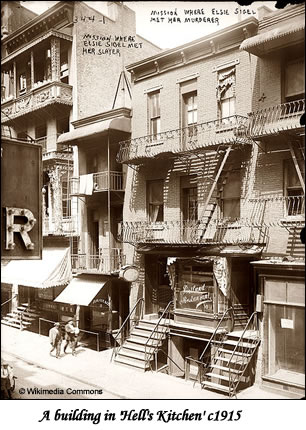 What emerged from all of this was that in my earliest days of internet genealogy I had actually found his birth on the IGI, together with the names of his parents and his parents' marriage details. This had lead me to finding the parents – my great grandparents, no less! – on the 1880 American census which is transcribed on FamilySearch. Although some of the facts fitted with what we knew from my grandparents' marriage certificate, my husband and I had dismissed it as not being our family because we thought my grandfather couldn't have been American as he had served in the British Army. I have since been told that it wasn't so unusual for Americans to join the British Army at that time.

My kind helper in America had also managed to trace my great great grandparents and great grandparents on the 1850, 1860 and 1870 US censuses. Suddenly, I had an entire American family going right back to a great great grandfather born in Pennsylvania in 1815 and a great great grandmother born in New York at about the same time. I was overwhelmed and in a state of total shock.
To any of us used to the U.K.'s centralised record keeping after 1837, getting the information you want in America can be a bit hit and miss as these things are organised on a state by state, or even town by town basis, and it can be difficult to know where to begin looking. I was lucky that my grandfather had been born in Manhatten, as New York City Department of Records has an online certificate ordering service, provided you know the dates of the records you want. Because of the IGI records (complete with batch numbers so they should be accurate – and they were) I was able to order my grandfather's birth certificate and my great grandparents' marriage certificate. They arrived within two weeks. New York marriage certificates gave both parents' names, so it was a huge bonus to find that I had both great great grandmother's maiden names now.
The matter of my grandfather's religion, which had so surprised me, was explained by the fact that his mother's parents were both born in the north of Ireland and were Presbyterians. His father's family were of German extraction and may have been in America since the mid 1700s.
By this time I was subscribing to the Ancestry web site so that I could search the American records myself. I was very frustrated by the fact that both my great great grandfathers were missing from censuses after 1860. It took a while for me to realise that during the 10 years between that census and the next, America had undergone a civil war. Once again Ancestry provided me with the answer as they have records of men who died in the American Civil War, together with brief details of their service. Both of my great great grandfathers had joined New York regiments to fight on the Union side and both had died; my great grandmother's father in battle in 1862 and my great grandfather's of disease in a military hospital in 1865. His widow had been awarded a war widow's pension.
Things were starting to get really exciting as by doing a bit of online research I discovered that I could apply to the United States National Archive and Record Administration (NARA) for a copy of the pension record. Even better was the fact that I could apply online. I was warned that it could take up to three months before I heard from the NARA but I was prepared to wait that long, given that I was in the process of solving a family mystery that was a hundred years old! In fact, I only had to wait about three weeks before a large envelope arrived bearing an American postmark and containing about 12 pages of documents, all of them a mine of information. It was fascinating to follow the attempts by my great great grandmother to prove that she was truly the widow of this man. She had no marriage certificate and couldn't quite remember the date of her wedding nor where it had happened. After nearly a year of having her application refused she suddenly produced a sworn affidavit from a minister who was sure he remembered marrying the couple 19 years previously. The pension was awarded and paid until her death. The authorities may have believed her story but her great great granddaughter finds it quite hard to!
The records also gave me the date of her death so I was able to order another certificate from New York. Amongst the records were the birth certificates for her children, including my great grandfather. One of her daughters had been born at an address that, research via Google has told me, was on the site of the twin towers of the World Trade Centre, which became Ground Zero after the 2001 terrorist attack.
The trail left by my grandfather has gone cold after 1910, so I have no idea what happened to him. I have found, though, that he was no stranger to army desertion. Ancestry has some US military records online. My grandfather joined the US army no less than 3 times between 1899 and 1908, always in a different state, and each time he is marked as having deserted. The second desertion took place shortly before he turned up in Liverpool and joined the British Army.
He was born on West 39th Street and in 1900 was living on West 42nd Street, both in a part of Manhattan which was known in those days as 'Hell's Kitchen' due to the amount of gang warfare and violent crime. So maybe he was seeking to get away from that influence, or maybe he was running from someone. I cannot begin to fathom the mind-set of this man who is such a close relative, and I can't say that I have discovered a grandfather to be proud of after all these years of longing to know about him.
I have, though, discovered a totally unexpected family background. Something which has made the whole thing worthwhile and which will keep me researching for a long time to come in order to fill in the many gaps. All those American-orientated web sites are proving useful to me after all.
Ann from Sussex
© Ann from Sussex 2010
---
SOURCES
US census, immigration and military records: Ancestry
International Genealogical Index (IGI)
New York City Department of Records