Jonathan Mallet (1729-1806) was born in Lichfield, Staffordshire, where his father and grandfather had both held the position of sheriff. Jonathan became an army surgeon, was posted to America with the British Army in about 1756, and rose to the position of purveyor general and chief surgeon. He was described as 'an educated and very agreeable man', and became a fashionable man-about-town in Boston and New York. He made two very good marriages, and several of his wide circle of friends, relations and acquaintances were involved in some of the major events of the War of Independence.
Before the Revolution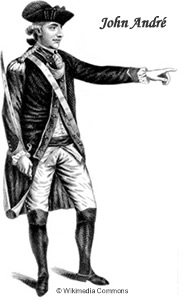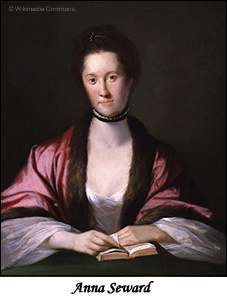 In 1765 Jonathan married his first wife, Catherine Kennedy, daughter of the late Archibald Kennedy senior (c. 1685-1763), who had emigrated to New York from his native Scotland in about 1722. Archibald was appointed customs collector and receiver-general for the province of New York, and became highly influential on the political scene. In 1751, he wrote a pamphlet entitled 'The Importance of Gaining and Preserving the Friendship of the Indians to the British Interest Considered', in which he maintained that forming an alliance with the Iroquois was, "of no small importance to the trade of Great Britain, as to the peace and prosperity of the colonies", and criticised the Indian traders (white men who traded with the Native Americans) who, he said had, "abused, defrauded and deceived those poor, innocent, well-meaning people". After reading Kennedy's pamphlet, Benjamin Franklin, one of the founding fathers of the future United States of America, wrote:- "I am of the opinion, with the public-spirited author, that securing the friendship of the Indians is of the greatest consequence for these Colonies".
Archibald amassed a great deal of prime real estate. In 1745 he bought no. 3 Broadway, which he left to his daughter Catherine in his will. In 1746 he bought Bedloe's Island in New York harbour (later known as Kennedy Island) for £100. He sold the island to the Corporation of the City of New York for £1,000 in 1759, and the Statue of Liberty was erected there in 1786.
Archibald's eldest son, Captain Archibald Kennedy (c. 1723-1794), was a distinguished naval commander. He bought the lot no. 1 Broadway in 1756 and built the famous Kennedy Mansion on the site. Through his first wife, Katherine, he was related to the influential Schuyler family, while his second wife, Anne Watts, is said to have brought him Long Island as part of her dowry.
Back in England, the daughter of the Canon of Lichfield, Anna Seward (1747-1809), was making a name for herself as a poet. Anna, who came to be known as the 'Swan of Lichfield', wrote poems which were well received in their day, but have not really stood the test of time. Her unconventional lifestyle, including her lifelong affair with her married music teacher, John Saville, and the passionate letters and poems she wrote to women friends, scandalised the local gentry.
Anna was very much attached to her adopted sister, the beautiful Honora Sneyd, who was courted by John André (1750-1780), a dashing young man born in London to Huguenot parents, and educated in Geneva. The love affair came to nothing and André joined the army broken-hearted (according to Anna Seward). In 1773 Honora married politician and inventor, Richard Lovell Edgeworth, father of the novelist Maria Edgeworth. Anna was distraught, and never forgave Honora for the marriage, writing embittered poems such as the sonnets 'Chill'd by unkind Honora's alter'd eye' and 'Farewell, false Friend! – our scenes of kindness close!'.
Honora died of consumption in 1780. André, after undergoing military training in Germany, was posted to America with the British army, where he rapidly rose through the ranks.
During the Revolution
When the American Revolutionary War broke out in 1775, George Washington's troops occupied New York, and the Kennedy mansion at no. 1 Broadway is believed to have been Washington's headquarters for a certain period. The British reoccupied the city in 1776, and the property became the headquarters of British commander-in-chief, Sir Henry Clinton.
A letter dated 12th April 1776, published in 'The New York American' lamented:-
Oh, the houses in New York, if you could but see the insides of them! Kennedy's house, Mallet's and the next to it, had six hundred men in them. If the owners ever get possession, they must be years in cleaning them.

Catherine Mallet died in 1777, having borne three children, and the following year Jonathan married Mary Livingston Maturin (1748-1830), widow of army officer, Gabriel Maturin, and a member of the old-established Livingston family.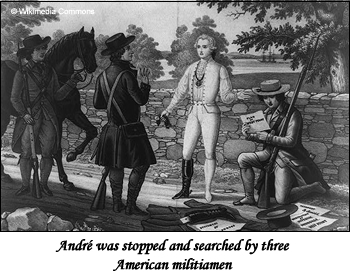 One of the generals who fought with George Washington's Continental Army against the British was Benedict Arnold (1741-1801). Despite a highly successful military career he was embittered by corruption charges brought against him and by being passed over for promotion, and resolved to change sides. While in Philadelphia in 1778, Arnold, a widower, met 18 year old Margaret (Peggy) Shippen (1760-1804), the pretty daughter of a loyalist sympathiser and an ardent Tory herself. They were married on 8th April 1779.
One of Peggy Shippen's admirers before she married was Captain John André. André was a handsome, witty, charismatic young man, adored by men and women alike. He was an accomplished poet, painter and musician, and wrote and choreographed an extravagant festival, called the 'Mischianza', held in Philadelphia in honour of General Howe, who was returning to England.
General Howe's replacement, General Sir Henry Clinton, appointed André as head of intelligence in April 1779. Not long afterwards, Benedict Arnold offered his services to the British; Peggy was certainly aware of the negotiations, conducted through her friend André, and may well have instigated them herself. An interesting example of the coded letters exchanged between Arnold and André can be viewed at Military Secrets.
Arnold offered to surrender the West Point garrison to the British for the sum of £20,000, an unimaginable fortune at a time when a colonel earned £1.4s.0d a day and private solder 8d a day.
At the British headquarters at no.1 Broadway, André was instructed by General Clinton to arrange a personal meeting with Arnold, which took place at the house of Joshua Hett Smith (1736-1818), Mary Livingston Mallet's uncle. The meeting overran and the ship that was supposed to pick up André had to retreat when it was fired upon, leaving André stranded. As it would have been dangerous for André to travel in British uniform, Hett Smith lent him some of his civilian clothes, and accompanied him towards the British lines, leaving him at a point after which they did not expect him to run into trouble. However, André was stopped and searched by three American militiamen, who found incriminating papers in his stocking and arrested him. Benedict Arnold was alerted to what had happened and crossed the British lines to safety in the nick of time.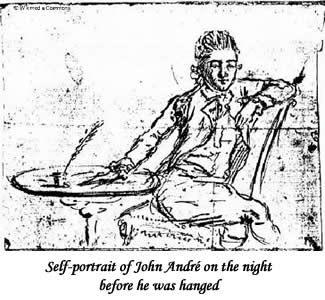 As André was wearing civilian clothing when he was captured, he was treated as a spy and not as a soldier. He was tried and sentenced to death. The Americans offered to exchange him for Arnold, but Clinton refused. André pleaded to be shot, so that he might die like a gentleman, but his request was rejected, and he was hanged on 2nd October 1780. He was just 30 years old. There was widespread mourning at his death, because his charm, accomplishments and bravery in the face of an ignominious death had captured the hearts of loyalists and revolutionaries alike. Many would have preferred to see Arnold die and André live.
Hett Smith was also captured, but managed to escape in women's clothing. He moved to London, where one unconfirmed source suggests he lived with the Mallets.
To mark the occasion, Anna Seward produced one of her usual overwrought poems, 'Monody on Major André', which includes the lines:-
Remorseless Washington! the day shall come
Of deep repentance for this barb'rous doom!
When injur'd André's memory shall inspire
A kindling army with resistless fire
Many years later, she wrote to a friend that George Washington had read her poem when the war was over and sent an envoy to her to explain himself:-
General Washington did me the honour to charge his aide-de-camp to assure me, that no circumstance of his life had given him so much pain as the necessary sacrifice of André's life.
After his escape, Benedict Arnold lived at Jonathan Mallet's house at no. 3 Broadway, where a plan by Washington's soldiers to kidnap him met with failure. Whether Jonathan and his family were still living there is unknown, but they were almost certainly acquainted with the Arnolds, even before meeting them in London after the war, and may well have known André too, as he was a frequent visitor to General Clinton's headquarters at no. 1 Broadway, even apart from their mutual Lichfield connections.
After the Revolution
Many loyalists opted to move to England when the Revolutionary War ended in 1783, although some left earlier. Benedict Arnold moved there in 1779, followed by his wife and children, as did Archibald Kennedy jr and his wife in 1781. Jonathan Mallet, his wife Mary and his three children followed in 1784, and settled in Bryanston Street, London – an area popular with loyalists returning from America.
In 1792, on the death of a distant Scottish cousin, Archibald Kennedy jr became the 11th Earl of Cassillis. According to a letter written in 1798 by Mrs Elizabeth Plumstead Elliot (widow of the lieutenant-governor of New York) to her sister, when Archibald went to take possession of Maybole Castle in Ayrshire he was accompanied by his brother-in-law Jonathan Mallet. She wrote sarcastically:-
I have had a visit from Lord Cassilis, our old acquaintance Captn Kennedy; what will become of Mrs Kennedy, she used to declare that she would rather die than be a lady, poor woman. Don't you pity her for having such an estate and rank forced upon her. … Dr Mallet accompanies him to take possession of one of the finest houses in England. I was vastly pleased at seeing Mallet, though time has made considerable alteration in him.
Benedict Arnold died in London in 1801, leaving his wife Peggy in straitened financial circumstances. She managed to pay off all her husband's debts from his estate, sold their smart house in Gloucester Place and moved to a cheaper one in nearby Bryanston Street. Living nearby was one of her closest friends and advisors, Jonathan Mallet, who helped her with her correspondence when she was too ill to write, and Peggy appointed him as one of her executors in her will, dated 26th January 1804:-
I Margaret Arnold of Bryanston Street, London, widow… hereby constitute and appoint Miss Ann Fitch of the County of Hampshire spinster Daniel Coxe esq of John Street London and Jonathan Mallet esq of Bryanston Street London and Robert Farquhar esq of Portland Place London my executors to this my last will and testament.
Peggy died on 24th August, and the will was duly proved on 6th September 1804 by Daniel Coxe and Jonathan Mallet.
Jonathan and his family regularly visited Lichfield, where his brother, Thomas, still lived. At some point they made the acquaintance of Anna Seward, who became particularly friendly with Jonathan's daughter Catherine Mallet (c. 1768-1864). In 1805, Anna wrote an ode dedicated "To Miss Catherine Mallet", which begins:-
Yet two short days, my Catherine! — then no more
Beneath our long-lov'd spires, thy graceful Form
Shall lightly glide, to cheer my languid hour
With emanations sparkling, soft and warm…
Frequent letters were exchanged between them when Catherine was back in London, and in one of them, dated 14th April 1806, Anna wrote:-
Remember me to Mr Mallet, and to all who form his domestic circle. You are now the serene sun of that little sphere. Ah! shall I ever again bask in its rays?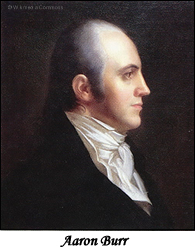 Her words were perhaps prophetic, for Jonathan died at home in Bryanston Street on 21st November 1806.
Meanwhile, back in America, an election had been held. The presidential candidates in 1800 were Thomas Jefferson (1743-1826) and Aaron Burr (1756-1836). The first vote was a tie and 36 ballots were needed before a result was declared. Thomas Jefferson became the third president of the United States of America, and Aaron Burr became vice-president. One of Burr's political rivals was Alexander Hamilton, whose wife Elizabeth was related to Archibald Kennedy jr's first wife Katherine Schuyler and to Mary Livingston Mallet.
Alexander Hamilton and Aaron Burr had been at loggerheads for a very long time, partly because Hamilton had strenuously opposed Burr's bid for the presidency. Hamilton lost no opportunity to insult Burr in public, and Burr eventually challenged him to a duel. Hamilton was killed, and Burr was indicted for murder, but acquitted. Another ill-advised venture in 1807 led to treason charges; once again Burr was acquitted, but his political career was at an end, and he spent several years in self-imposed exile in Europe.
Burr, who was orphaned as a baby, was brought up by Peggy Shippen's father's cousin, and had fought under Benedict Arnold. After leaving America he spent a great deal of time in London, where he appears to have met the Mallet family, probably through the Arnolds.
There are many references in his letters and journal to the Mallet-Prevost family, to whom he was related through his wife; that family is apparently unrelated to Jonathan Mallet's family, but Burr also refers to a Mrs Mallet, a widow of Bryanston Street, and a Miss Catherine Mallet, presumably Jonathan Mallet's widow Mary and younger daughter. Burr, by then widowed, seems to have been strongly attracted to Catherine Mallet, but his interest does not appear to have been reciprocated as these extracts of his letters of 1808 show:-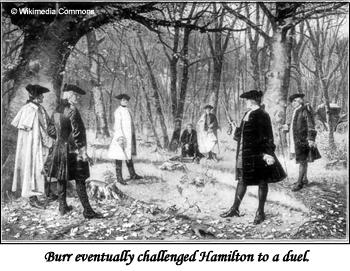 "I have seen Mrs. Mallet, and was very glad to find her so well preserved and in such good spirits… Your friend Miss M. (Catharine, I think, is her name) will be here on Wednesday next, an epoch which I anticipate with great satisfaction."
"The appearance of Miss C. is more prepossessing than you had led me to expect. Her person is graceful and comely ; a countenance full of intelligence and sensibility. I am in great hopes that we shall not ennuyer each other between London and Weybridge."
"To Miss Mallet. The most rational being I have ever seen. Stayed a whole hour, and greatly pleased with her. Good breeding and social talents in a degree very rare. Why don't I go there oftener?"
"I am quite in despair about your amiable friend, Miss Mallet; rather, it should be said, about myself, as regards all hope of her friendship, or even a further acquaintance. By my own folly and indolence, I lost the charming occasion which was offered at your house. On my return to town I called on her and found her in a large circle of company. At two other visits she was abroad, and I am told by her friends that it is always so."
The following year, Catherine married Alexander Gibbon, author of learned treatises on taxation, and trustee to the Bowes-Lyon family.
Benedict and Peggy Arnold, Jonathan and Mary Mallet, and their oldest daughter Ann, are all buried at St. Mary's Church, Battersea, although they lived in central London.
Jonathan's son Thomas Kennedy Mallet took holy orders, and was appointed Rector of Staunton, Gloucestershire. Catherine and Alexander Gibbon also moved to Staunton, and both lived to a ripe old age.
Genealogical postscript
As the leading New York families tended to intermarry, Mary Mallet née Livingston was related to several of the protagonists of this story. She was the niece of Joshua Hett Smith, the second cousin twice removed of Alexander Hamilton's wife Elizabeth Schuyler, and the second cousin twice removed of Archibald Kennedy junior's wife Katherine Schuyler. She was also the fourth cousin of Christina Macomb née Livingston, whose sister-in-law Jane Macomb married Archibald Kennedy junior's second son, Hon. Robert Kennedy.
Perhaps more surprisingly, she is distantly related (as shown in the family tree chart: Descendants of John Livingston) to two presidents of the USA (George Bush senior and junior) and one first lady (Eleanor Roosevelt), all of whom are descended from the Livingston family.
Mary from Italy
© Mary from Italy 2010
---
SOURCES
Letters of Anna Seward: written between the years 1784 and 1807, Archibald Constable and Company, Edinburgh, 1811
The private journal of Aaron Burr, during his residence of four years in Europe; with selections from his correspondence, Harper & Brothers, New York, 1838
Burial registers, St. Mary's Church, Battersea.
Wikipedia: Livingston family
Further Reading
Wikipedia: Benedict Arnold
Wikipedia: Peggy Shippen
Wikipedia: John André
Wikipedia: Aaron Burr